Every parent is waiting for those precious first steps their child takes. To protect their tiny toes, babies need shoes. The market is full of fancy and beautiful ones for kids but it is really important not to get carried away with all those shiny options.
Your baby won't care about designer footgear or popular brands – so pick up shoes that fit your toddler right. I know that the temptation to choose cute footwear may be difficult to avoid but it's better to pick the shoe that is comfortable and foot-friendly.
It's easy to stay on track when shoe shopping for your baby with a couple of easy tips.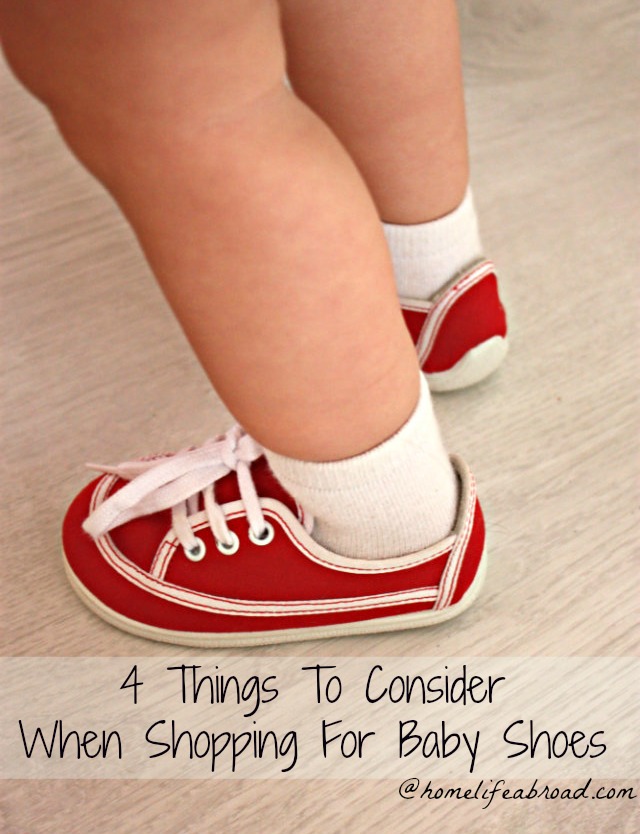 Things to consider when shopping for baby shoes
1. MATERIAL
Did you know, that baby's feet sweat much more than an adult's foot? That's why it's necessary to invest in shoes that are washable, made out of lightweight, absorbent and breathable materials. Fabric, canvas and soft leather are perfect ingredients for baby's shoes. These materials stretch, so this will allow a shoe to bend.
Skip those cute boots made of plastic or rubber and opt for natural materials to provide better support to your toddler's feet.
2. SOLES
Baby's shoes should be non-slippery. So check for shoe soles and bend them. Avoid stiff and smooth soles! Instead, favor soft, gripping and flexible ones.
Also, pay attention to the shape of the sole. In a toddler's shoe, it should be straight. Avoid the curved ones.
Rough up slick-bottomed shoes with sandpaper for better traction!
3. FIT
One of the most important things to check when shoe shopping is the fit.
When shopping for baby shoes, there are two tests that these new shoes should pass:
The thumb test — see if you can fit your thumb in between your baby's biggest toe and the end of the shoe (press down on it from the outside while she's wearing it).

The pinch test — at the shoe's widest point, you want to be able to grasp a bit of its material between your fingers.
It would be good to check monthly if the shoes still fit, as babies' feet grow quickly. Anywhere from three weeks to a month, your baby might need a new foot gear. Normally, baby's one foot is bigger than the other, so pick the shoe based on the bigger feet. Also, shop in the evening – babies' feet swell during the day.
4. DESIGN
If possible, buy footwear that is easy to get on and off – elastic straps, velcro, and buckles are fast to put on and remove.
Laces are an option too, but normally you have to re-tie them a lot and it's not the best choice with a non-cooperative kid. If you prefer laces, make sure they are long enough for double knots.
When buying shoes, also think on weather conditions. For summer pick open-toed or slip-on shoes, sandals are a great pick too. For winter lamb wool boots are a perfect choice!
What are your priorities when shopping shoes for a baby?