Bring out your winter clothes, ladies! The cold months of the year are here, and it's time for a wardrobe change. If you love layering and the earthy and cool tones of winter, this is your season. Of course, you don't want to appear too bulky with all those layers. At the same time, you don't want to freeze outside for the sake of having a stylish outfit, either.
Finding a good middle ground between fashionable and practical outfits for the colder months can be challenging, but it's more than possible if you know what to do. If you want the right mix between comfort and style, here are a few tips for you.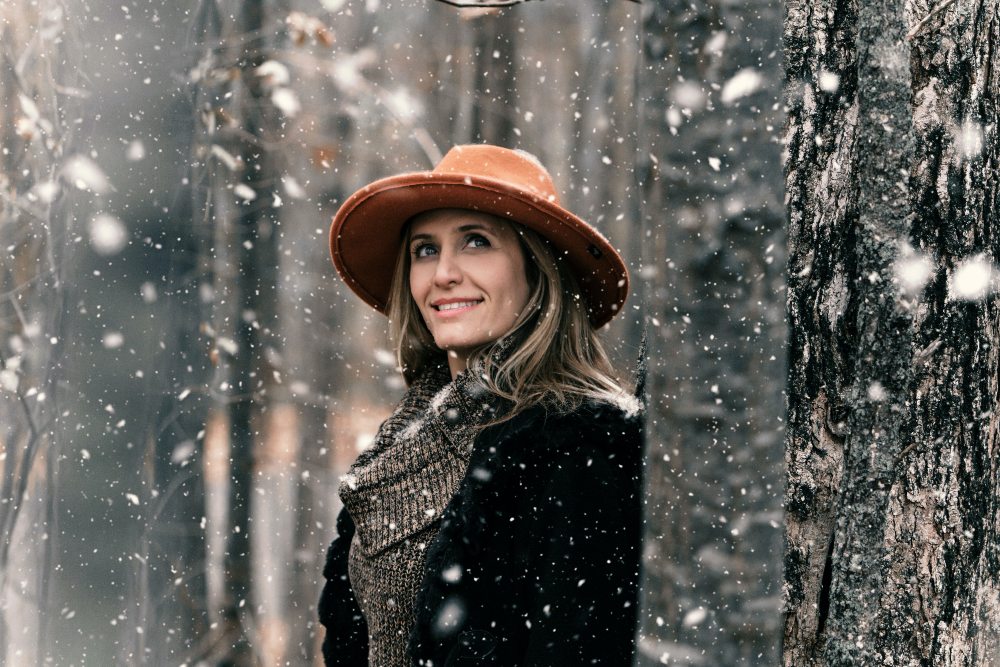 Know, How to Layer Your Clothes Properly
To keep the cold from seeping in, it's best to wear at least three layers of clothing. Your base layer should include the basics, such as your underwear and a good pair of knee high hosiery. These base layer pieces should be skin-tight to keep you sufficiently warm while being made of breathable fabric so you won't end up sweating too much.
Next, the second layer should keep as much warmth as possible locked in. For this, you can go with outerwear like fleece or wool sweaters. Finally, the third layer should be a good quality coat that can protect you from wind, rain, and snow.
Of course, before you go out, you should check the weather report and see whether the day calls for heavy or light cold-weather wear. If it's freezing outside, bundle up. If it's going to be a bit warmer or sunnier, you can at least strip off some of your layers so that you won't feel too hot.
Now that you know the basics, it's time to get a bit more specific with each item.
Decide on Your Type of Coat
There are many kinds of coats out there that can steal the show while still being extremely practical. You just have to pick the right one that suits your style.
For instance, you can choose between faux fur or faux leather coats. Fur and leather are great at insulating heat and keeping the cold and rain out, so it's good to have these as your options. As for which material to pick, that depends on whichever one you feel is more up your alley.
You could also go with a wool or cashmere coat, as these materials have the same properties as the two mentioned above. They can also keep moisture out, helping you stay dry and warm throughout the day.
To make your coat hug the shape of your body and not make you look too bulky, try putting on a belt that cinches your waist.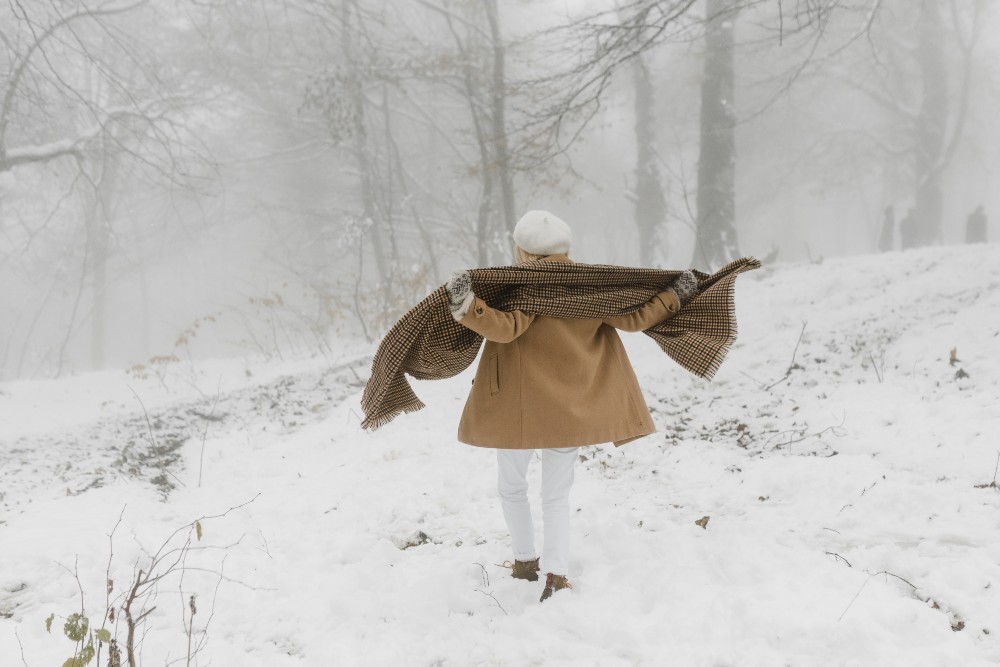 Put on Your Killer Boots
One of the things many fashionistas love about winter is the fact that it's a great excuse to rock some fashionable boots. So, it's time to bring out your favorite pair! 'Tis the appropriate season to show them off.
Need some ideas? You can opt for knee-high boots paired with a belted long coat that hugs your body. If you're showing off a bit of leg, you can go with ankle-length boots paired with skinny jeans or thick tights. Of course, just make sure to pick boots that are suitable for cold weather, such as cushioned snow boots, suede stompers, or any boots made from waterproof leather.
Additional tip: Don't forget to wear a trusty pair of socks underneath your boots for an added layer of protection and heat. We strongly suggest wool socks to keep the warmth locked in.
Accessorize with Scarves
The colder months of the year also give you a reason to show off your favorite scarves. Not only do they look great, but they're also perfect for keeping your face and neck warm. This is especially important if your coat, jacket, or sweater don't quite cover up your neck.
If you're looking for maximum protection, you can go with faux fur scarves. But if you'd rather wear something light that still offers some protection from the cold, opt for a blanket scarf instead.
Put on a Good Hat
Whether it's a beanie or a beret, you can't go wrong with a good hat to match your winter outfit. If you're gunning for a trendy look, you can match your button-down coat and your sweater with a classic bucket hat. On the other hand, if you're going for a timeless classic, a wool beanie goes well with most outfits.
Additional tip: There are many types of trendy hats you can choose from, but they can go out of fashion relatively quickly. Before purchasing any hat, always consider if you can wear it again next winter or if it'll be considered outdated by then.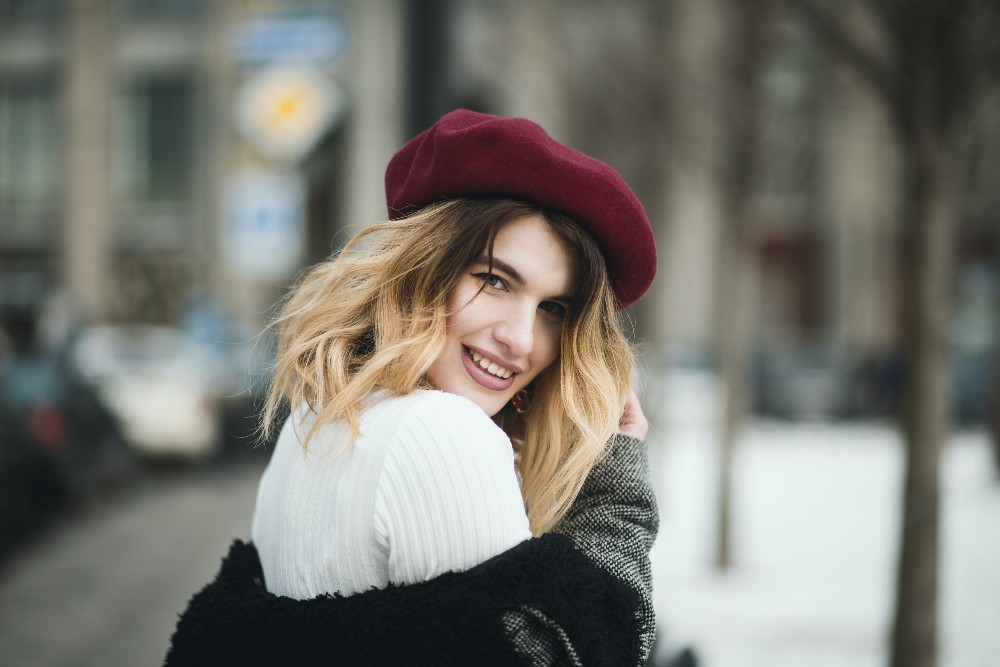 Go for Sweaters
We know that the dreaded Christmas sweater has a bad reputation in popular culture. That said, hear us out: not all sweaters are made equal. In fact, some can look rather fashionable if paired properly with other items.
Since sweaters are rather baggy and bulky already, you can pair them with skin-tight leggings or tights underneath a wide or pleated short skirt. Wool sweaters are best for extremely cold weather, but if you find that the material is too itchy for you, you can go with cashmere or any alternative that's close to wool instead.
Additional tip: Tuck your sweater into your skinny jeans or skirt so that it appears less baggy and emphasizes your figure.
Grab Some Inspiration from Fashion Icons
If you're still at a loss on how to dress during the colder months, then it's time to turn to the fashion experts. Check the winter runway catalog and see which looks you think suit you the best. This doesn't necessarily mean you have to go couture for your outfit, though. There might be some more budget-friendly alternatives that match your pegs' overall look and feel. You can also scan some fashion magazines or do some online window shopping to see what's in style for the season.
You don't have to follow everything to a tee. Sometimes, you can get the general gist of the outfit you've chosen as inspiration. Then, you can mix and match existing items from your wardrobe to try and achieve a similar aesthetic.
Now that the cold months are here, it's time to go all-out with your winter outfits. Pick out your coat, boots, and accessories, and rock your warm and cozy ensembles. Prep in style with these tips and make the most out of your cold-weather wear.