After all the yummy comfort food we have been eating during the chilly days, my body is craving something fresh and healthy. As we haven't published any recipes for a while, I decided to share a delicious and healthy salad recipe with you today.
This easy Tomato, Avocado and Mozzarella Salad is one of my favorite salads! Sometimes I even add some Jamón Serrano to it!
It's a super easy recipe and only takes around 5 to 10 minutes to make. You can change the recipe as you want, adding more or less of each ingredient, but the taste will be always delicious.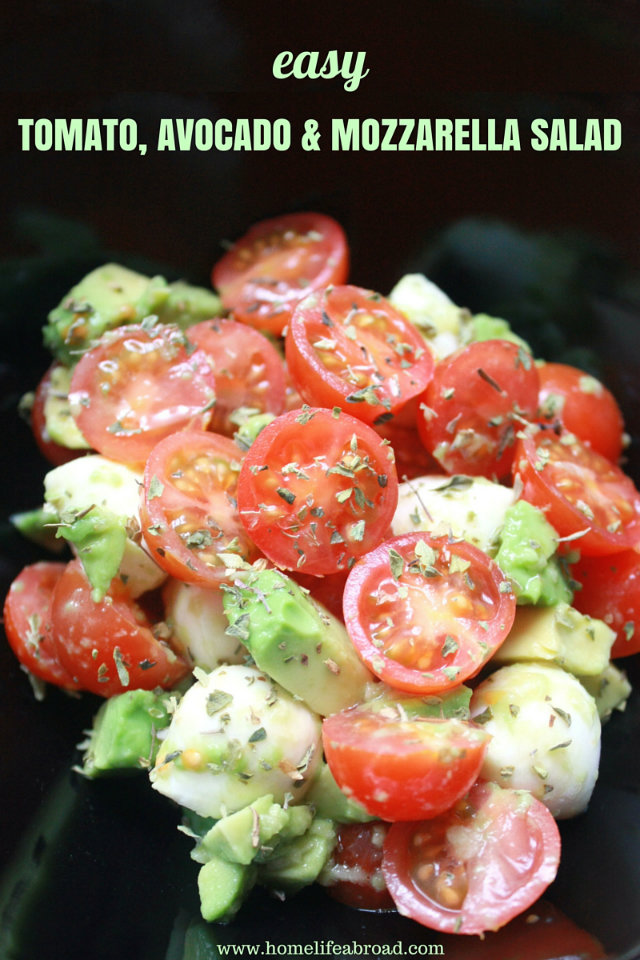 Tomato, Avocado & Mozzarella Salad
Minutes to Prepare: 10
Number of Servings: 1
Ingredients:
10 cherry tomatoes
1 small avocado
10 small balls of mozzarella cheese (bocconcini) or fresh mozzarella cheese
1 garlic clove (optional)
1 tbsp extra virgin olive oil
1 tsp oregano
salt to taste
Instructions:
Wash the tomatoes and halve them.
Cube the avocado.
Mince the garlic. I grate my garlic with a Microplane grater but you can also use a garlic press or a knife.
In a bowl, mix mozzarella balls, tomato, avocado and garlic.
Season with salt and oregano.
Drizzle with olive oil.
Serve!
See! I told you it's super easy to make!
What's your favorite salad?