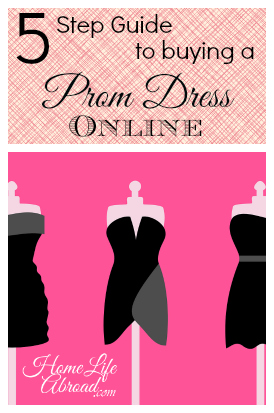 A few weeks ago I wrote about my horrible prom dress experience 11 years ago. I'm traumatized till today – months on end of shopping without finding a dress that fit me, having to travel abroad just to get a dress and then the dress popping open at the prom. Augh!!! What terrible times, thank god high school is over.
So I figured that the next reasonable step would be to discuss: how DO you find a good prom dress online? Maybe I can make another worried teen's life a little easier. 🙂
1) Look for quality online stores
You can't just depend on any store. Cheap stores don't necessarily mean great deals, nor do expensive prices mean high quality. My prom dress was very pricey – it still popped open on the first use! Look for sites that have a solid brand reputation. I always depend on Amazon for prom dresses – there are few other online stores with genuine reviews from previous buyers.
If you're using a different prom dress seller, make sure to research them before making any purchase. In order to do so, Google their name like this: "STORE reviews" (replace STORE with the company's name and use the quotations like in my example). If they have a good reputation, you will be able to confirm it by reading the online reviews… if they have awful customer service, believe me, you will find out.
This is another prom dress store with great reviews & good prices: Elle Prom (They have a 60% off discount last I checked).
Here are a few of my fave dresses:
2) Know your measurement
There's nothing more frustrating than buying the perfect prom dress online, only to realize that it's too small for you. It's so easily preventable – just measure yourself and check the measurement details of the party dresses as they may have a different fit than other items. If it's not clear, ask the store, they'll be happy to help you!
3) Bookmark your fave dresses
When I'm online clothes shopping, I like to keep things organized. I make a folder in my bookmarks bar and bookmark each dress I like. Then, when I'm done scouring the web and stores, I'll go through all the bookmarked dresses and narrow it down to the winner. It's the easiest system!
Alternatively, Amazon has a handy wish list option. You can add dresses to an organized list and even send it to family or friends to get their opinion.
4) Buy accessories and shoes online
Little known secret – some online stores will have awesome deals and discounts if you buy the accessories and shoes with your dress as well. And if they don't, it never hurts to shoot them an email and ask if they would be open to giving you a discount for the purchase if you buy all the items from them. They may be happy to offer you a coupon!
5) Don't order last minute
Have you ever seen the Bridezilla episodes when the brides buy their wedding dresses online? There's always some problem with the shipping reaching the bride on time.. and if not that, you may still need to have it stitched or sewn so it fits you just right. Learn from their crazy ways! Buy with reasonable expectation so you can receive the dress on time – it may even be shipped from abroad. If that's the case, calculate at least 2-3 months prior to your prom.
Do you have any more tips for the upcoming prom season? Tell us below!