Whenever I have some free time I open Google maps and start traveling. Mostly I'm heading to paradisiacal islands in the Pacific Ocean – oh, those beautiful beaches with golden sand and palm trees! Over the years I have learned, that paradisiacal places do not always have to be remote islands.
So I have found several other amazing fairytale places around the world, I'd like to share with you. I even hope, that one day, I'm able to visit them personally!
Aogashima Volcano, Japan
Aogashima Volcano (source)
Have you ever wondered how would it be to live in an active volcano crater? For 200 brave people who live on a tiny volcanic Japanese island in the Philippine Sea, an active Class-C volcano is a home!
Aogashima is Japan's least populated village administered by Tokyo. Located approximately 358 kilometers from Tokyo, it's still a rarely-visited island. Due to weather conditions, the daily helicopter or boat lines get canceled a lot of times.
This volcanic island is a great place to forget big city noises and just relax. Take a hike, visit Oyama Prospect Park to enjoy the best 360-degree view of the island and after all the hard work loosen up in a geothermal sauna.
Nine Villages Valley, China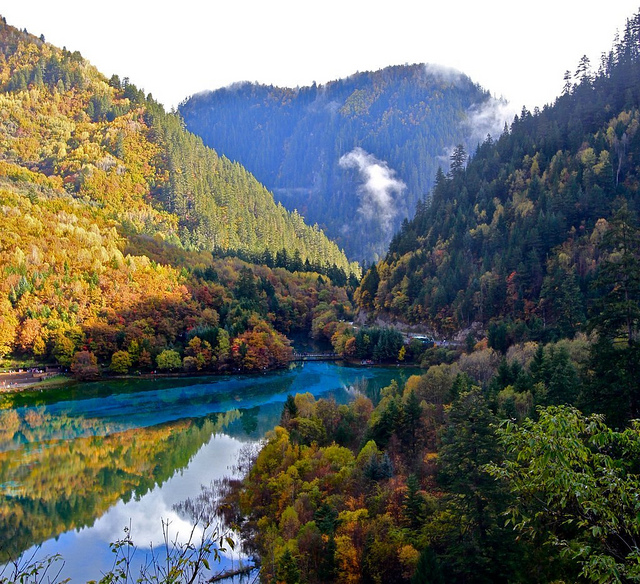 Jiu Zhai Gou by  Sung Ming Whang (CC BY 2.0)
Jiu Zhai Gou Valley also called Nine Villages Valley is one of the places that is always on a recommended tours of China list. Nine Villages Valley is a real fairyland! The valley got its name from nine Tibetian villages scattered throughout the reserve.
It's known for its breathtaking scenery featuring alpine valleys with colorful lakes, amazing waterfalls and as the habitat of giant pandas.
It's no wonder Nine Villages Valley is a UNESCO World Heritage Site and also a World Biosphere Reserve. When visiting China, Jiuzhaigou Valley is a must see!
Waitomo Glowworm Cave, New Zealand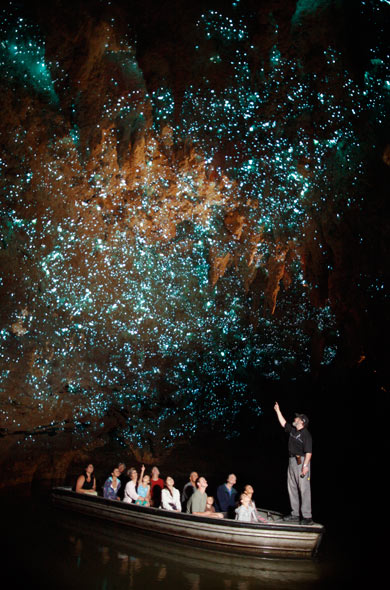 Who would think that insects around the size of an average mosquito would be in a New Zealand's must-see list! Well, glowworms living in a cave at Waitomo are an unforgettable tourist attraction since the late 1880s, when the cave was first opened to the public.
Why is it so special you ask?
When you take a boat on the underground Waitomo River you'll see thousands of tiny glowworms lining the ceilings and walls of the cave with green/blue fairy lights!
Hobbiton, New Zealand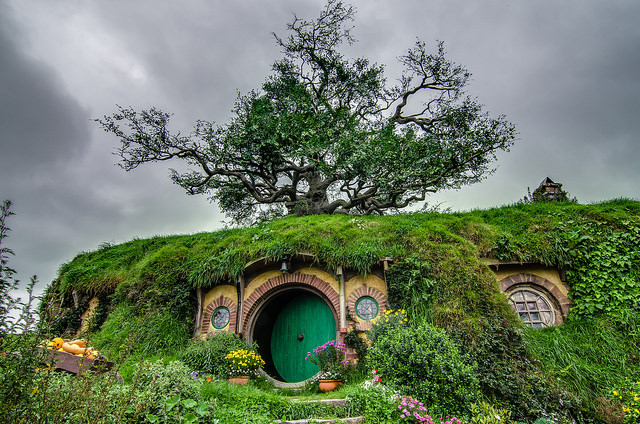 Bag End in Hobbiton by Tom Hall (CC BY 2.0)
If you are a big fan of The Lord of the Rings and The Hobbit movies, it's a perfect place for you. Even if you are not a fan, this place is worth a visit.
Hobbiton was built as a movie set and now it's available for tourists to visit. It's a really picturesque little hilly village with all those sweet Hobbit holes, a lake, and sheep on the hillside.
The Hobbit houses are really charming, tucked away in a hillside and just colorful doors, chimneys, and little windows showing. Little details make Hobbiton an amazing place and it seems that hobbits are still living there. Each hobbit house is unique and reflects the character of the owner.
During the guided tours, you will get a chance to see Hobbit holes, The Green Dragon Inn, The Mill and other arrangements built for the movies.

Do you have any fairytale places you'd love to visit?