Holidays tend to be stressful, especially for people who like to leave everything to the last-minute (like me). Between gift shopping, cleaning, decorating, school recitals and the unannounced guest the holiday time might resemble a big chaos.
But with a little bit of planning and involving all the family to the action, you'll have a holiday ready home without much of stress. Check out our Christmas list for getting prepared for holidays without the usual holiday stress.
Plan ahead
The easiest way to get everything under control is to plan ahead. It's much easier to prepare for the coming holidays if you know what events you have to host, which ones to attend, the amount of guest you have to cook for and what you actually want to serve them.
I like to use my agenda to note down all the things we have to do, but a good family calendar comes in handy too. You can note down the to-do-list and the appointments for every day. I like to have the to-do-list in a sight all times, so I can cross out the things I have already accomplished.
One of the most important things for me to plan ahead are the holiday menus and making a shopping list. It's good to buy the non-perishable ingredients in advance (sales!) and when the celebrations are close, buy the perishables.
Also, plan ahead the gifts you will be shopping for. It helps to save time and money too! Here you'll have more information on how to save money on holiday shopping.
Declutter
Holidays bring a lot of new things to our house – from new decorations to toys, clothes and knick knacks, the new things need their space too.
So it's wise to go through the old decorations and throw away the broken ones and donate the ones you won't be using anymore. Also, take a look at your closets and do a revision of your family's clothes. Donate and/or throw away the ones that are not needed anymore and add the new clothing you might need to your shopping list.
Ask your kids to sort their toys. The ones that they don't play with anymore but are in a good condition, might make a perfect gift for families in need. There are different organizations that collect toys, so you might contact them, get rid of the old toys and at the same time do something good.
Now is a good time to also declutter your fridge. During the holidays you'll need more fridge space, so check the expiration dates on the food containers and throw out everything that is old and not eatable to make room for the holiday goodies.
Clean
Now that you have decluttered your home, it's time to start the cleaning task. It's wise to make a cleaning list and involve all the family members in the chores. Today has a really great Christmas list for cleaning! It has you covered from the front porch to the kitchen in 5 days. And your house will look clean, organized and welcoming without rushing and stress.
Be sure to pay more attention to the kitchen, dining room, guest bathroom and living room, as these will be the most used areas during the holidays.
Don't forget to clean your couches and dining room chairs, they will get a lot of action during the festivities. It would be really unfortunate if any of the guests would get their outfit ruined from the food or drink spills we might have overlooked.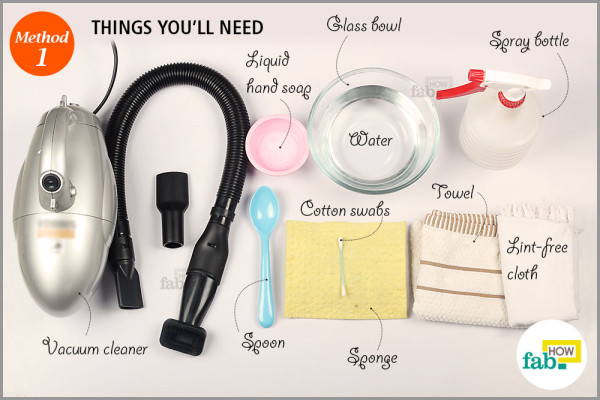 *If you are not sure how to how to clean sofa by yourself, you can use Fab How step-by-step instructions or go the easier way and use throws to cover the spots.
Keep the guest bathroom clean all the times and be sure to have enough clean towels, toilet paper and other essentials at hand.
Decorate
What's a holiday without some decorations! Decorating is usually the most fun part of the holidays. Now that you have your house clean and decluttered, it's time to make it festive.
You can do the decorating by yourself, ask the family to help you, or you can even organize a fun decorating party with your friends.
Have the Christmas music playing for the ambiance!
Stock up!
Go back to your initial to do list and do some math! Do you have enough plates, glasses, napkins, etc., for your parties? If not stock up asap!
If possible, have some kid friendly snacks and drinks on hand. You never know when you might need them, at it's better to be prepared than sorry. Same goes for the adult friendly snacks and drinks. Uninvited guests usually want to eat and drink too, so if you have stocked up on some cheeses, jelly, crackers and wine, you'll keep most of the guest happy without them knowing that you weren't expecting them to drop by.
If you will have overnight guests, be ready to stock up on extra toothbrushes, soaps, lotions, shampoos or any other basic toiletries you think they might need. Also, think on towels and extra bedding.
How do you prepare for the holidays?
*The unedited Christmas pattern image is designed by Freepik.