** Some links are affiliate links meaning, at no additional cost to you, we may get a commission if you make a purchase. We appreciate your support in this way!
Mother's Day is a celebration for all mothers but this year, we decided to pay tribute to the lovely new moms who are being introduced to the joy, wonder, and exhaustion that it is to become a mother.
These are our selections of the 6 best gifts to celebrate mom's first Mother's Day, ranging in a variety of budgets and mommy needs and pamperings. ❤
Happy Mother's Day to all new mommies out there!

1) Give mom much-needed rest with a DreamCloud mattress
A new, comfortable mattress is an amazing gift for any mother, but it's especially thoughtful for the new mom. After 9 months of experiencing a first pregnancy and all the newly-discovered backache and discomfort that comes with it, a new mom needs a great mattress to lay her back.
Even with the upcoming months of short sleep, those 3-hour sleeping gaps need to provide the best possible rest. Taking care of a newborn is exhausting, but sleeping comfortably whenever possible can make a difference for the mom. This is especially important at the very beginning when recovering from birth.
We love the DreamCloud mattress for mom – it feels like a warm hug, but sleeps cool, provides support and sells at a really great price with monthly payments available.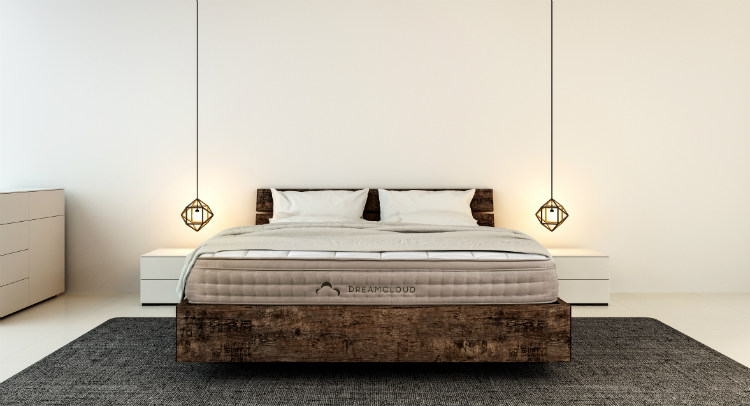 Plus, it's got all these benefits:
365 night trial – if mom doesn't like it, she can return it!
Amazing warranty – they will clean or re-condition for free
Free shipping and returns
I'm picky about mattresses but DreamCloud has really created a comfortable masterpiece for a fraction of the price of comparable mattresses.
You can get it now for $200 OFF with our special link below. 🙂
2) Backup all baby pictures with PictureKeeper
We've posted about Picture Keeper so many times before and it's because we're huge fans! Ave uses it all the time on her vacations and photo opps with her daughter.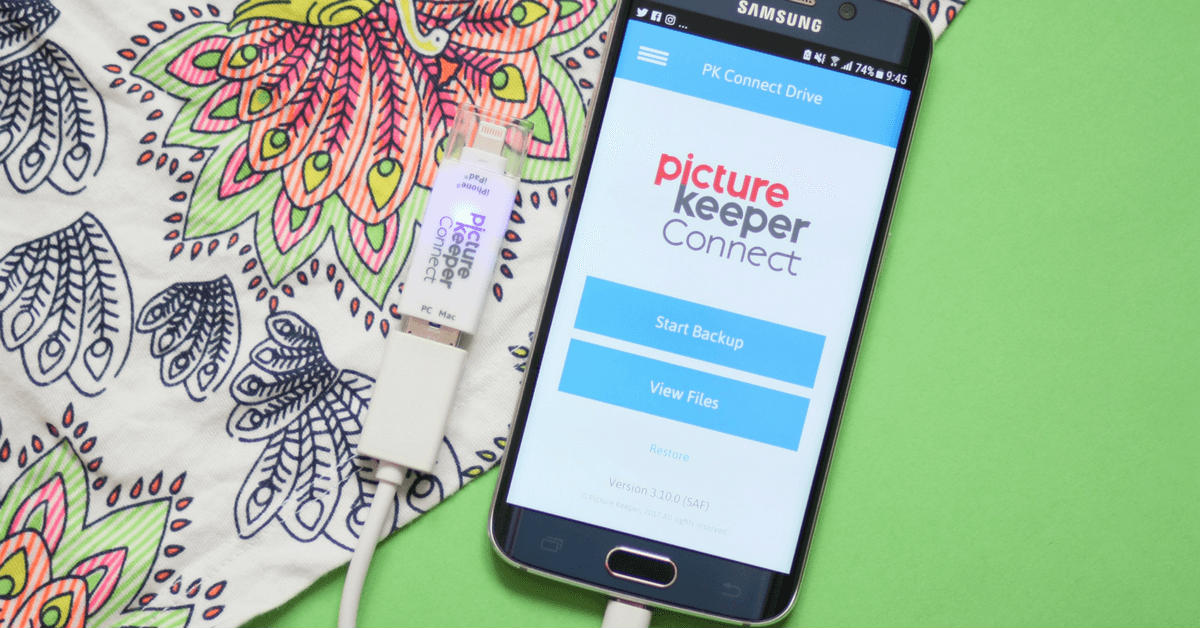 I had my own experience to remind me the importance of keeping a backup system for photos… after the birth of my sister's baby, I was photographing him like crazy.
Two weeks into the birth, my cell phone completely died (!!!) and with it, so did my nephew's photos. 🙁 Thankfully, I had backed it all up, but I had a borderline heart-attack about losing all photos of my nephew's first moments.
So there you have it – the very best reason a Picture Keeper is the perfect gift for the new mom: it ensures ALL photos are backed up so they are not lost due to a mishap.
3) Sleep silently with Happy Ears earplugs
Sometimes mom just needs rest – a few hours of sleep while dad or another family member helps take care of the baby.
But we all know that mom's ears are fine-tuned to hear the smallest sound, so she needs full and utter silence in order to rest.
For that, mom needs special earplugs built for sleep.
I've been wearing the Happy Ears ear plugs for the past two years and they are life-changers. They block out almost all noise and they are perfectly comfortable for sleep.
They are also super affordable and often offer discounts that lower the price up to 40%. Even without the discount, they are worth every Euro.

4) Pamper the new mom
Taking care of a newborn 24/7 is an exhausting task, especially so if you are a new mom and have no idea what to expect from those first few months.
So put together a gift basket full of skin care products and some delicious snacks and offer your babysitting services for a couple of hours. I'm sure every mom would appreciate the gift of some alone time.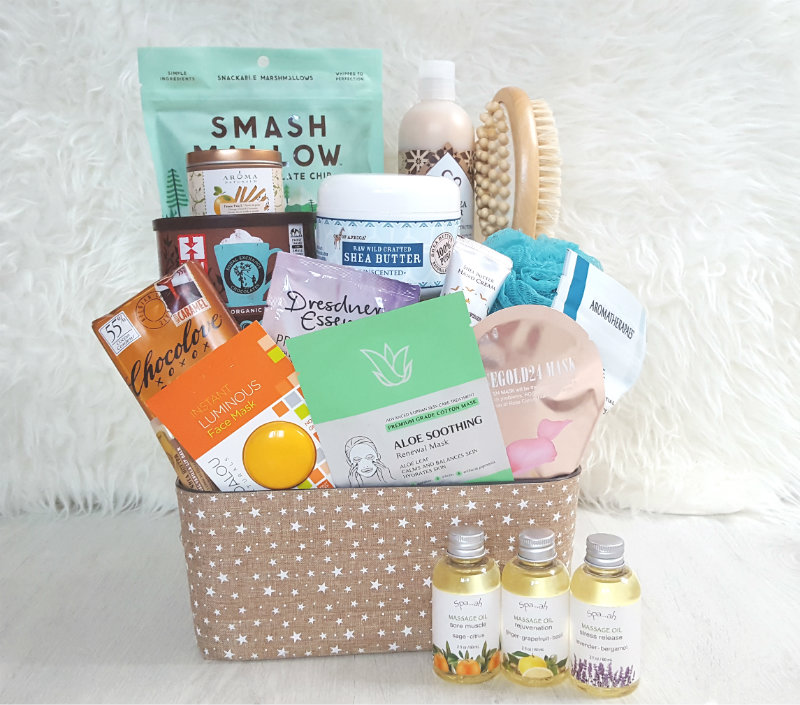 You can get really creative when putting together the gift basket – the products choices are endless. You can check out all the products I used in this huge pampering gift basket by clicking the button below.
5) Give the gift of comfort
While an old T-shirt and yoga pants might be super comfy, they are not the most comfortable attire for breastfeeding nor the most appropriate one for hosting unannounced visitors.
I'm sure most moms like to dress up a little once in a while, so a comfortable but functional lounge-wear would make a great gift for a new mom.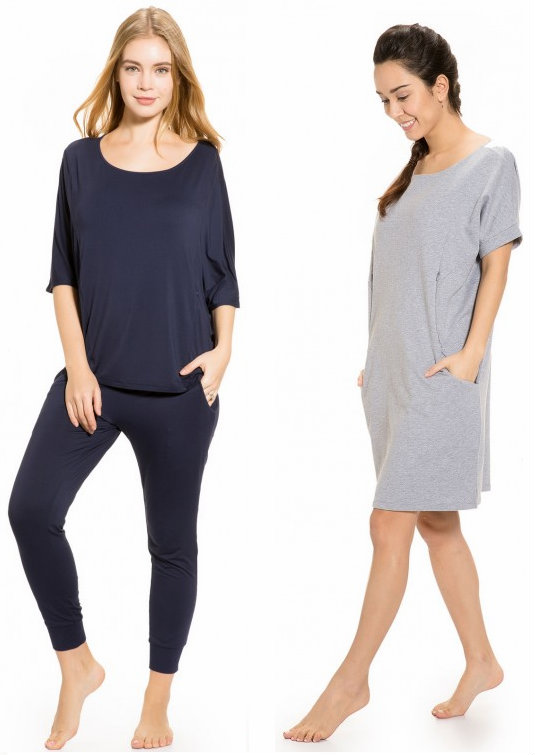 Bamboo Dolman Sleeve Nursing PJ Set | Lounge Maternity & Nursing Dress
Mayarya has a great selection of beautiful and functional lounge-wear that is perfect for post-pregnancy. The relaxed fit might help to hide the extra baby weight and invisible zippers are great for breastfeeding.
6) Feed the family!
Usually, new moms have no time for cleaning, meal-planning or cooking so a gift card for a food delivery service would help them out a lot. You can choose between restaurant food to be delivered or to have a box full of fresh ingredients to arrive at new mom's home.
The first option is easier for mom, as there is no cooking involved – just serving and eating their favorite foods.
One of the companies that offers this kind of service is Caviar. It's an easy way to order food from the best local restaurants.
The family can order for immediate delivery or schedule ahead on Caviar's free mobile app for iOS and Android and on the web.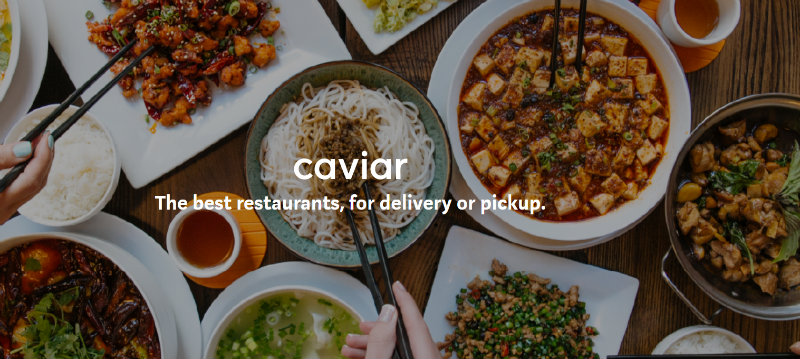 The meal kit delivery option would involve some cooking, but at least all the meal planning and ingredient shopping will be done for the family.
Also, the family can try out recipes they have never tried before. Green Chef, HelloFresh, Plated, Blue Apron, PeachDish, Purple Carrot, and Terra's Kitchen are just some of the meal kit delivery companies you can choose from.
Pin it!