*I partnered with iHerb on this post and it has been sponsored in compliance with FTC requirements. All thoughts and opinions are my own. Please note that some links may be affiliate links and we may make a commission if you purchase a product after clicking on a link.
Did you know that there are less than 50 days left until Christmas? This means that if you haven't started already, it's time for the holiday shopping! This time of the year is quite stressful for me because hunting for the right gift takes so much time and I really do not like shopping with the crowds.
So this year, at last, I have found the solution for my holiday shopping problems! I'll do my shopping online. Yes, I know that it's not something new but it is to me. Isn't it marvelous to find all the gifts from the same store, without mile-long queues, rushing shoppers and do it from the comfort of your own home?
If you are not sure if you can find all the gifts from the same store, you haven't shopped in iHerb before. They have products for all the family including the pets! More than 35,000 products to choose from, so I'm sure you won't have any problems finding the right gifts for your loved ones. Moreover, iHerb's products can be shipped to over 160 countries and they also provide customer support in 10 languages! Can it get any better?!
Below you'll see a small example of products that iHerb offers and how I created the ultimate spa gift basket for girls who love to be pampered using their products!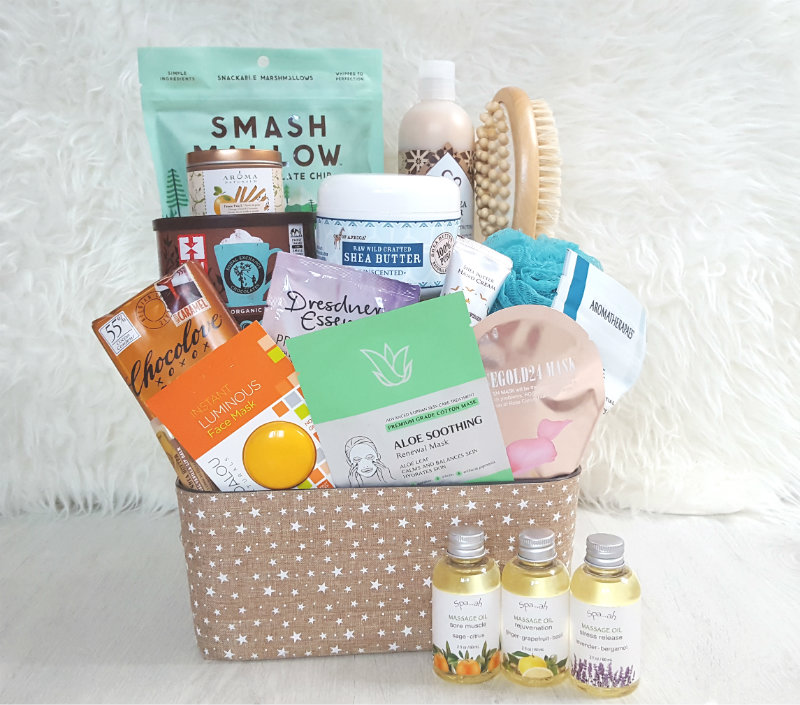 Every girl needs some pampering once in a while so a spa day gift basket would make a perfect gift for your mom, sister, mother-in-law, co-worker, or a friend. It's really easy to put together and you can choose the products depending on the likes of every gift receiver. You can shop iHerb's specials or trials section for extra discounts or when you are looking for budget-friendly gift ideas. Also, keep reading and find a little holiday discount at the end of the post! 😉
Here are some ideas what to put in your spa gift basket:
face masks
candles
shampoo
hair oil
hair mask
shower gel
bath bombs
bath salts
bubble bath
loofah
body butter
sweets (chocolate, candies, marshmallows, hot chocolate, etc.)
lip balm
hand cream
massage oils
massage brush
essential oils
slippers
CD with relaxing music

In my opinion, every spa gift basket has to contain some face masks! iHerb has more than 300 different face masks in their selection and it's so hard to choose just a couple of them.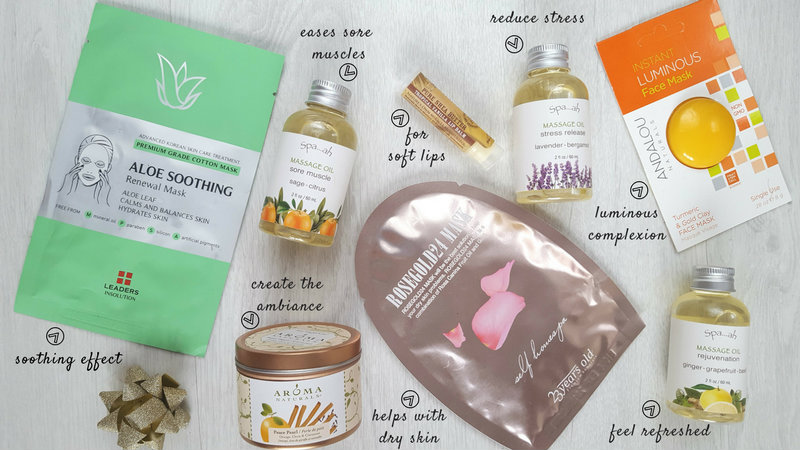 I like to light a candle or two before I start with the relaxing pampering time, so I thought it was a good idea to add a candle to this gift basket too. As the Christmas is coming, I chose the Aroma Naturals Orange, Clove & Cinnamon one as it fills the room with a delicate Christmassy scent but you can add the scent you like the best.
A perfect spa day should include a massage, so ask your significant other to give you one! Smith & Vandiver Spa…ah Massage Oils Sampler kit includes three different massage oils – sage & citrus for sore muscles, lavender & bergamot for stress release, and ginger, grapefruit & basil for rejuvenation. Enjoy your massage and remember to return the favor! 😉
All three masks I chose are all for different purposes so that every time the spa experience would be different. The Leaders Aloe Soothing Renewal Mask is a cotton mask that provides rich moisture and an immediate soothing effect to the sensitive skin. Leaders also has tons of other types of masks for different skin problems and I really recommend to check them out!
The 23 Years Old Rosegold24 Mask is also a sheet mask and contains rosa canina (dug-rose) fruit oil and gold! It's perfect for people with dry skin. The last mask is Andalou Naturals Turmeric & Gold Clay Face Mask. As the name says, this mask contains turmeric and french clay to nourish, energize and smooth the skin texture to achieve a soft, luminous complexion.
While you take care of your face, don't forget the lips! The Out of Africa Tropical Vanilla Lip Balm provides natural healing and hydration to keep lips soft and supple.

When choosing the body care products, I went with as natural as possible. If you are a long time reader, you know that I prefer my skin care products natural and I decided to fill this spa gift basket with skin-friendly products too!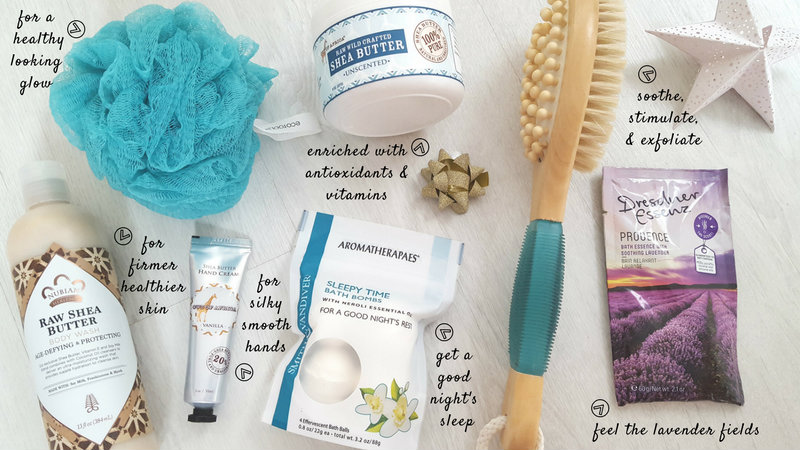 The products containing shea butter help to protect, rebalance and rejuvenate all skin types. Nubian Heritage Raw Shea Butter Body Wash is created from a traditional African recipe and contains organic and fair trade ingredients. Use it daily for firmer and healthier skin. Out of Africa Unscented Shea Butter is enriched with antioxidants and vitamins A, E & F that way helping with dryness, wrinkles, stretch marks, psoriasis, and eczema. It also comes in vanilla or lavender scent.
Dresdner Essenz Provence Bath Salt and Smith & Vandiver Sleepy Time Bath Bombs pamper the skin and give you an aromatherapy experience at the same time. Fill your bathtub with warm water, relax and let the soothing scents prepare you for a good night's sleep.
Also, the spa day gift basket should include some tools. I chose an EcoTools EcoPouf Exfoliating Sponge that gently massages and removes dead skin for a healthy-looking glow and it's made of 100% 100% recycled netting. Good for you and for the environment too! I also added an Earth Therapeutics Massage Brush. The double-sided massage brush helps to relax tense muscles, activates the circulation, exfoliates and gives your skin a good buffing.

I always add something edible to my gift baskets. Little sweet treats make the pampering process much more enjoyable. I added some chocolate, marshmallows and hot cocoa but you can add sweets depending on what the gift receiver loves. iHerb offers a wide range of sweets suitable for different diets like vegan, vegetarian, paleo, etc. too, so as you see, there is something for everybody! As for the beverage, I went with hot cocoa, so this basket is also suitable for teens too, but you can go with something stronger if needed.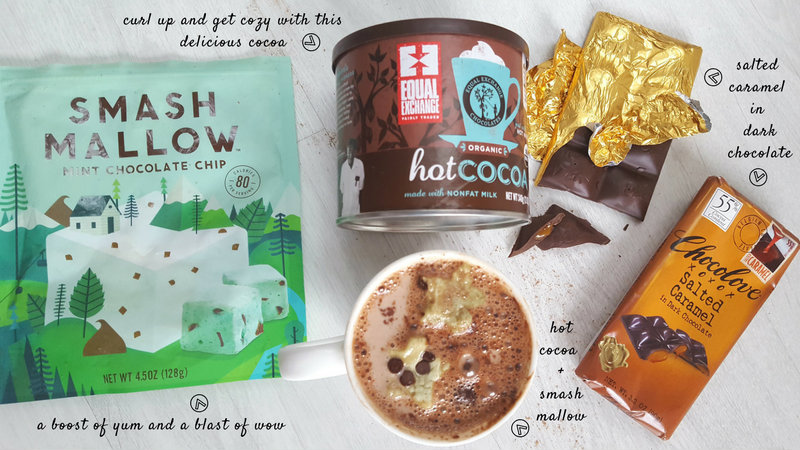 Hot cocoa is one of my favorite drinks during the autumn and winter months. I added Equal Exchange Organic & Fairly Traded Hot Cocoa this basket because it's delicious and you just have to add water to make the cocoa. I have to say that I prefer it with milk, it tastes richer that way. I totally recommend adding some Mint Chocolate Chip SmashMallows to your cocoa for an extra kick. There are different flavors like Cinnamon Churro, Root Beer Float, and Mocha Chip available among others.
If you are a chocolate lover, you have to give this Chocolove Salted Caramel in Dark Chocolate a try! It's out of this world! So buy at least two bars – one for yourself and the other one for the spa gift basket.
As I mentioned above, there is a little surprise discount for all the new customers for orders $20 or more! Just click the button for the discount!
Use code GIFT10 to get $10 off iHerb orders over $40!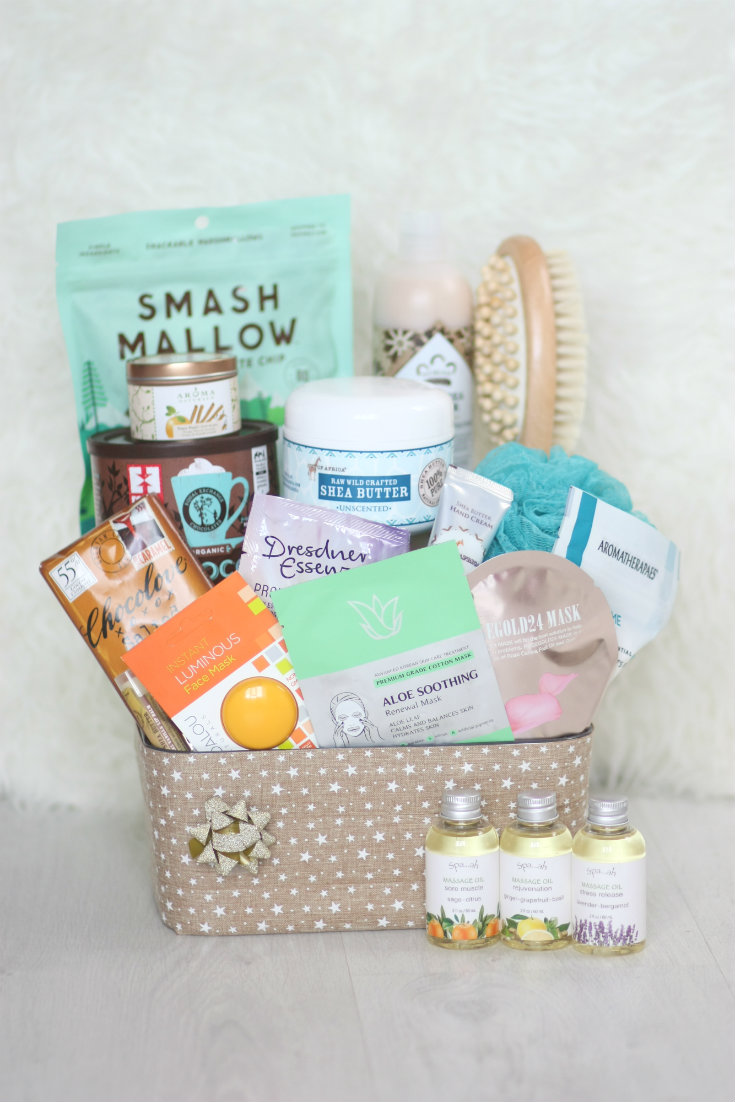 What products would you add to your spa gift basket?