We all know the huge television hits people can't get enough of, like the amazing The Handmaid's Tale and Westworld. (And of course, who can forget to mention Game of Thrones?)
But there are so many amazing underrated shows that people are missing out on, sometimes because they're not in English.
Personally, I LOVE watching shows created in other countries. American shows are great but I treasure a change to the standard actors, plots and filming styles.
These 5 shows are all based in other countries and they are spectacular… start by watching one episode and you will be sucked in to continue watching the entire season – guaranteed.
Don't believe me? Watch the trailers and read what I have to say. The plots are extremely unique and the shows are expertly-made.
Check out the 5 foreign-language shows you cannot miss.
Pin it!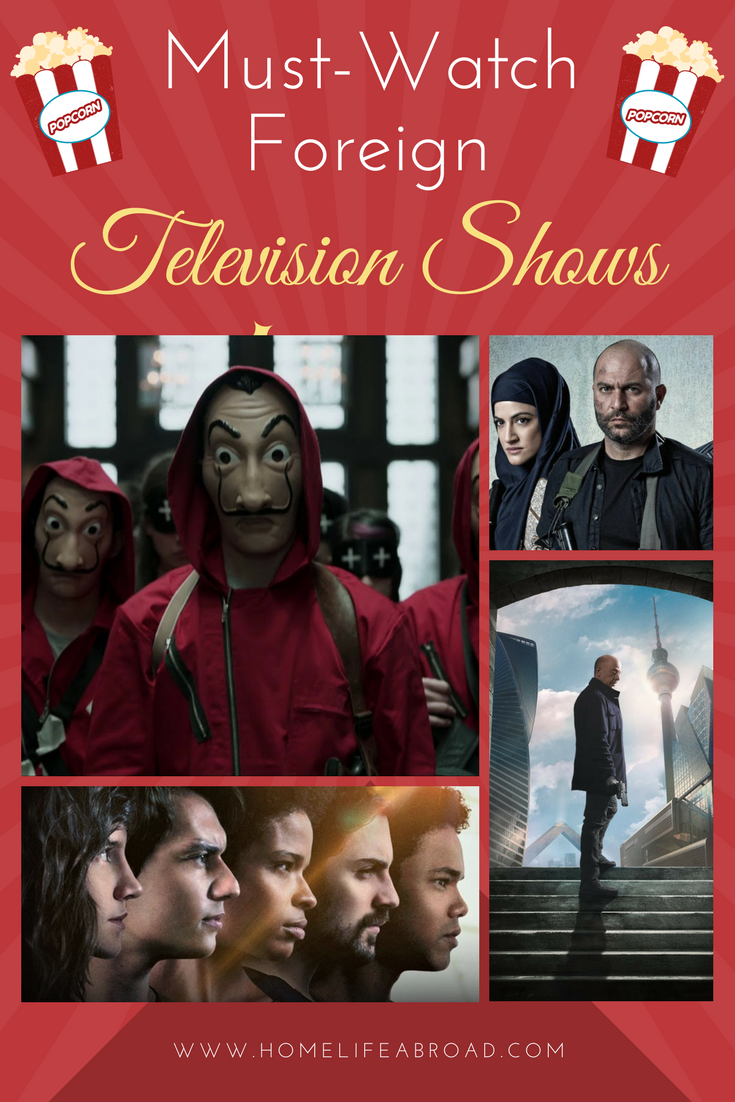 1) 3%
3% features top-notch Brazilian actors who embody their poverty-stricken characters and feel like they really exist in a post-modern world of chaos and pollution.
The premise is simple and yet mysterious: Every year, all 21-year olds have the opportunity to rise above a life of poverty to move to an island where life is perfect. But only 3% of applicants will make it through the grueling interview process. We accompany a group of these applicants, each with their own backstory and determination to make it through to the other side.
Drama ensues from the beginning as does the mystery of what lies on the island.
You can watch this on: Netflix
2) The Money Heist (La Casa de Papel)
I'm only at the start of this show but I'm already loving it. My eyes are glued to the screen every moment of the way.
Planning to run the biggest heist of all time, the "Professor" recruits a professional group of criminals, all with a background in successful heists.
Their plan: rob the Royal Mint of Spain and become rich beyond their wildest dreams.
They prepare the heist for months, but will everything go as planned? It's a thrilling combination of discovering their extremely thought-out plan while they battle the unexpected.
The craziest part? You'll find yourself cheering for the criminals.
You can watch this on: Netflix
3) Counterpart
This is a seriously under-appreciated show with a unique plot and top-notch actors.
In the midst of the Cold War, scientists in Germany split our reality into two parallel dimensions. But from that point on, our realities diverge – life is different in each dimension, each moving in their separate direction.
So what happens if there are now 2 of you? Same history, same parents, but from a certain point in history, you're no longer the same person… you make different decisions that take you on separate paths in life and impact your personality and life.
This is the reality Howard has to deal with. Embroiled in violent chaos because of his 'double' from the other side, he reveals unimaginable plots that could be responsible for the destruction of millions.
If subtitles bother you, this show is mostly in English with sprinkles of German.
You can watch this on: Starz
4) Fauda
I haven't watched this one, but wow, do I hear about it non-stop.
It's also been selected as the best international show of 2017 by the New York Times.
"Fauda," Arabic for chaos, depicts the story of an Israeli undercover agent on the hunt for a Hamas terrorist. But here's the interesting catch – it's from the perspective of both the Israeli agent and the Palestinian.
The show is in Hebrew and Arabic and switches through the perspective of both main characters and their families, displaying the humanity on both sides of the conflict.
Interestingly, it has broken viewership records among both Israelis and Palestinians.
I hear it's a major thriller and extremely compelling… so it's next on my watching list.
You can watch this on: Netflix
5) Narcos
Narcos chronicles the rise of cocaine trade in Colombia and the consequences it's had on the country, its people, politics and society.
And let me tell you… the effect it had on Colombia is INSANE. Narcos managed to put the crazy story together to form one entertaining show.
The show revolves around US law enforcement as they battle the export/import of drugs to the US and on the drug kingpins themselves – particularly the infamous Pablo Escobar, who became one of the 8 richest people in the world and practically untouchable in Colombia.
I loved the show so far but I do have my issue with the main actor because of his extremely thick, incomprehensible, fake accent… but if you're not a Spanish speaker, you won't mind.
Regardless, it's a brilliantly made show that is still evolving to tell a complex story of a war that Colombia is still battling.
You can watch this on: Netflix

Have you watched any of these shows? Let me know your thoughts below!