*Disclosure: I received the products mentioned below to facilitate my review. All thoughts and opinions are my own. Please note that some links may be affiliate links and we may make a commission if you purchase a product after clicking on a link. This doesn't affect the price, but we appreciate your support in this way!
We love snacks! Doesn't matter if they are sweet or salty, anything goes! So when TokyoTreat offered us a chance to try some Japanese candy and other snacks, we were thrilled. My daughter asked almost daily if the review box has arrived yet.
So when we received the box last week, she was super happy and kept repeating "Ahora podemos hacer el review!, Ahora podemos hacer el review!".

TokyoTreat is a subscription box that offers a wide variety of premium Japanese snacks and candies. Every month a carefully curated box of different full-size salty, sour, sweet and limited edition Japanese treats that you won't find anywhere else arrive at your door! The best part? TokyoTreat offers a free international shipping!
There are 3 different box sizes to choose from and you can choose monthly, 3 months, 6 months or a yearly subscription plan: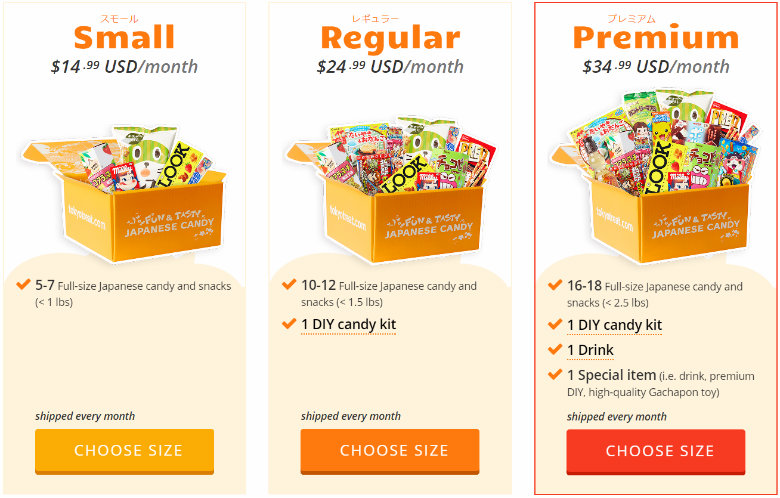 We were sent a Christmas-themed December Premium box! Our box had 15 snacks, 1 soda, 1 DIY candy kit and a super cute Mokeke character.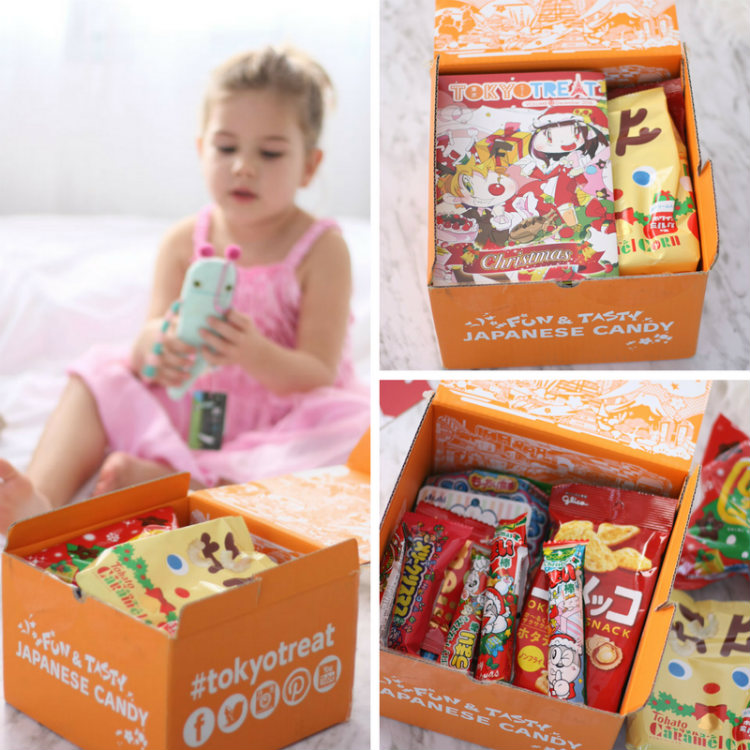 The contents of the December 2016 Premium Box: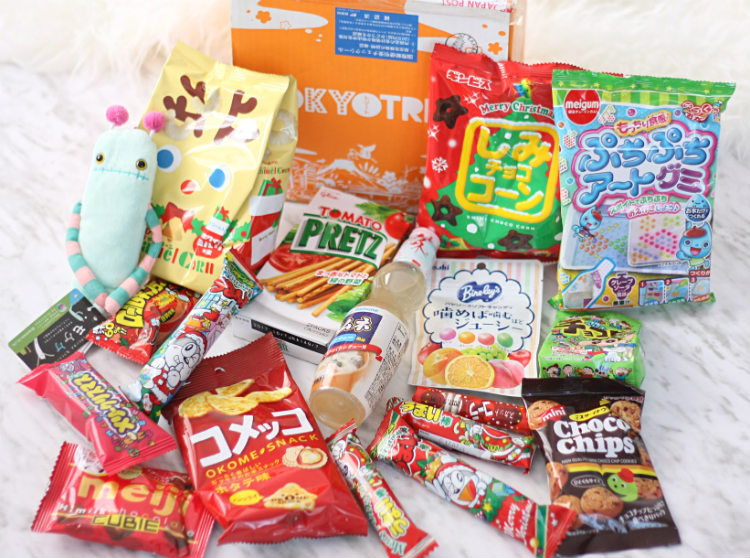 Get Your Japanese Snack Box Now!
I was really surprised that such a small box was full of so many delicious treats and the Christmas packaging is super cute too! My 4-year-old daughter helped me to sample all the treats. She chose the one to try, I took photos and then we sampled them. She also insisted giving points to all snacks too! 🙂
These snacks would be perfect for a gathering with friends and family, so they too can taste some Japanese treats and you could also arrange for a Eurovision style voting – and the 12 points goes to … . I'm sure it would be a lot of fun. I really wanted to take some of these snacks to my co-workers too, but we finished most of them, so they have to wait for the next box to arrive.
And now to our favorite treats! These are Sofia's favorite: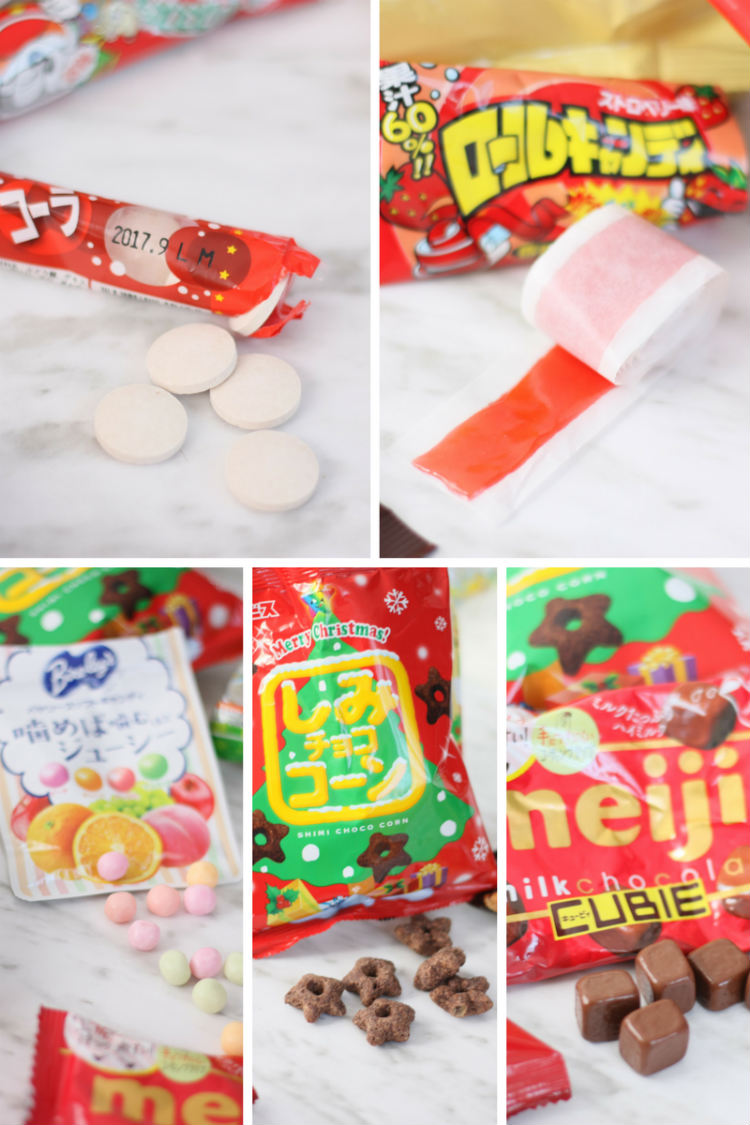 Cola Ramune Candy – it's a slightly powdery Cola flavored candy. Sofia absolutely loved them and told me that she would give them 80.000 points :). For me, they taste like chewable vitamin tablets that taste to Cola.
Strawberry Roll Candy – this is 50cm log strawberry flavored candy roll. Really sticky and tastes wonderful! We both liked it a lot!
Bireley's Soft Candy – it was one of the first things we tried and these soft candies are super delicious. We did not like the green one at all, though.
Christmas Edition Shimi Choco Corn – corn snacks are really popular here in Spain too, so I already knew that Sofia would like these chocolate corn snacks. My mother-in-law told that they look like dog food. For me, they are a little bit greasy, but the taste is great!
Meiji Hi Milk Chocolate Cubie – We haven't tried Meiji chocolates before, but these little cubes are really delicious! The booklet says that these cubes have a special coating wich makes them less prone to melting in your hand.
My favorites: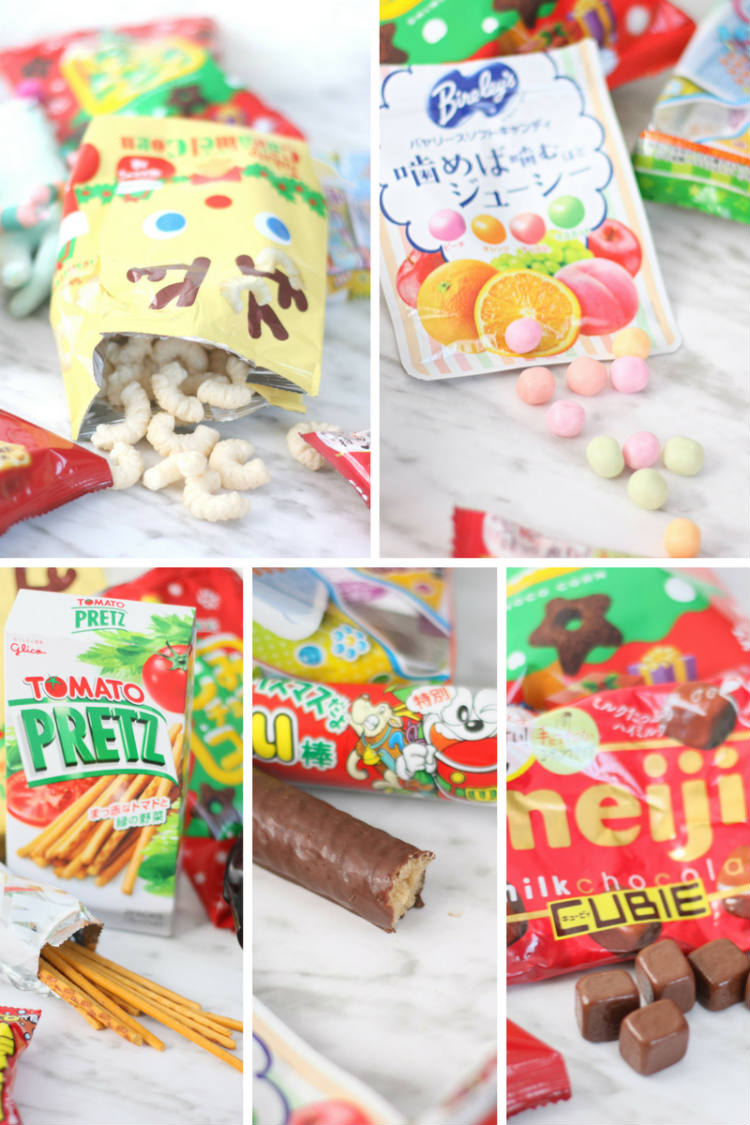 Tohato Christmas Edition White Milk Caramel Corn – These are the most delicious things I have tasted for a long time. Sofia did not like them at all (have no idea why) and my husband told that they are ok. Well, more for me then! These corn snacks taste to caramel and cream. The packaging is super cute!
Bireley's Soft Candy – like I already mentioned above, we both liked these candies. They are covered with a slightly hard shell, but the inside is soft and chewy.
Tomato Pretz – I like everything pizza and these little crunchy sticks taste to pizza. Sofia loved them too, just told that the smell gets 0 points, as she does not like the tomato scent.
Christmas Edition Chocolate Umaibo – I have no idea what Umaibo is, but these corn sticks covered with chocolate are yummy! Sofia love them too!
Meiji Hi Milk Chocolate Cubie – I love chocolate, so it's normal that Cubies made it to the list! Good chocolate!
The products we did not like so much: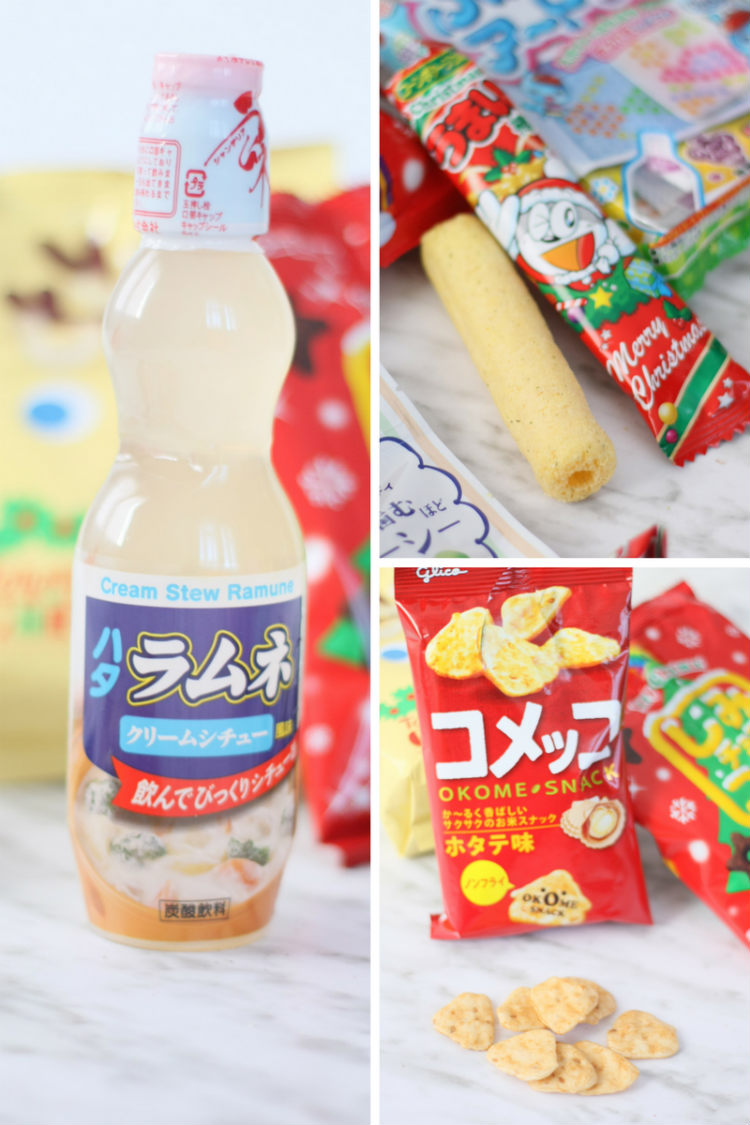 Cream Stew Ramune -I first thought that it's some kind of sauce for cooking, but actually, it's a cream stew flavored soda. We were brave enough and gave it a try. Sofia did not like it at all, but it's not that bad. It tastes like soda but has a creamy aftertaste.
Christmas Edition Corn Potage Umaibo – the smell is of this Umaibo is really strange and we did not like the taste at all. The chocolate Umaibos were great, these, not so much.
Komekko Scallop Flavor – I don't like seafood, so when I saw scallops on the package I did not want to try these non-fried rice crackers. Sofia sniffed them and told that there is no way she will try them. I gave them a try and they taste quite good. The smell is awful, though!
Things we like about TokyoTreat:
nice variety of products
Mokekes are super cute
the small booklet with product information
themed boxes (Christmas, Valentine's Day, etc.)
Things that could be better:
info in English about ingredients would be great
Get Your Japanese Snack Box Now!
We really recommend you to give this box a try! It's a fun way to taste Japanese snacks and try some new products! We had a really great mother-daughter time snacking, commenting and giving points to all the snacks included in the TokyoTreat box. Can't wait for our next box to arrive!
Would you like to try any Japanese snacks?