*I partnered with iHerb on this post and it has been sponsored in compliance with FTC requirements. All thoughts and opinions are my own. Please note that some links may be affiliate links and we may make a commission if you purchase a product after clicking on a link. *Always consult with your doctor before taking any supplements.
I adore Fall! Back-to-school, routine, colorful leaves, hot drinks, and colder weather are the best! While autumn is my favorite season, I do not like the flu and cold season it brings. During the fall and winter, I tend to worry more about my family's health and try to find ways to keep my family healthy and those nasty germs away.
I have found that the best way to stay healthy is the prevention. Our family tries to have healthy habits all year round not just during the seasonal changes. So in collaboration with iHerb and Nature's Way, I'll share some tips that help me keep my family healthy throughout the year.
As you might have noticed from my past posts, we turn to iHerb whenever we need natural products that are not available or are very expensive here in Spain. If you haven't heard of iHerb before, know that they are an online retailer that sells nutritional supplements as well as beauty, cleaning, and food products. A wide range of their products is eco-friendly! They ship internationally to 160 countries and have customer service available in 10 different languages!
I have ordered a lot of products (see all the hauls) from them and the shopping experience has always been excellent. I have had to deal with customer service just once and the problem was solved in less than an hour. 😍
Without further ado, here are the tips for keeping your family healthy!
Eat your veggies and fruits
We all know that we should eat 5 portions of fruit and vegetables a day as a part of a healthy, balanced diet. Fruit and vegetables are important for our health because they are a great source of fiber, vitamins, and minerals. They have been shown to boost our immune system and reduce cholesterol levels and blood pressure.
Did you know that most people do not eat the recommended amount of fruit and veggies and because of that do not get the needed amount of nutrients? Are you one of them? I know that there are some days when my family doesn't get that amount either. That's why we have vitamins on hand when needed.
iHerb has a huge amount of vitamins and supplements available for every need. We were sent Nature's Way supplements from their Alive! line for all the family.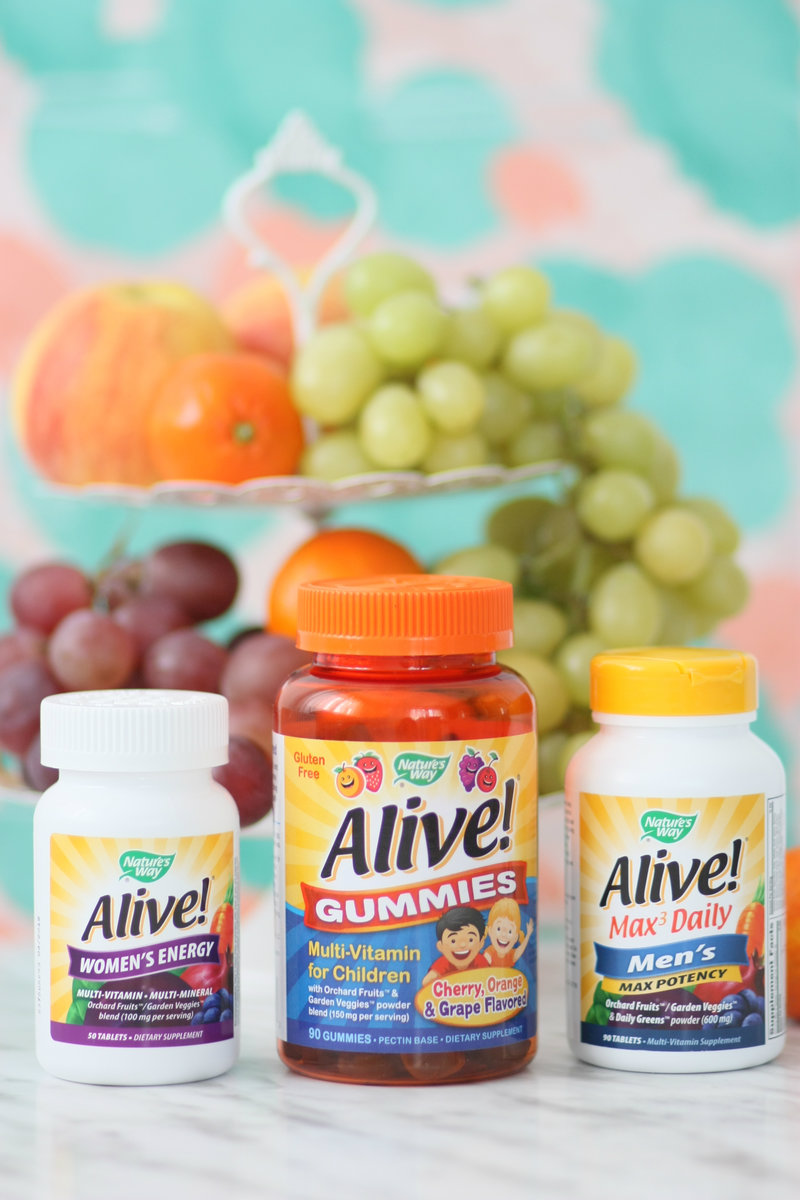 As my daughter is a really picky eater, vitamins that look like candy are a really great choice. Nature's Way Alive! Gummies contain 27 different fruits and vegetables and use natural flavors and colors. Sofia really loves them and when I forget to give her the gummies, she will remember and ask for them.
I have been taking Women's Energy multivitamins 28 fruits and veggies including Brussels sprouts, pumpkin, and kale among other ingredients. It's specially balanced to support energy, heart health, bones, immunity, eyes, hair, skin, and nails.
When taking care of your family's health, be sure to take care of your significant other too. We know that guys are strong and they think that they do not need to be taken care of but a little boost of energy and immune system support is always useful. Nature's Way Max3 Daily contains orchard fruits, veggies, and daily greens – a mix specially created for the guys in your family.
Do keep in mind that vitamins and other supplements do not substitute fresh fruit and vegetables.
Exercise & Keep Your Bones Healthy
By exercising I don't mean that you have to go to the gym. I prefer to go hiking with my family, go swimming, ride a bike, or take long walks at the beach. That way we get some exercise done but we also spend time together as a family.
Exercising is important not just for losing weight but also for staying healthy in general as it can treat sleeping problems and anxiety, it's good for your heart and lowers your cholesterol levels and even blood pressure. Exercise is also a key part of keeping our muscles and bones stronger and preventing osteoporosis.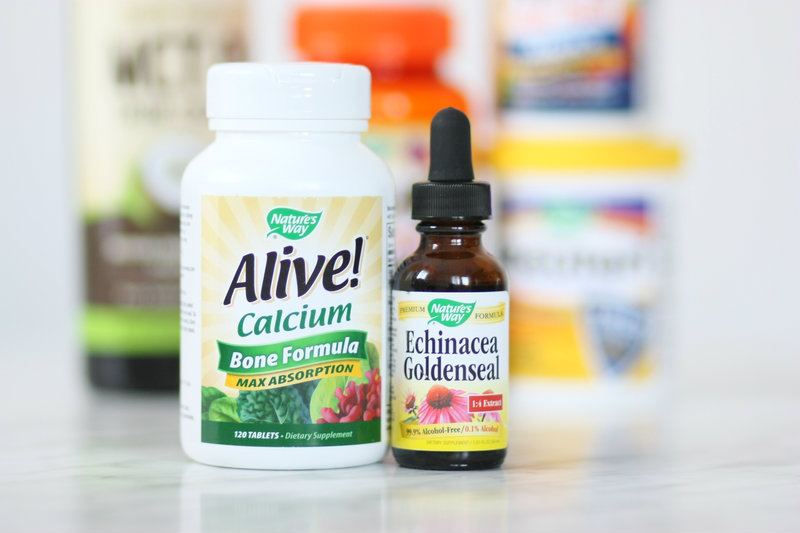 To keep our bones strong and prevent injuries we have to get calcium from our daily diet. Dairy products are well-known sources of calcium, but you can get it also from salmon, tuna, beans, broccoli, kale, and spinach. In addition to calcium, magnesium, and vitamins D and K are needed to help calcium do its job and Nature's Way has exactly what's needed for bone health! Their Alive! Calcium Bone Formula combines ingredients like Vitamin C from organic fruit, D3, K2, Calcium from plants, and Magnesium to help you keep your family's bones healthy.
Be Prepared for the Cold and Flu Season
Just about now the cold and flu season is creeping up on us and I'm sure many of us have had our first cold already. The first years, when Sofia started school, we usually caught a first cold a week or two into school and a stomach bug or two after that. But I have learned my lesson from those sleepless nights and suffering children and started to prepare for the cold season way before she goes back to school.
It's important for us to have our immune system as strong as possible and with the help of a well-balanced diet and exercise we have done most of the job. But I do like to add some extra weapons to be sure to keep those nasty viruses away.
Have you heard of MCTs? Medium Chain Triglycerides (MCTs) like MCT Oil From Coconut do not just help you to manage your weight and give you more energy but they also support your gut flora, especially since they have antibacterial, antiviral, and antifungal properties.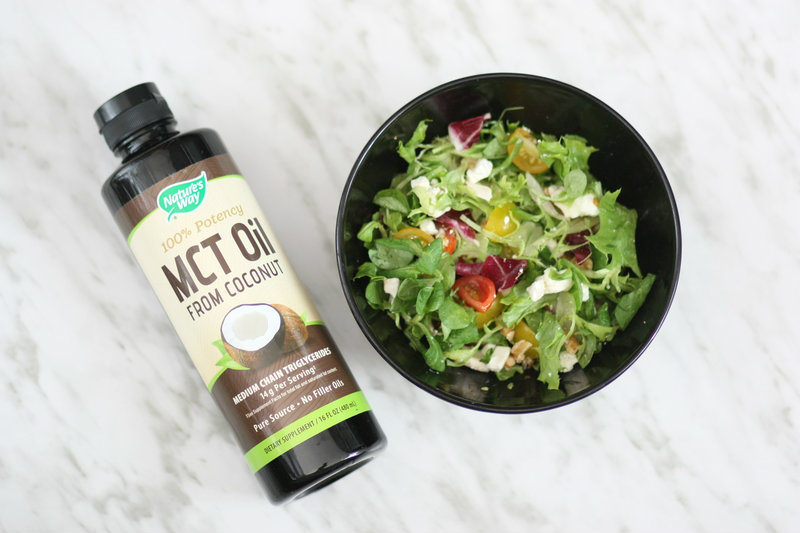 We usually add Nature's Way MCT Oil to our salads and smoothies because it does not affect the taste of other foods but it can be taken by the spoonful if needed too.
Another thing we always have on hand is probiotics. The microbes that live in our gut flora help us digest our food but besides that, they also regulate the immune system. Probiotics taken as a supplement may also reduce the number of colds we have during the year. Reuteri Superior Probiotic powder is great for restoring the gut environment after taking antibiotics or when dealing with stomach flu. We add it to yogurt, sprinkle it over the cereal, or take it with applesauce.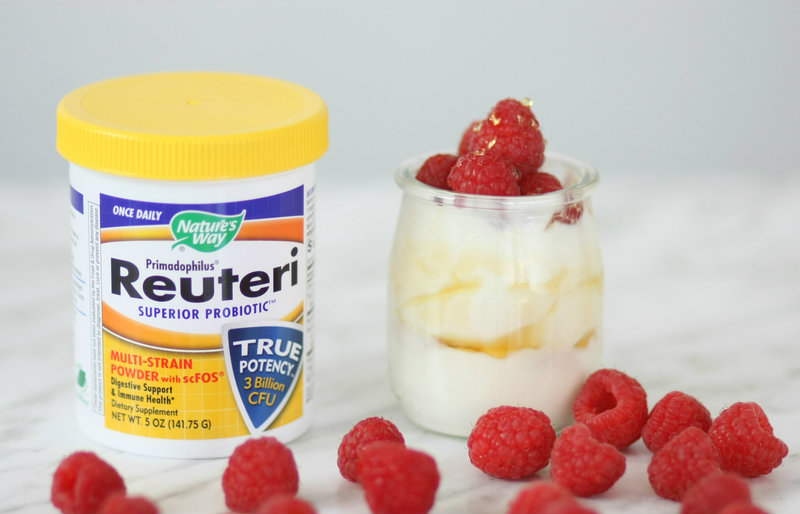 A new addition to our "Stay Healthy" arsenal is Nature's Way Echinacea Goldenseal. I knew that echinacea might help fight or reduce colds but I had not tried it before. While Native Americans have used echinacea for its medical properties since the 18th century, studies have yet to discover the active principles that help to fight the colds. I tried the Echinacea Goldenseal when we got back from our road trip a couple of weeks ago because I was feeling under the weather. I have to say that the liquid tastes not so good but I did notice that it cleared my head and gave a boost of energy for a couple of hours. Have to give this a try when I notice the first signs of a cold.
New customers get $5 off their Nature's Way Order of $20 or more!
There are just seven of Nature's Way products we are using at the moment but iHerb actually carries over 400 Nature's Way products so I'm sure you'll find everything and more you might need from their wide range of products. For our family, Nature's Way products have become an important part of our daily life more so during the flu and cold season.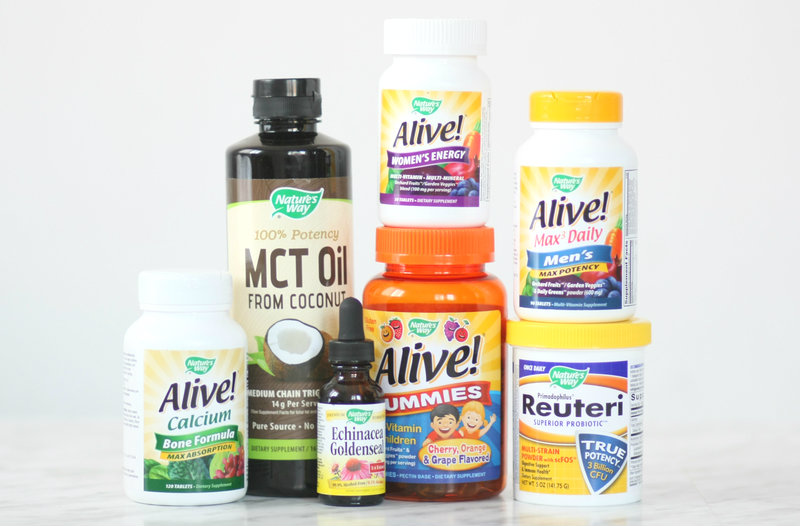 As you see, with a few simple tips it's possible to keep your family healthy – a well-balanced diet and exercise do the major part of the work but with the help of good quality vitamins and supplements you can give your family's health an extra boost.
How do you keep your family healthy?