There's nothing quite like Valentine's Day for an excuse to bake & eat some delicious sweet pastries and chocolates! These Fudgy Valentine's Brownies with Heart Frosting are one of my favorites – pretty, bite-sized and with the creamiest cream cheese frosting. They make the perfect Valentine's treat!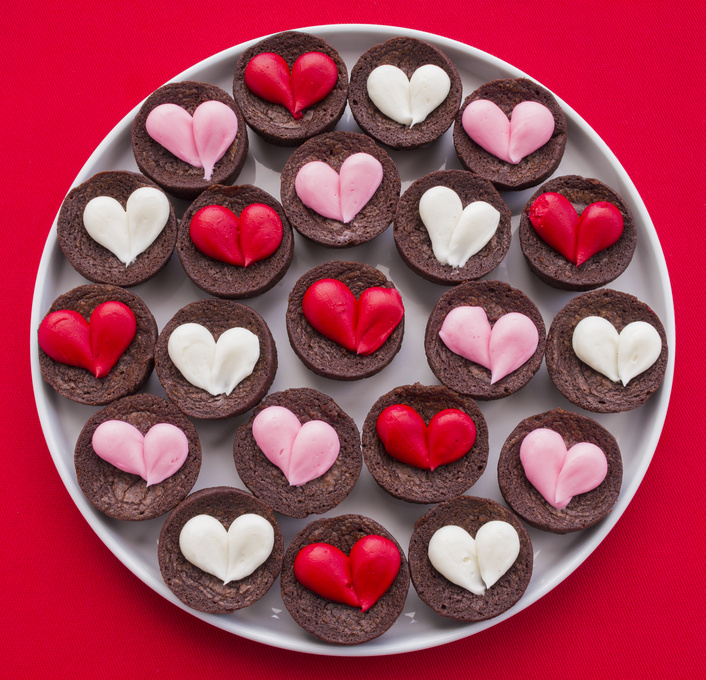 Fudgy Valentine's Brownies with Heart Frosting
These brownies with heart frosting are one of my favorites – pretty, bite-sized and with the creamiest, delicious cream cheese frosting. The perfect Valentine's treats!
Serves:
16-20 mini brownies
Ingredients
Mini Brownies:
½ cup unsalted butter, softened
¾ cups all-purpose flour
2 ½ ounces unsweetened chocolate
1 ½ cup sugar
3 large eggs
1 tsp. espresso powder
¼ tsp. salt
1 ½ tsp. vanilla
Cream Cheese Heart Frosting:
½ cup of unsalted butter (1 stick), softened
4 ounces of Philly cream cheese, softened
2-3 cups powdered sugar (depending on desired sweetness)
1 teaspoon vanilla extract
Red food coloring
Instructions
Mini Brownies
Preheat the oven to 160° C (325° F)
Prepare a large metal baking pan by placing foil inside. I recommend spraying the foil with nonstick spray.
Stir the butter and chocolate together in a large saucepan over low heat. Once the chocolate has melted, remove it from the heat.
Add sugar and eggs one at a time, making sure to mix and whisk throughout.
Add the vanilla, salt and espresso powder. Continue to mix and whisk.
Sift the flour over the mixture and stir. Make sure it's well blended as otherwise the brownies will be clumpy.
Pour the batter over the metal baking pan. Place in the oven.
Approximate backing time of the brownies is 20 minutes. Continue to check as they can burn from one moment to the next. The top should look dry and the mixture should have risen to twice its original size. Poke the brownies with a stick – if the stick is a little moist, and the top of the brownies is dry, then you're good to go! Remove from the oven and let it cool.
Once cooled, use a small round cookie cutter to make the circular brownies.
Cream Cheese Heart Frosting:
In a small to medium bowl, beat the butter and cream cheese with an electric mixer. (If you don't have one, a fork does a good job)
Place the mixer on low speed, and add the powdered sugar a cup at a time. Stop when the icing is smooth and creamy.
Add vanilla extract and continue to mix.
Separate the icing into 3 bowls. Add drops of food coloring to two bowls to get the colors you desire. (1 drop is usually enough for pink, a few for red).
Place the icing into small baggies/zip lock bags and cut a tip.
Carefully press the baggies to create small frosted hearts on the brownies.

Delicious yumminess, just in time for Valentine's Day!
Pin it!