Disclosure: I paid in full for my stay at Secrets Maroma Beach Resort in Riviera Cancun. Because it was our honeymoon, the resort gifted us with a Honeymoon Package. However, all opinions below are completely my own and in no way influenced by the gift.
After counting down the days to our honeymoon, we finally packed up our bags and headed to paradise: Secrets Maroma Beach Resort in Riviera Cancun, Mexico.
We really needed a break – after years of hard work and only short vacations, we were ready to be pampered and relax for a full two-week honeymoon and Secrets Maroma turned out to be the perfect location.
A beautiful resort, great service and (mostly) nice weather, we were a world away from home. The resort gave us an opportunity to enjoy quality time together, rest and relax in the warm waters of the Quintana Roo beach.
And now that our time there is up, we're ready to sum up our wonderful 5-star experience at the resort.

The resort
The resort is absolutely beautiful and impressive, from beginning to end. Everything in its design, from the fountains leading up to the entrance to the walkway toward the pools, is a depiction of pure elegance.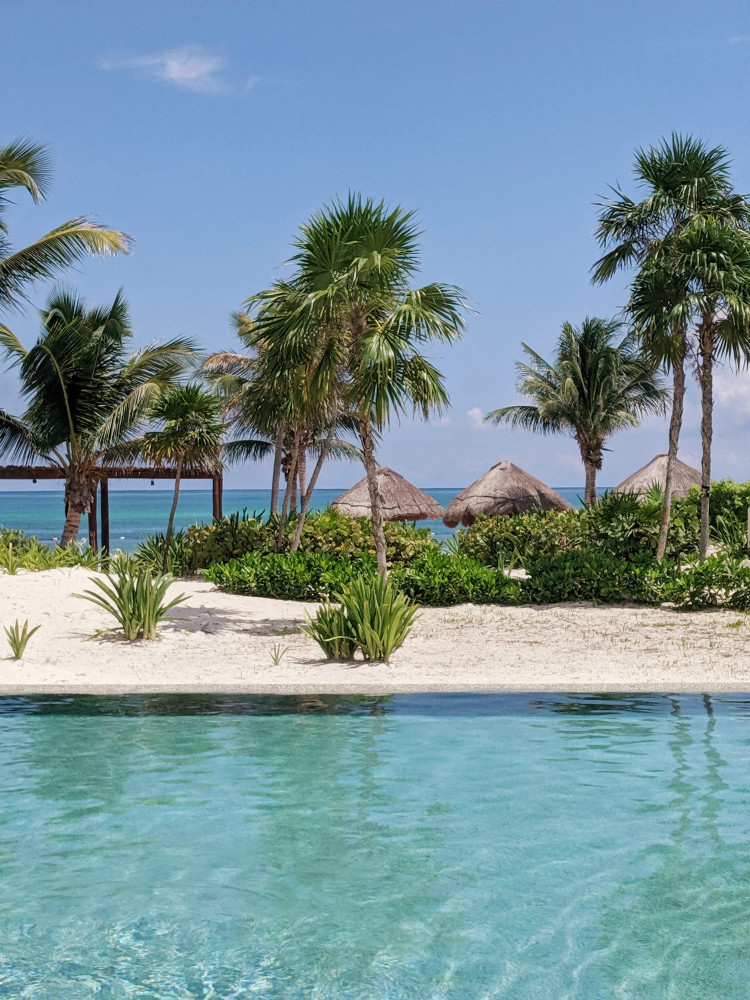 We were impressed from the moment we arrived and continued to be so as we explored the resort and all it has to offer.
We also enjoyed the playful side of the resort, like the overly large chess table in the pool, the hammocks, and the swings which double as seats at one of the bars.
Our only complaint was the gym. On its own, it's very well set-up. It has a large enough space and numerous machines and weights. However, a gym without functioning air conditioning in the heat and humidity of Playa del Carmen is almost unusable. I gave up after 3 days – maybe I'm spoiled, but I need air conditioning to properly work out in a gym.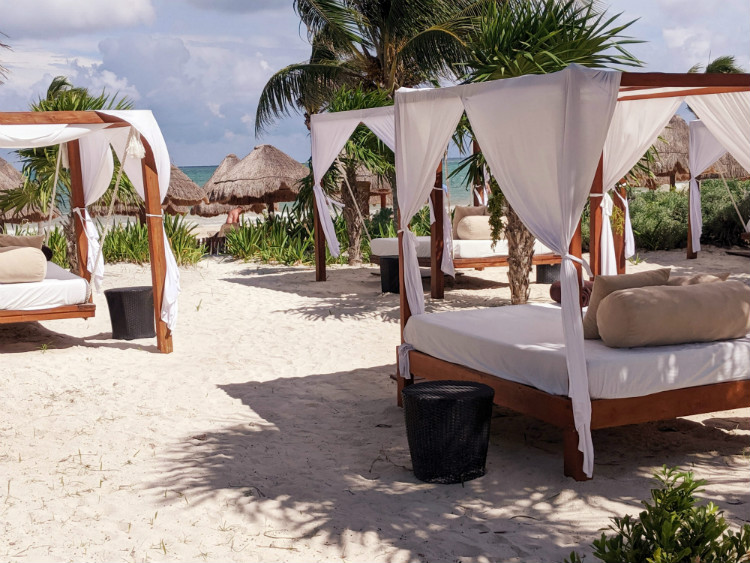 The service
I've been in numerous hotels and resorts throughout my lifetime, but Secrets Maroma's service was far and beyond anything we have experienced. There was not one staff member who didn't show exemplary customer service.
From small details like polite greetings from anyone we ran into, to frequent checks to ensure we were completely satisfied, the resort's staff is constantly on the lookout to provide great service.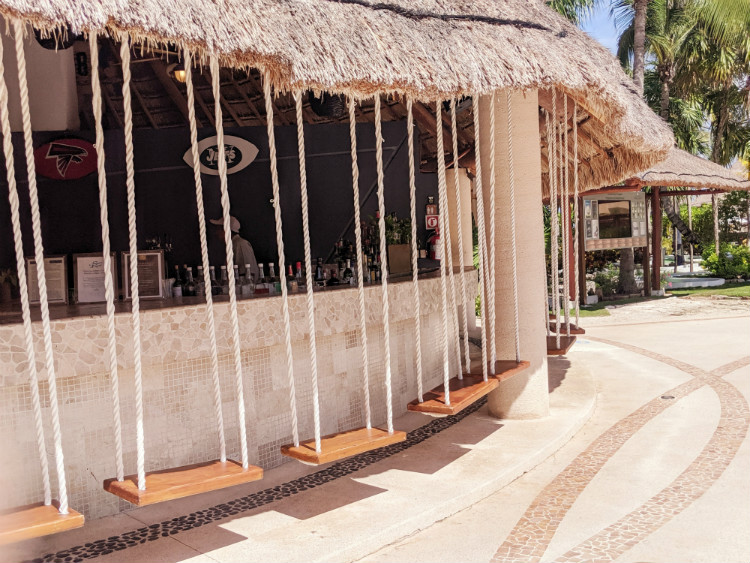 We loved the fact that we could relax by the beach and waiters would bring us delicious cocktails or even sunglasses-cleaning kits. It's these small details that made the service that much better.
Every building has a personal concierge who was very much on-top of ensuring guest satisfaction. They were very helpful and aware of our status and how to improve our stay.
The level of service was so high, that we felt overly spoiled by the resort.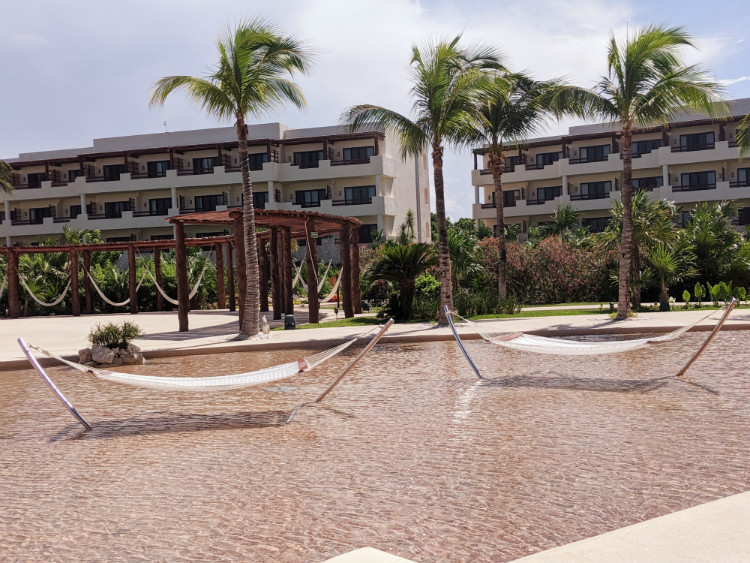 Dining & Drinking
Wow, the food…. Honestly, it was the best part of the experience. The food was so good, that I would rate it up there with Michelin star restaurants.
The resort hosts numerous restaurants with different types of cuisine, from Asian to Mexican and Italian. There are 6 á la carte gourmet restaurants, a buffet venue, a grill and a café. There are unlimited, 24-hour dining options to enjoy food whenever you want it.
Alternatively, you can also order room service – for absolutely free. Can't help but love all-inclusive!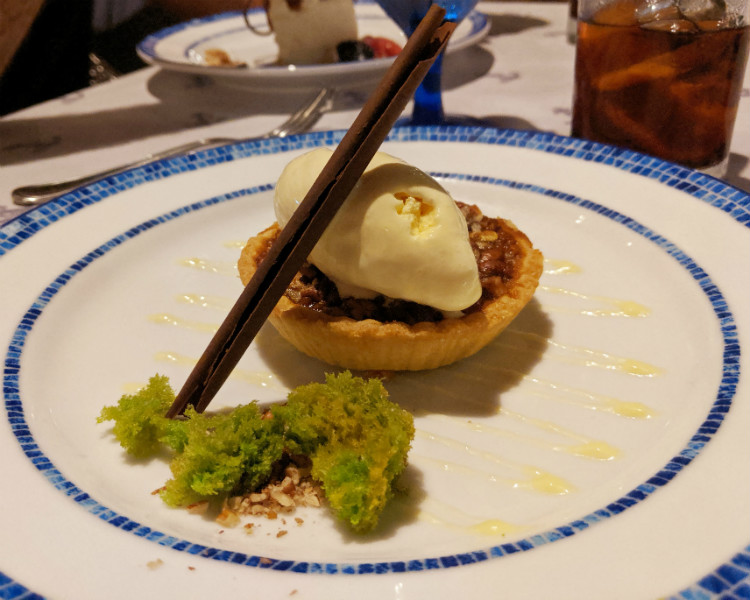 An important aspect to mention here is the portions: the á la carte restaurant portions were perfect. They were small but not too small and by the end of the meal, you were completely satisfied.
Considering the weight gain caused by overeating at all-inclusive experiences, I was happy to see that the portions were adequately sized.
Here is my breakdown from all the restaurants we experienced:
Bordeaux – French Cuisine
This restaurant was spectacular. It was our first experience in a resort restaurant and we were blown away by how good the food was. The presentation was beautiful and the tastes were even better.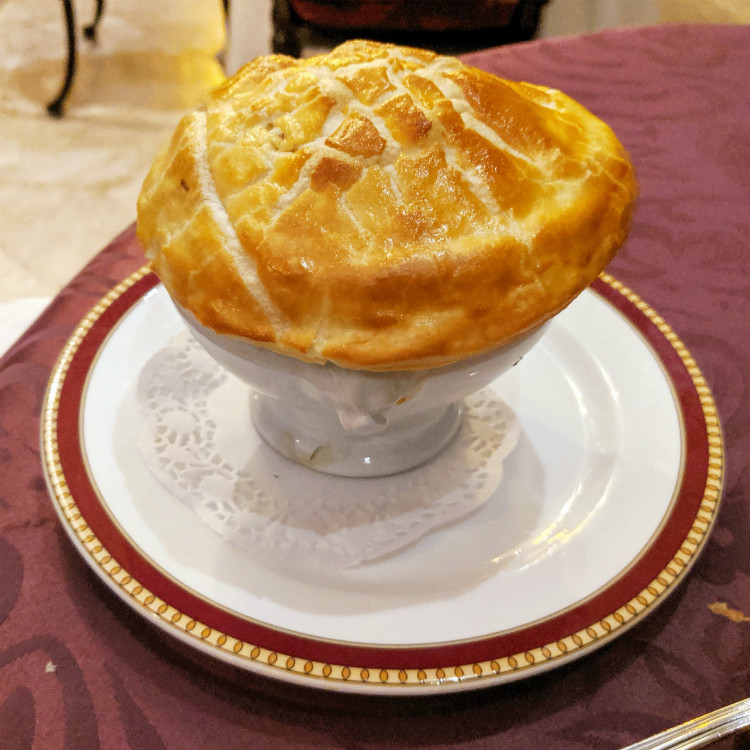 Of course, the service was excellent, with attentive and helpful staff. We are huge fans of French food and can attest that this restaurant is at par with those in Paris.
The décor is also very romantic, which makes it a great fit for a honeymoon date.
Portofino – Italian Cuisine
I love Italian food and this restaurant became a quick favorite for me. The food is delicious, the service is great, and the mood is super romantic inside and outside the restaurant.
I really enjoyed their deconstructed lemon tart and well, all the food. There's no going wrong at Portofino.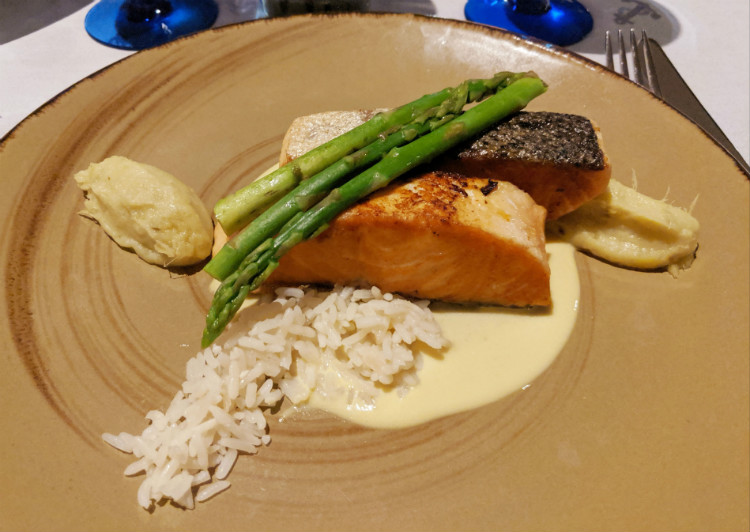 Seaside Grill – Fresh Seafood
Anyone staying at Secrets Maroma will experience Seaside Grill numerous times. It's the only á la carte restaurant open during lunch time, which is a shame. The food there is delicious, and there are some nice options.
We loved the tuna ceviche and the roast chicken – both are spectacular. Plus, you can't go wrong with nachos with guacamole and pico de gallo for a starter.
An added benefit: fast service right by the pool so you can go back to relaxing after a short eating break.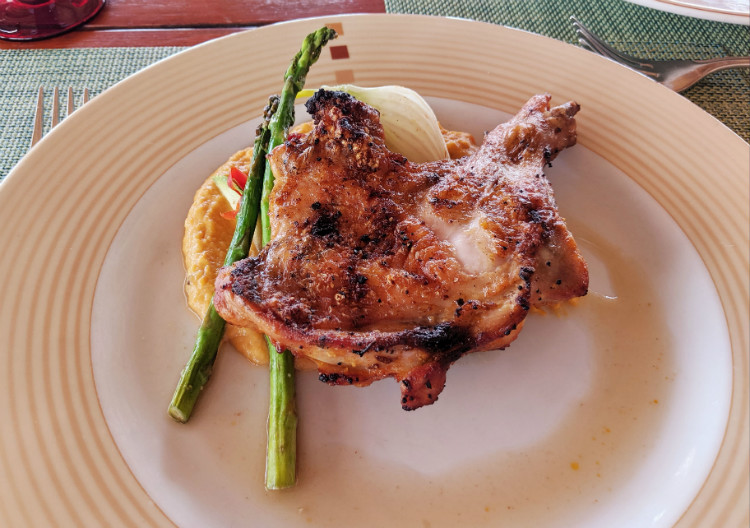 Barefoot Grill – Light Lunch
This is the light lunch restaurant aka "fast-food". Located by the pool, you stand in line and then order whatever you would like from their menu. Options include burgers, fries, nachos and other fast food options. There is also a pizza oven if you would like a personalized pizza.
Food here is okay. It's not nearly at the taste and presentation level of the á la carte restaurants, but it's okay enough for a quick bite when you don't want to enter the restaurant.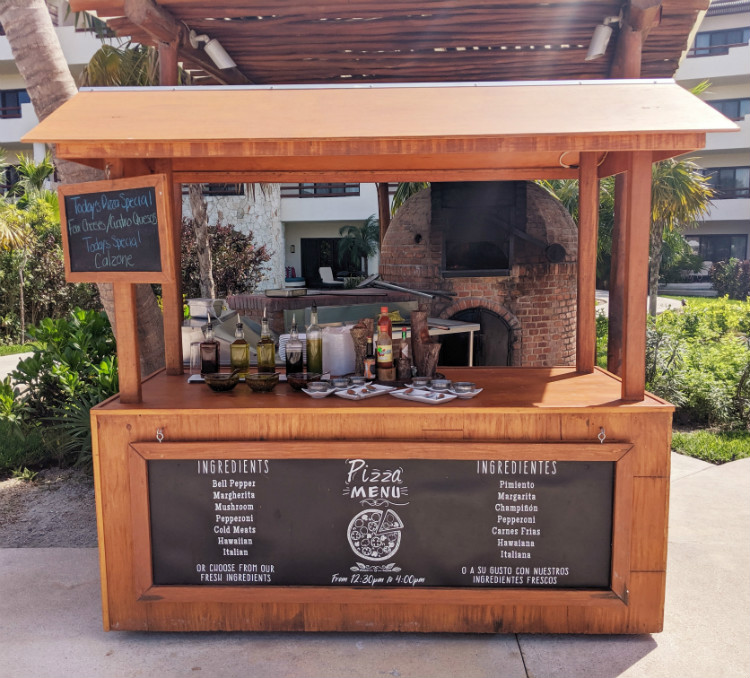 Oceana – Fresh Seafood
Another delicious restaurant located by the pool but unfortunately only open at night. Oceana is a nice break from the more rigid clothing rules of the other á la carte restaurants.
The attention here is good and the food is tasty. The salmon in particular was exquisite. We didn't experience this restaurant as much as the others as neither my husband nor I like seafood, but what we did eat here was great.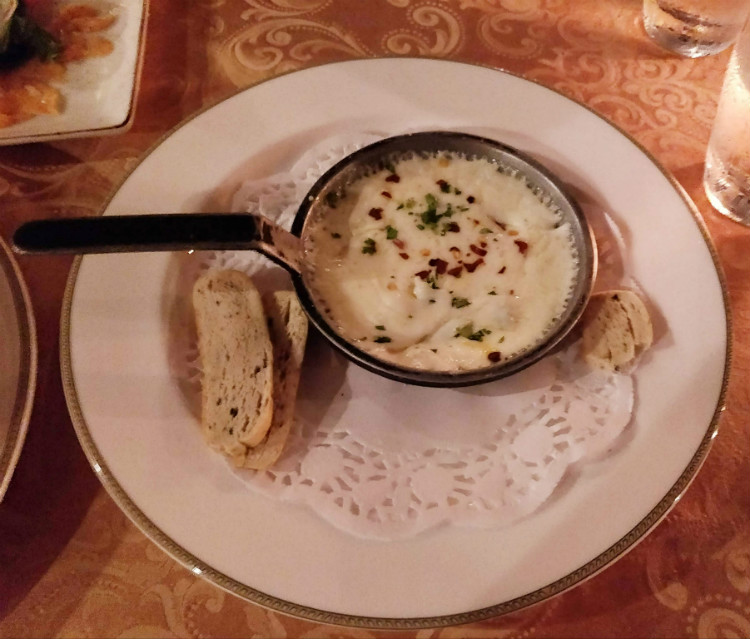 Himitsu – Pan Asian Cuisine
Unfortunately, Himitsu was the only disappointment of all á la carte restaurants. The food is good, the décor is beautiful, but unfortunately the service is way under the levels offered by the other restaurants. It's extremely slow, food is served with very long waiting gaps and waiters, although hard-working, seem to be confused most of the time. We didn't have a good service experience at either visit to this restaurant.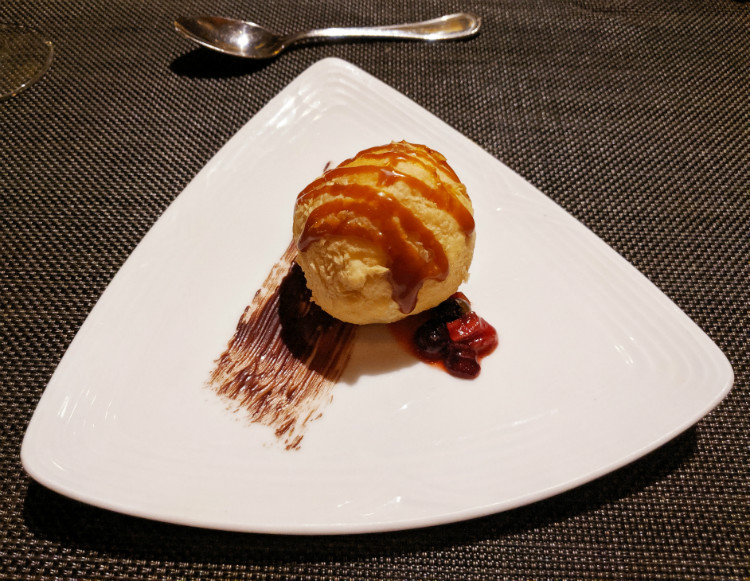 The one positive thing to Himitsu is their live entertainment cooking, when a chef prepares a meal with a very entertaining show. However, be ready to wait over 30 min from the booked time until the chef shows up. Due to the slow service, this is really the only worthy aspect of the restaurant. We enjoyed the show and its food very much!
World Café – International Buffet
The World Café offers buffet-style breakfasts, lunch and sometimes dinner. It's the only breakfast option available to non-premium guests so we ate there numerous times.
I always prefer to avoid buffets because I tend to overeat and food is never at-par with restaurants, which is what happened here.
However, the food was still good and they always had a wide variety of options available. Service here is excellent, fast and attentive.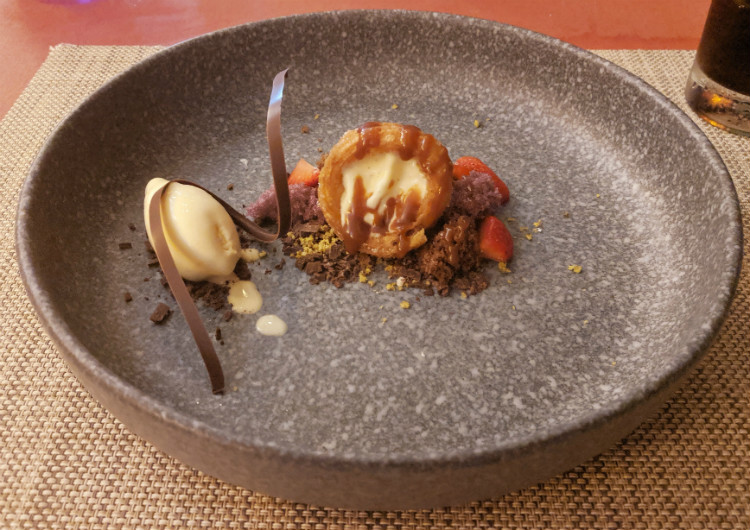 The room
In a nutshell: this was the best room we've ever had in a hotel or resort.
It was absolutely beautiful and quite large, which was surprising since we had the 'cheapest' room category. There are upgraded rooms with nicer views or a direct exit to a semi-private pool, but they were way past our budget. So unfortunately, we didn't have much of a view – our view was to the private pool downstairs and a canopy roof.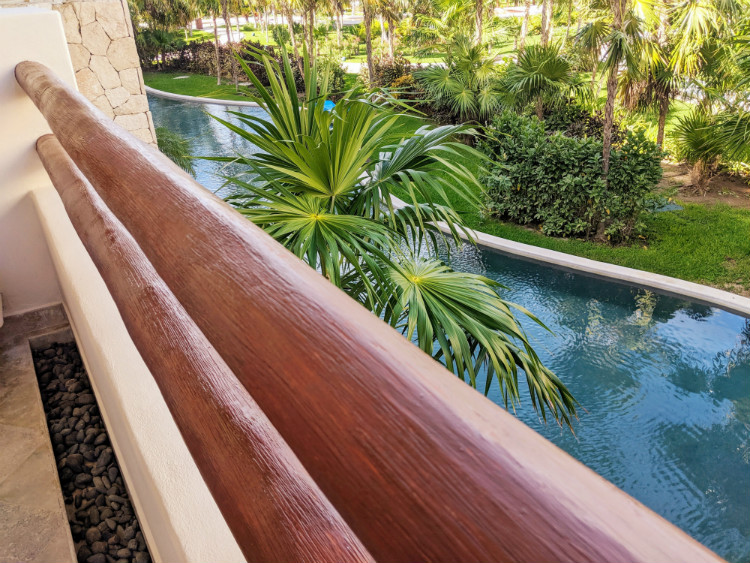 The king size bed was comfortable; we had a sofa and desk area and a porch with a comfortable seating space and table. But the winner here was the bathroom: wow! It was the bathroom of my dreams.
The rainfall shower was soothing and there were even two shower heads in there, although one seemed to only run mildly warm water. I loved the sinks as we each had our own space and the Jacuzzi, as a miracle, was large enough to fit my very tall hubby AND me at the same time! This was a first for us.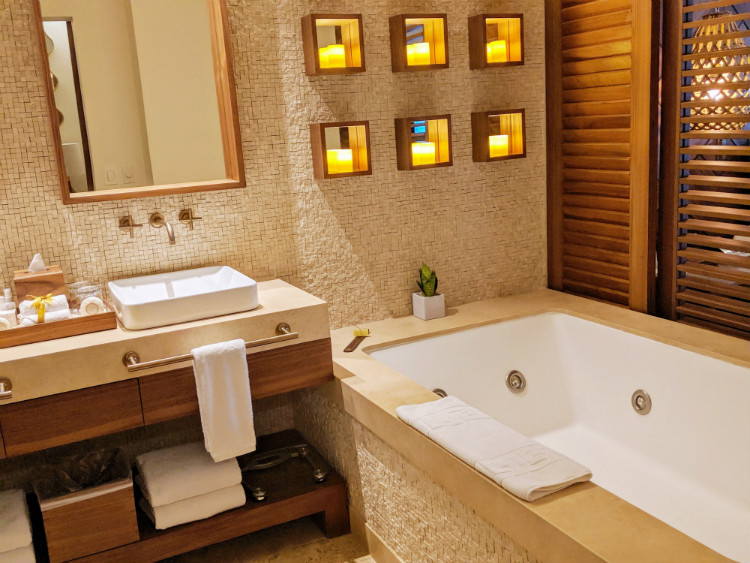 To put icing on this cake: the room service was spectacular. Our room was always sparkling clean and at night, the turn down service would prepare it for sleep. It was nice to come in and have the bed ready for us and soothing music playing in the background.
The only thing we disliked in the room was the outdated television system. It's almost 2020: time to set-up a smart TV system that allows for casting so we can watch Netflix, VOD and the like. Currently you are limited to watching one of the Mexican cable channels. They are the exact same channels, shows and movies that I used to have in my cable network in Bolivia fifteen years ago. 😜
The entertainment
The entertainment team works very hard to keep guests active and participating. They have a variety of activities planned out throughout the day ranging from dance to Spanish lessons and volleyball.
We have been to other resorts and the entertainment teams work more or less the same, but at Secrets Maroma the one large difference are the night entertainment.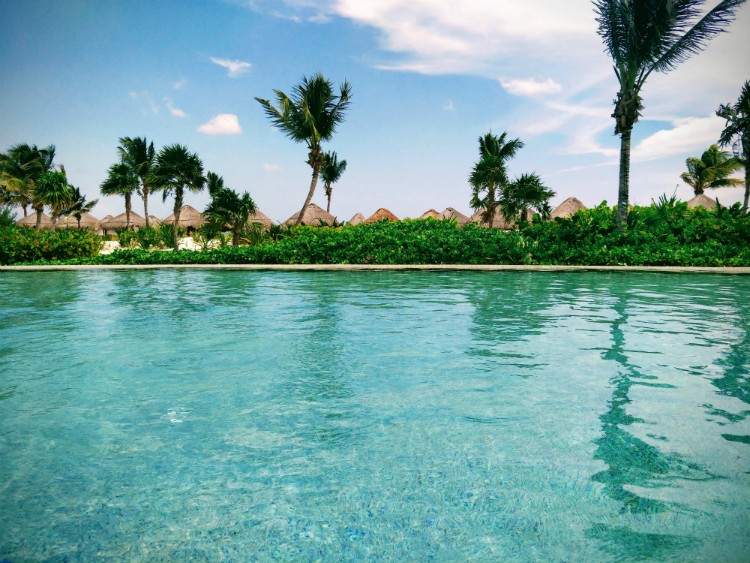 Day activities were okay. Some of them had barely any participants or where located in uncomfortable areas. At first I tried to participate in numerous activities to remain active and work out the buffet calories, but I quickly lost interest as I saw that they were mostly quite dull. I was also being devoured by mosquitoes as some of the activity locations were infested by mosquitoes (like paintball or movies).
The night shows were much better: from the Beatles to a Rock Show, they were far more entertaining. We really liked the fire, Mexican, circus, and glow-in-the-dark shows.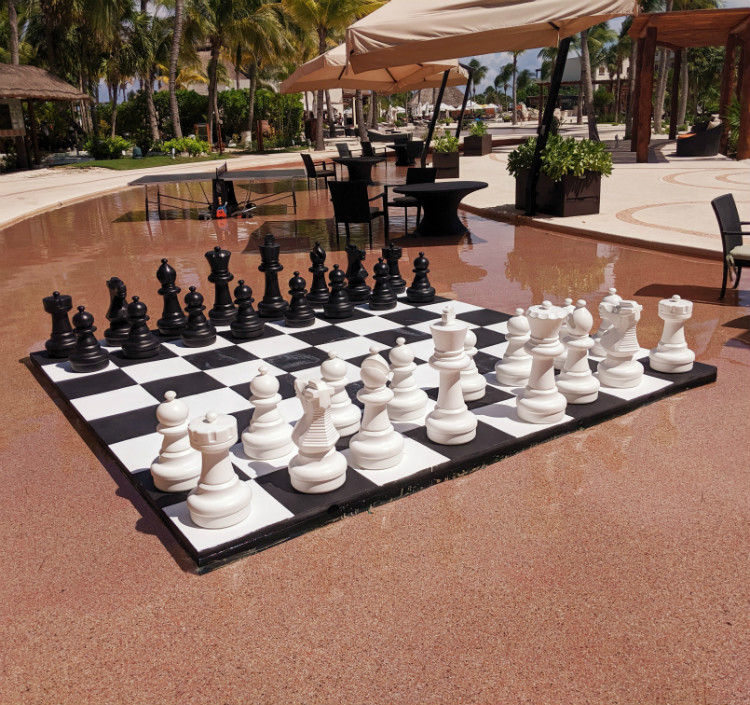 The Rock Show would have been great if it focused on the insanely talented band instead of the surprise feature: a borderline strip show. I saw many uncomfortable wives and their husbands who were scared to look, mine included. 😀 The musicians deserved to be on center stage, not the sidelines.
As a dancing aficionada and clubber, I was also bummed by the nightclub. The DJ is repetitive and plays the same 10 songs every night, often repeating them throughout a single night, too. A good night club needs to offer some variety!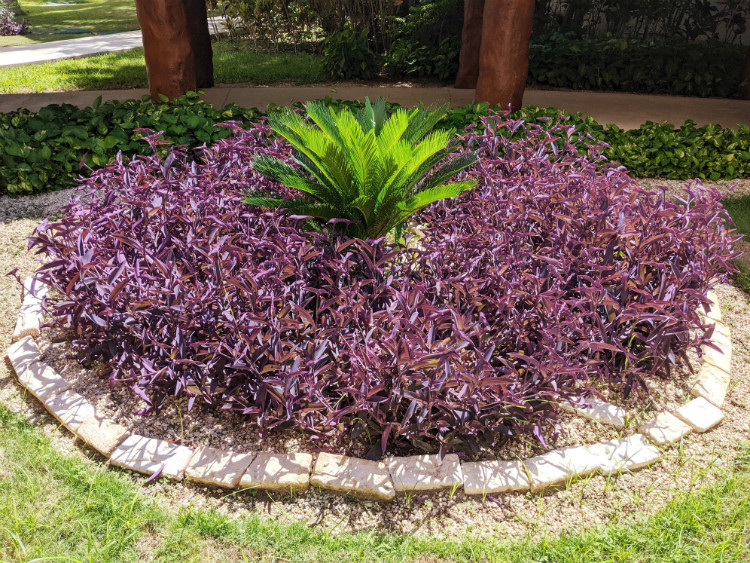 The honeymoon package
We were fortunate to be gifted the Secrets Eternity Honeymoon Package by the Secrets Maroma team. This package is available when you booking a Preferred Club Junior Suite Ocean View or higher accommodations for more than 7 days.
There are a bunch of goodies in the honeymoon package, including a romantic private beachfront dinner and a massage on-the-house for both partners.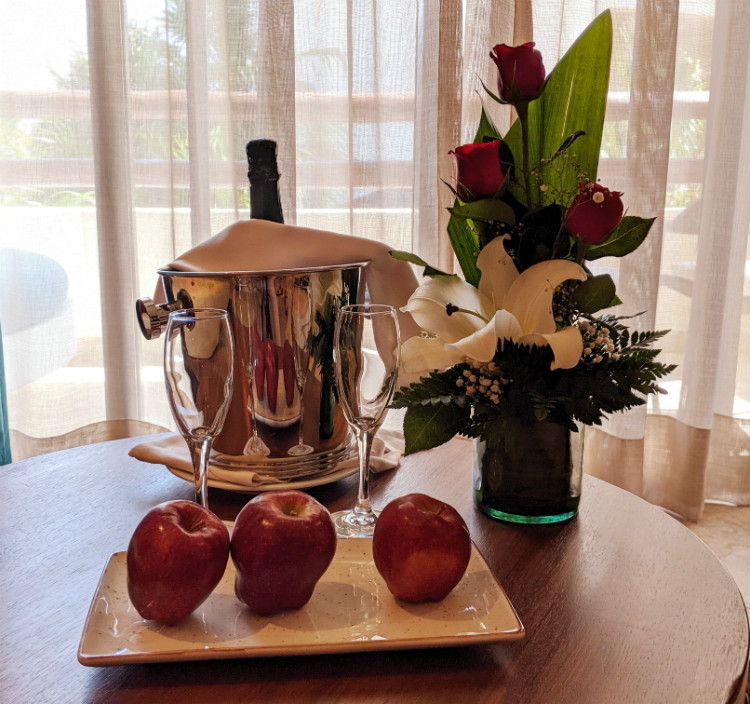 The romantic beachfront dinner was spectacular, mostly because of the ambience. There is something especially romantic about having a private dinner while hearing the waves roll by at the beach. The food was not as good as the restaurant food, but it was almost as good.
On returning to the room, they had setup our bedroom with a romantic turndown service where they placed roses on our bed and a Jacuzzi bubble bath. It was a nice end to a romantic night!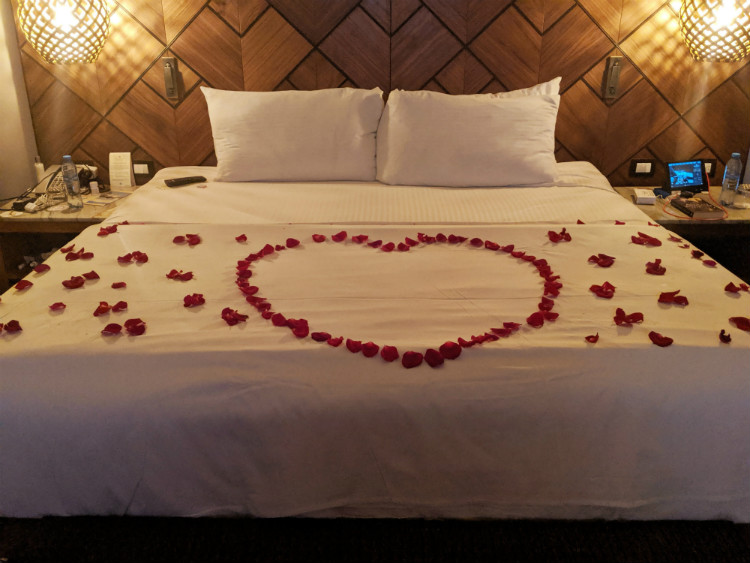 The massage and the spa were heavenly. Before starting the massage, you are requested to arrive an hour early. During this time, you are prepared for the massage, including entering the spa's private hydrotherapy pool.
My husband and I had never experienced something similar: the pool had a variety of streams and experiences, including entering a freezing cold pool and immediately entering a hot salt-water pool to balance out your body temperature.
The massage was also lovely: a combination of professional masseuses and a relaxing atmosphere.
On top of that, we also received a breakfast in bed with mimosas (you can request breakfast in bed without the need for a honeymoon package whenever you want) and a sparkling wine upon arrival to the resort.
A few misses
No stay is perfect and unfortunately there were some misses at Secrets Maroma, but they weren't significant enough to ruin our stay:
Avoid buying anything at the stores there. The prices are an insult to guests. I paid a whopping $15 for mosquito repellent and an additional $15 for anti-histamines, when it costs only $3.70 in Playa del Carmen. That's 400% more than the going rate in the city, which is abusive… We're already paying so much to stay at the resort, so why sting us with exaggerated prices for necessary items?
The area is a mosquito breeding ground. On the first night, I was devoured so terribly by mosquitoes that I had a full allergy attack. Fortunately, they are mostly nonexistent until around 17:30, especially if you stay away from the jungle areas and use mosquito repellent.
In a nutshell
Secrets Maroma Beach Resort was AMAZING. The service was spectacular, the food even more so, the drinks were delicious and the beach and hotel was top class. We are so happy to have selected this resort for our honeymoon!