*I partnered with iHerb on this post and it has been sponsored in compliance with FTC requirements. All thoughts and opinions are my own. Please note that some links may be affiliate links and we may make a commission if you purchase a product after clicking on a link. *Always consult with your doctor before taking any supplements.
I'm not sure if it's me or Instagram wants to send me a secret message, but my feed is full of baby pictures, newborns, and glowing expectant moms. Also, I have a couple friends who will be moms soon and I'm super happy for them!
Whenever somebody announces that they are expecting, I start thinking about cute baby clothes, toys, and all newborn gift options. But as my husband once pointed out, everybody will start buying baby things, so we should prepare something for the mother instead. We'll have plenty of time to find something for the baby, too.
When thinking about his idea, I realized he is totally right. We should pamper the expectant moms first and after the baby is born, we can get things for them, too. So now, when our friends give us the happy news, we love to create a gift basket that is meant just for mom.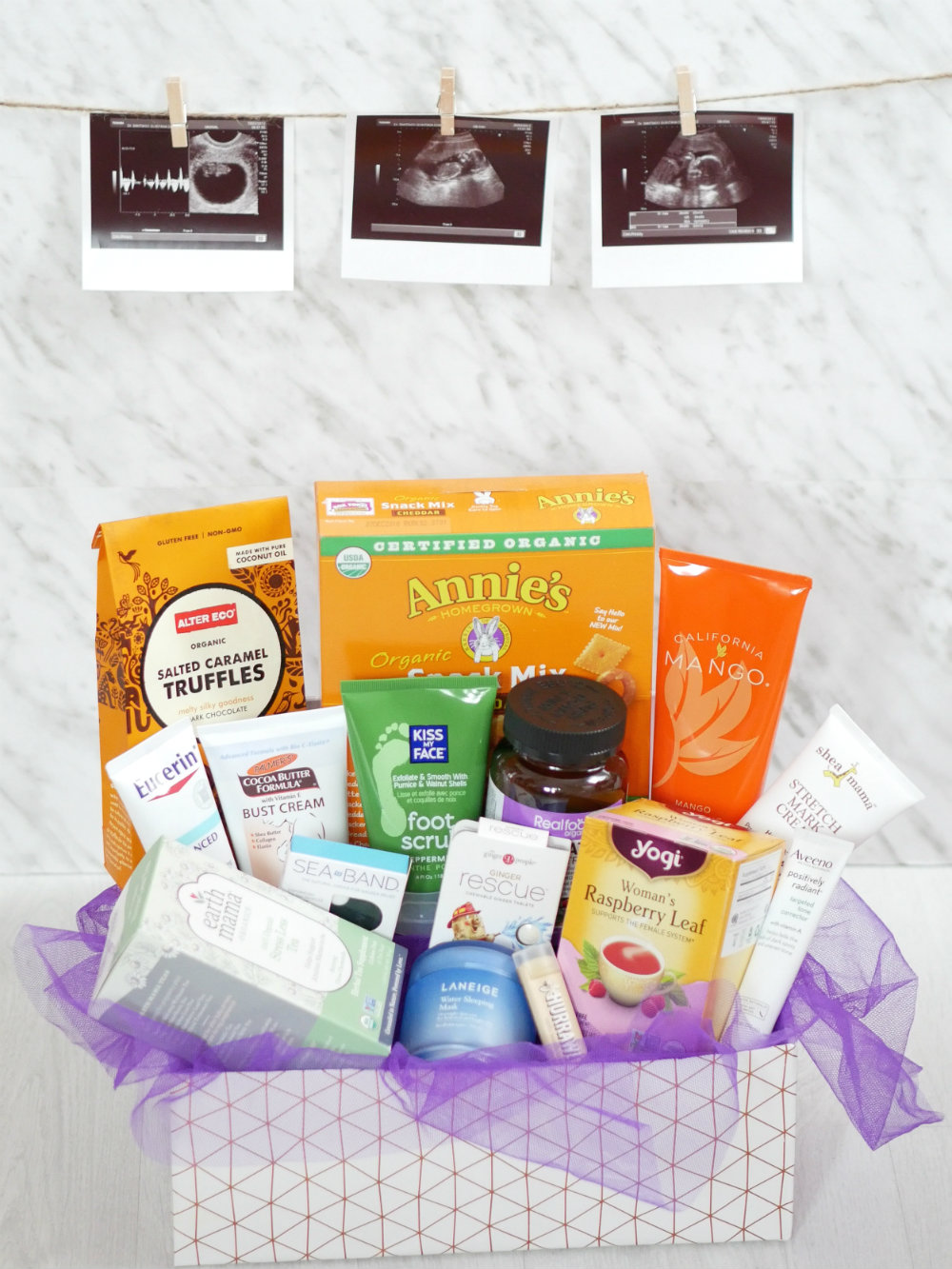 With the help of iHerb, I have created an expectant mom gift basket that is full of goodies that will help her enjoy the pregnancy and keep herself pampered. I teamed up with iHerb because they carry around 1,200 brands and 35,000 brand name products in their online store and their prices are typically 30 – 50% less than in a health store or pharmacy.
If you are a long-time reader, you know that I'm a huge fan of iHerb. Besides the great prices, they have a huge selection of products that are not available here in Spain (they ship to 160 countries, by the way) and I also have only good words about their customer service (provides support in 10 languages). Another thing that I have never mentioned, but really love about their site, is that the product descriptions are really detailed and you can read about the ingredients used in the products and also useful tips and options along with honest iHerb customer reviews.
So, now about the basket itself. Usually, when creating gift baskets, I try to think of different products the gift-receiver would love and then divide them into categories, so I know that I won't go overboard with the same type of products and try to add variety to the basket.
Here is a list of things you might want to add to the expectant mom gift basket:
Skin Care
stretch mark cream
chapstick
body scrub
foot scrub
foot cream
bust cream
body oil
hand lotion
face mask
tone corrector
sunscreen
Morning Sickness & General Health
ginger ale
saltine Crackers
Preggie Pops
Sea-Band
antacids
pregnancy vitamins
Snacks & Drinks
protein bars
chocolate
candy
ice cream gift card
pickles
pregnancy tea
Comfort
heating pad
pregnancy pillow
massage gift card
sleeping mask
Information
pregnancy magazines
parenting books
Now that we have a list of things the expectant mom would like, we can start looking for the products. Below, you'll see the products I chose!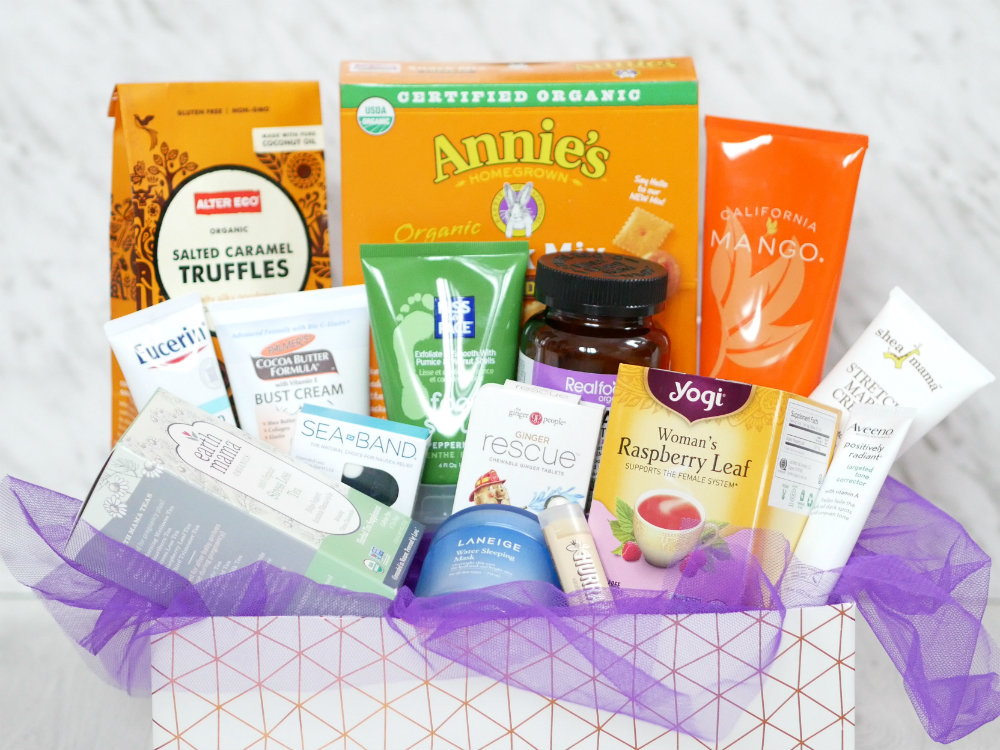 Shop iHerb Now + 5% Off Your First iHerb Order!
Skin Care
During pregnancy, our bodies go through many changes and it's important to keep them healthy and happy. Our largest organ, the skin, will get stretched a lot, so products that keep it hydrated and elastic are a good addition to any expecting mom gift basket.
A good stretch mark cream is a must for every expectant mom. They help moisturize the skin, improve elasticity and sometimes even fade scars. While in some cases the stretch marks cannot be prevented, it is good to keep the skin hydrated anyway. The Shea Mama Stretch Mark Cream is perfect for stretch marks prone areas like the stomach, hips, and tights. And the best thing is, that it contains pure shea butter that has all-natural healing powers.
Another area that is prone to stretch marks and goes through tons of changes in the bust. I used Palmer's Bust Cream with Bio C-Elaste when I was expecting my daughter and it did a great job reducing the appearance of stretch marks and keep the bust area toned and firm.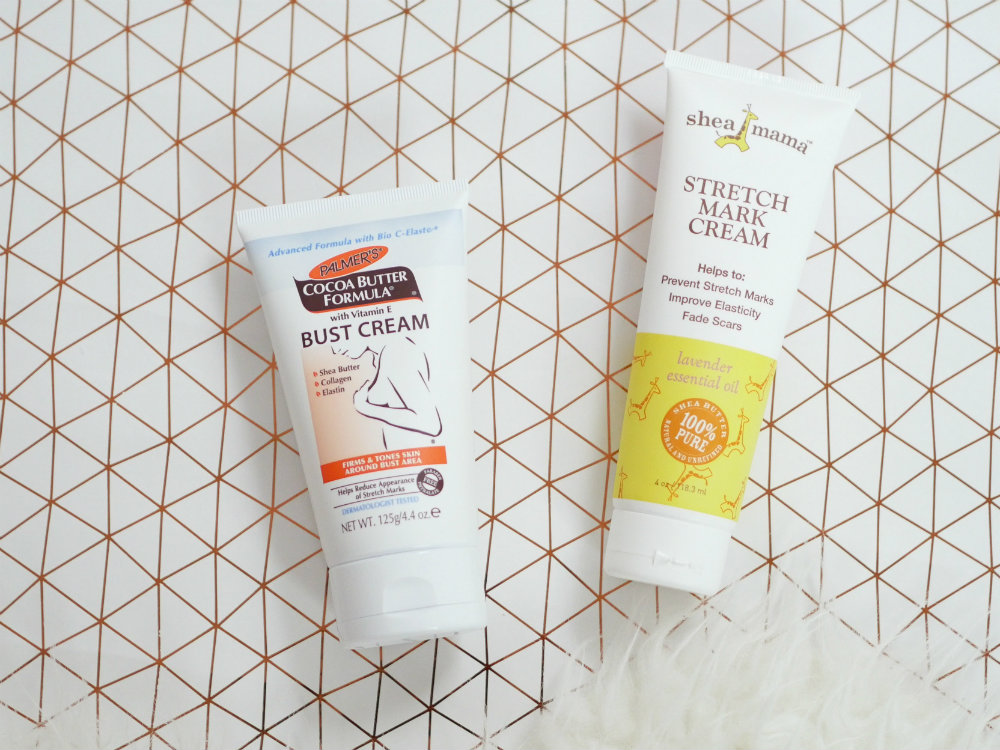 Before applying any of the creams I mentioned above, I fully recommend using a good exfoliating body scrub. It really makes a difference! I discovered this California Mango Scrub some time ago and I'm in love with it. The exfoliating particles are minuscule and do their work amazingly well. Thanks to extracts of mango, acai, and goji and oils of jojoba, grape, and sunflower seed, the skin feels super smooth and soft. By the way, the scent is amazing!
I struggled with swollen feet during my pregnancy and it was especially awful during the summer months. There was nothing better than an ice bath for my poor feet, good cooling foot scrub, and tons of foot cream. I chose the Kiss My Face Peppermint Foot Scrub and Eucerin Light Feel Foot Creme for this basket because these two products are perfect for tired, swollen, and dry feet. The peppermint in this foot scrub leaves your feet fresh and gets rid of the rough and dry skin and the foot cream keeps your feet noticeably smoother and moisturized.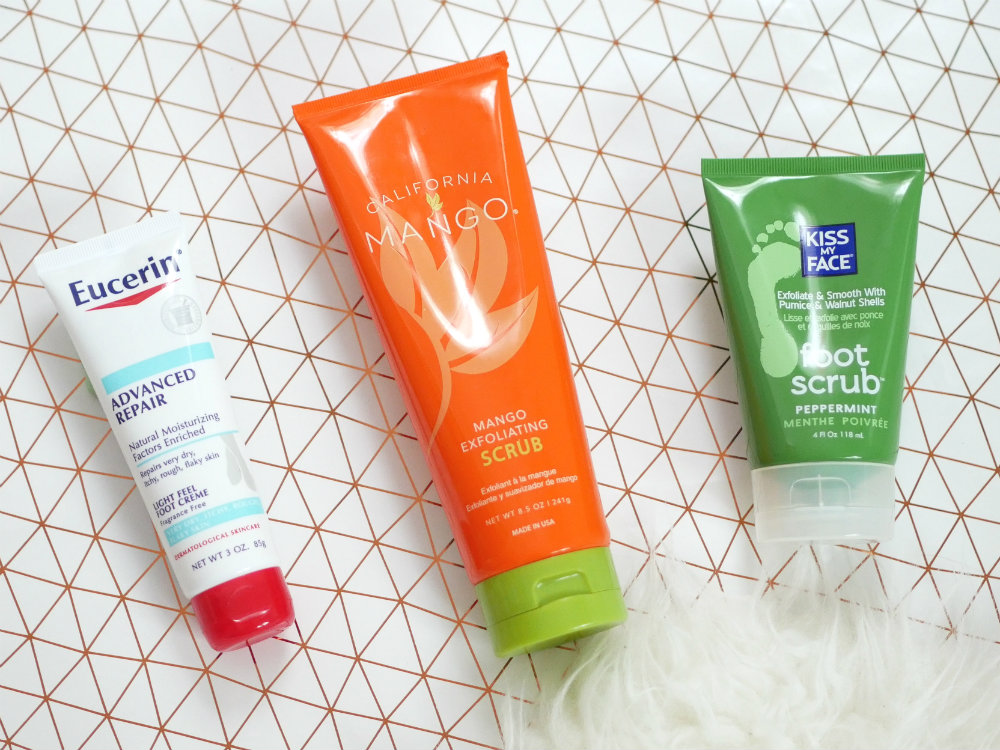 And now to our face area. During pregnancy, our bodies produce more hormones, which also causes an increase in pigmentation and dark spots might appear. So add some natural sunscreen and maybe even a tone corrector to the gift basket. Aveeno's Positively Radiant Targeted Tone Corrector caught my eye and I have been using it for a couple of days now. It promises to fade the look of dark spots and uneven tone after just two weeks and I have to say that my skin does feel softer and the tone looks a little bit more even than before. Can't wait to see how my skin looks after two weeks.
I'm a huge fan of facial masks, so I had to add a good mask to the expectant mom gift basket too. iHerb has more than 250 different masks to choose from and I have tried just around 10 of them. One of my favorites is the Laneige Water Sleeping Mask. Apply it before going to sleep, let it work its magic during the night and you'll wake with glowing skin in the morning.
Hurraw! lip balms are my absolute favorite so I had to add one of these to the basket too. I recommend checking out all the fantastic scents they offer. For this basket, I chose the vanilla bean one but I also really like the black cherry and the night treatment ones.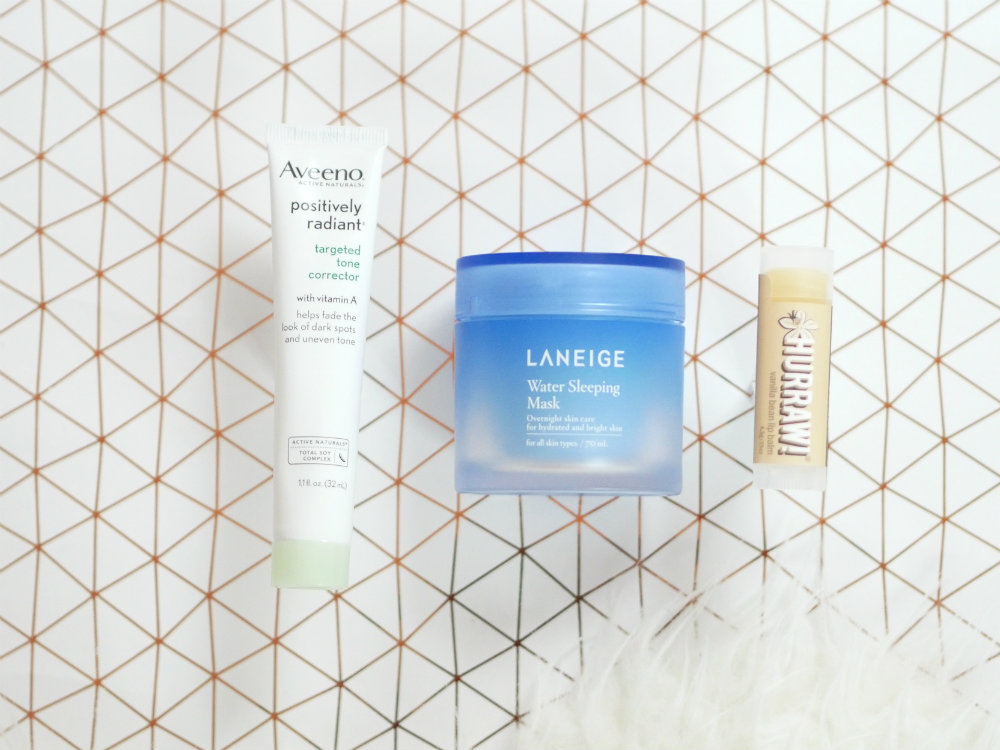 Morning sickness & general health
Getting all the needed nutrients and vitamins is more important than ever during pregnancy. I know that it's important to check with your healthcare providers before taking any supplements, but I wanted to recommend you Realfood Organics Prenatal Daily Nutrition – the only USDA certified organic multivitamin line made from fermented whole foods with 2-4 servings of fruits and vegetables in a serving.
I have to say that I was pretty lucky considering that I had just a couple of weeks of morning sickness but unfortunately, the waves of nausea lasted much longer. One thing that really helped me out a lot was ginger tablets. I don't remember the ones I took, but these The Ginger People Chewable Ginger Tablets have the same effects. They are drug-free chewable ginger tablets that help promote digestive health, relieve motion sickness, and ease gas and indigestion.
The new discovery for me regarding nausea and morning sickness is the Sea-Band. I wish I would have known about these acupressure wristbands when I was pregnant. I also get motion sickness, so I have been trying them out during the car rides and they really help! These bands are perfect if you are looking for a drug-free relief for nausea.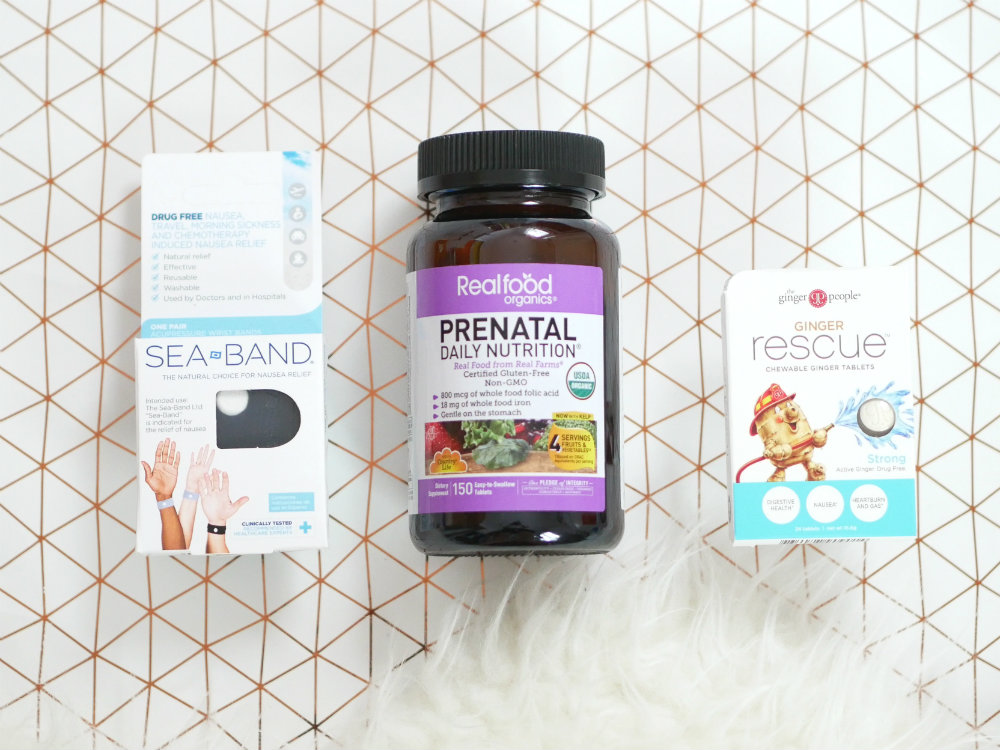 Another thing that helped me survive the morning sickness and nausea was salty crackers. I had to have them with me at all times. There were days when I only ate crackers and some ginger ale. I was looking for something different than the usual saltine crackers for this basket and found these super delicious Annie's Homegrown Organic Cheddar Snack Mix. All the ingredients in this snack mix are organic and contain no artificial flavors or synthetic preservatives. It has some super cute bunny shapes in there too, so it would make an adorable snack for your Easter table, too!
Snacks & Drinks
Did you have any pregnancy cravings? I remember that I was hungry all the time and preferred chocolate and salty crackers over everything. I think that no gift basket, especially the expectant mom gift basket can go without some chocolate. I added Alter Eco Organic Salted Caramel Truffles this time (their Dark Mint Truffles are amazing too) but you can add whatever you feel the mom is craving. If you want a healthier option, I recommend adding Stoneridge Orchards Strawberries Dipped in Dark Chocolate in the basket too. They are absolutely divine!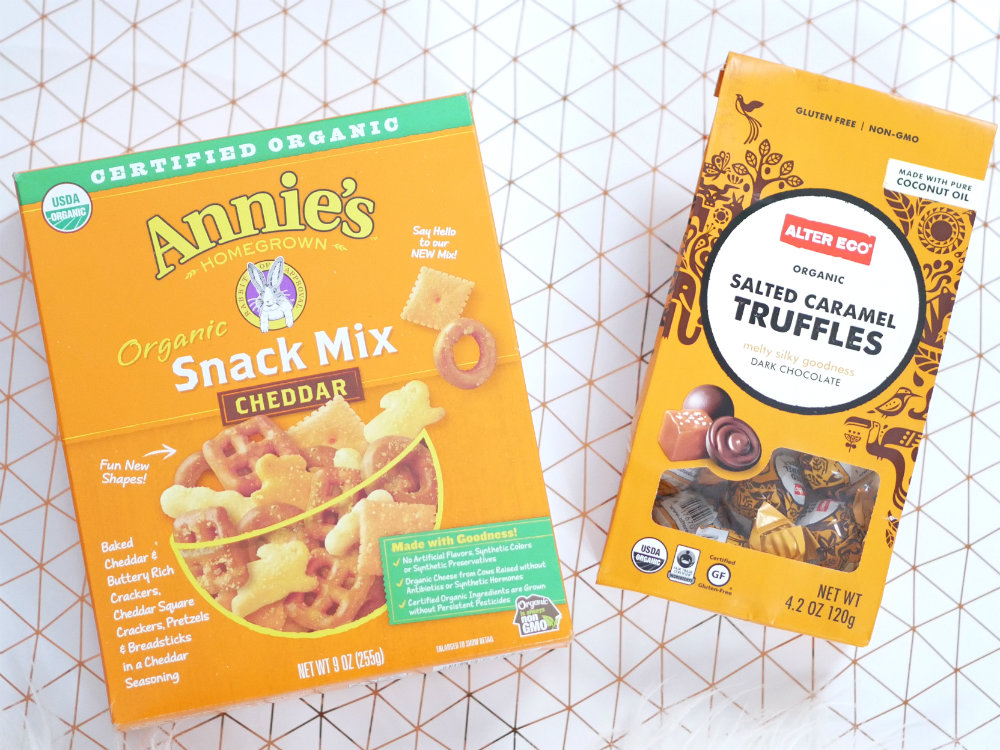 While I did not drink much tea during my pregnancy, I found these two caffeine-free teas that would be perfect for expectant moms – Yogi Tea Woman's Raspberry Leaf and Earth Mama Organic Peaceful Mama Tea. The Yogi tea contains organic raspberry leaves that have been traditionally used by midwives and Western herbalists during pregnancy as well as to support the uterus. The Earth Mama tea is made of chamomile and herbs traditionally used to help promote calm, relieve occasional anxiousness, and promote sleep. It's perfect for stressed-out moms, dads, and even kids.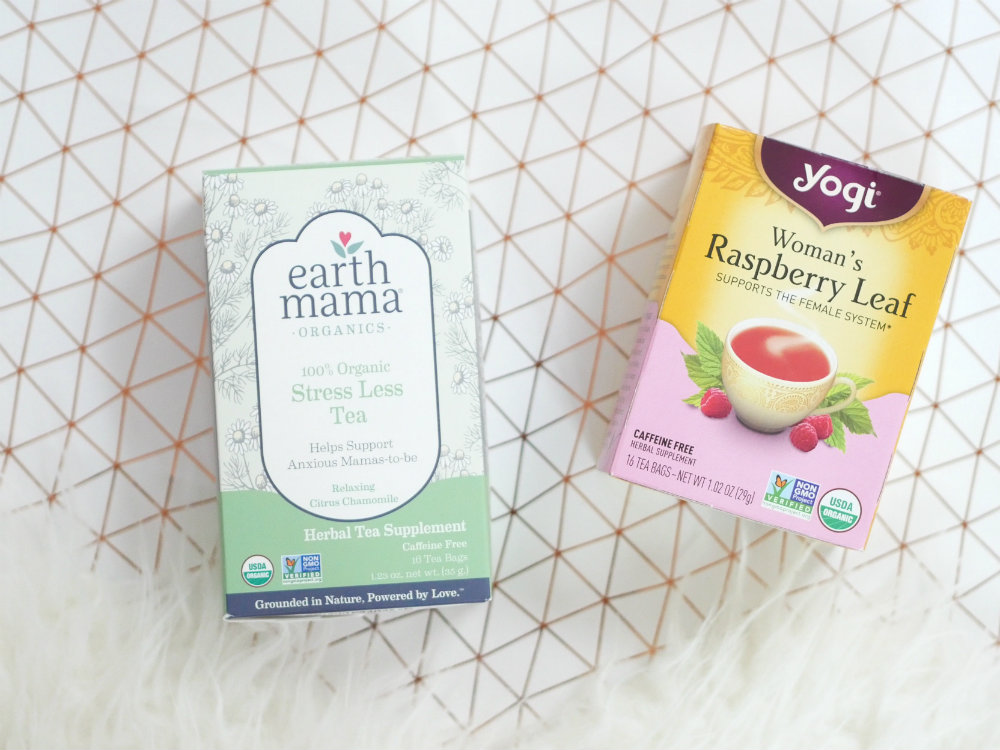 Shop iHerb Now + 5% Off Your First iHerb Order!
What is your must-have when expecting?