*Disclosure: Please note that some links may be affiliate links and we may make a commission if you purchase a product after clicking on a link. This doesn't affect the price, but we appreciate your support in this way!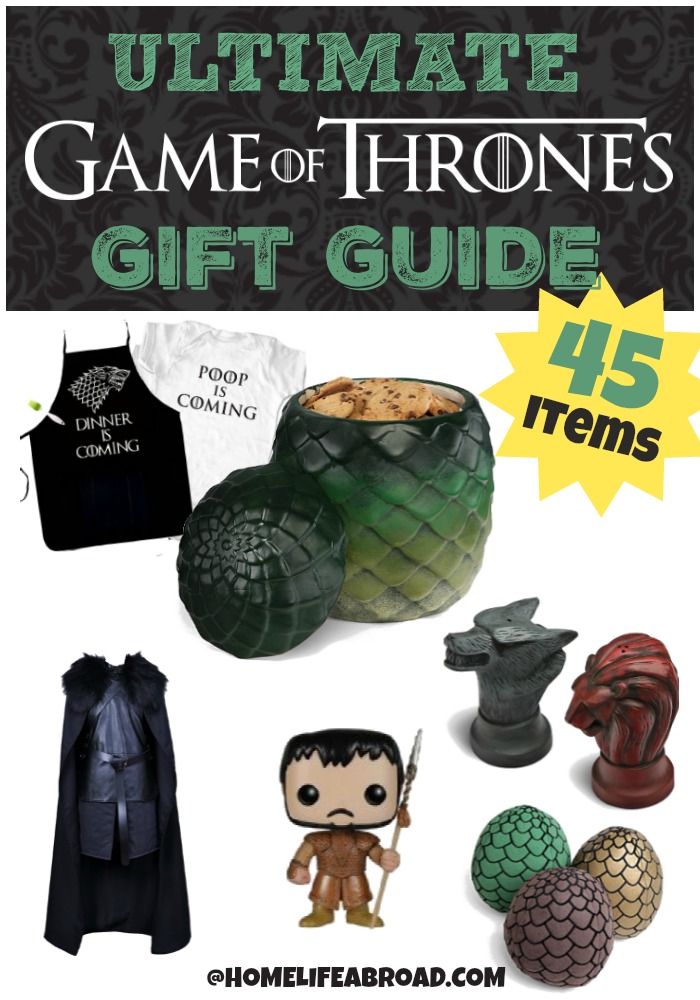 Are you excited about the new season of Game of Thrones? I am! I've been watching videos on their Youtube channel to get myself pumped up about everything that's coming…
I actually went to the GoT exposition last year and had the opportunity to see costumes and artifacts up close (the costumes, in particular, were stunning). It was exciting!
What wasn't exciting, though… was the lame merchandise they were selling. They barely had any items or variety to offer. I left bummed as I was hoping to pick up some GoT shirts and products. Clearly, the only place to find great Game of Thrones gift items is online.
So I've scoured the web to find great GoT gifts and products. Below is the collection of the best GoT items out there! Click on any item to see more information & to purchase it.
GoT Shirts & Clothing Apparel
Nothing like a GoT t-shirt to get some attention out in the street from fellow GoT fans. People love my amusing GoT tees. 🙂
Looking for more shirts? Take a look at the selection in these sites:
GoT Costumes Items
Dress up like your fave GoT character with these great items.
Not what you're looking for? Take a look at these costume listings:
GoT for Baby
These adorable onesies let you style your baby in GoT fanwear. Perfect for Facebook & Twitter pictures that will spike everyone's interest.
If you would like to see more children's and baby's items, take a look here:
POP! GoT Goodies
Looking for different Pop! Game of Thrones characters? Find them through one of these sites:
GoT Pillows & Plushies
These cute GoT pillows & plushies can keep you company. They are great for adding as decoration to the couch, bed or anywhere around the house.
Looking for different plushies? Try here!
GoT Games
Enjoy Game of Thrones outside the screen with these fun games! (Hover over images to see more info on type of game)
GoT for the Kitchen & Dining
Eat and cook in style with Game of Thrones kitchen goodies.
More to come in the future!