I'm in love… In love with jewelry, that is! Valentine's Day is but a month away, and that means a lot of stressed out boyfriends and husbands who need to buy a great Valentine's Day present for their significant other.
No need to fret! I'm here to guide you in the right direction… and the right direction for you could be a beautiful, thoughtful piece of jewelry. If you want to cause an impact, followed by a tear of joy and yelp of happiness, that's the path you need to take. Let me show you why Bradford Exchange has the best gifts for Valentines!
These are my two favorite pieces on their site. They take a place of honor in our Valentine's Day Gift Guide for the touching (and affordable) jewelry pieces they have created.
The absolutely stunning "Two Hearts Become One" Name-Engraved Diamond Bracelet

This bracelet is handcrafted with silver plating 18K-gold plating and 3 genuine diamonds. The best part (aside from the design, obviously, because look at it!) is that you can engrave 2 names on it, followed by a touching "Today, Tomorrow, and Always". That's what makes this more than a beautiful piece of jewelry… it's a heartfelt and personalized gift that would bring a tear of love and joy to any lucky lady.
You would think a bracelet like this, that includes real diamonds, would be extremely expensive – but it's not. This beautiful bracelet is selling for ONLY $119. It's quite the value!
The beautiful Loving Hearts Personalized Diamond Pendant Necklace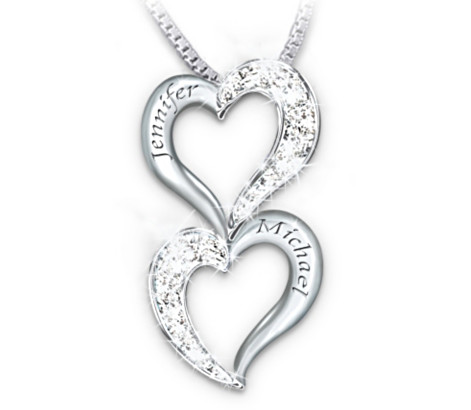 If you're looking for another stunning jewelry gift, this diamond pendant necklace is sure to impress. It comes with not three, but SIX genuine diamonds (3 on each heart). The hearts are made of solid sterling silver, and it's all placed in an elegant pavé setting. Like the piece I featured above, you can personalize this pendant with your and your love's name. You can even preview what it would like on the site itself.
How much do you think a pendant with 6 diamonds would set you back? Whatever you guessed – you're wrong. It's ONLY $129.
Honestly, what lady wouldn't swoon from receiving such a touching gift that symbolizes your love for her?
By the way – be on the lookout for sales, giveaways and new products on The Bradford Exchanges' social media. It's one of the best ways to get great deals!




I'd love to hear from you: What was your favorite jewelry gift from your significant other? What made it special?
* This post is a part of our Valentine's Day Gift Guide 2015.