**I received the products mentioned below to facilitate my review. All opinions, however, are 100% my own!

Whenever I have to buy a present for a child, I go for an educational toy. I have to admit that it has not always been like that – there were times when I bought the most eye-catching toys knowing nothing about the play or educational value.
Now, being a parent, I prefer toys that last for a long time, keep children engaged, are environment-friendly, as natural as possible, safe for children and that make kids happy.
So when I heard about a small company called The Wooden Horse from Lithuania who offers a huge variety of organic and handmade toys, I was intrigued. I had a look at their website and saw that besides all the cute wooden toys, they also create amazing playgrounds and even furniture!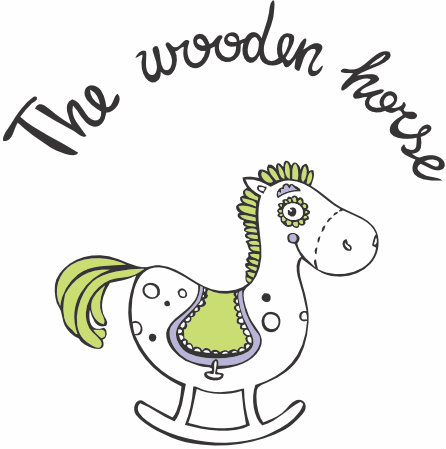 The Wooden Horse sent us two of their toys to review – a Wooden Lacing Set and a Set of 3 Wooden Bird Puzzles. The package also included a small wooden 2015 Christmas fridge magnet, maintenance instructions, and a fun 2016 Year of Monkey coloring page.
Wooden Lacing Set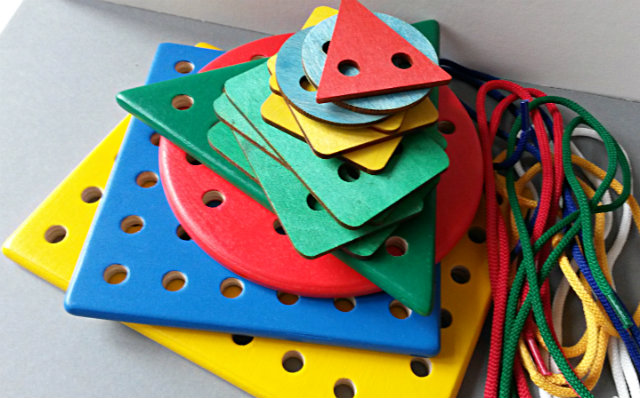 This Wooden Lacing Set consists of 14 wooden geometric shapes that come in different shapes, sizes, and colors. There are 4 large perforated shapes – rectangle, square, circle, triangle and 10 small shapes – circles, squares, rectangles and a triangle. The set also includes 10 colored strings (blue, yellow, white, red, green and white).
All the shapes are handmade from birch hardwood and plywood and they are colored with organic dyes.
I really like that all the geometric shapes are sanded smooth and have no sharp edges. The thing that really surprised me is that even after being dyed, the figures have a smell of birch wood. Reminds me birch forests we roamed during my childhood summers in search of wild strawberries.
The wooden lacing set is a Montessori's methodology toy mostly to develop children's motor skills, but it also helps your child to:
identify colours
identify shapes
identify sizes
develop motor skills
develop eye-hand coordination
develop visual motor skills
develop concentration
learn patterns
explore textures
develop patience
learn new vocabulary
develop problem-solving skills
learn to tie their shoes
learn how to sew buttons
It's amazing how much a perforated shape and a little bit of string can teach your kid.
This set is perfect for kids aged 3 and up. Thanks to different shapes and sizes, kids can create fun patterns or different designs while pulling the lace through the holes. They can also try how it would be to tie their shoes or how to sew buttons. The lacing set gives hours of fun and at the same time develops a huge variety of useful skills.
The only thing I'd change a little is the length of the laces, it wouldn't hurt them to be a little bit longer.
Set of 3 Wooden Puzzles – Crow, Parrot, Owl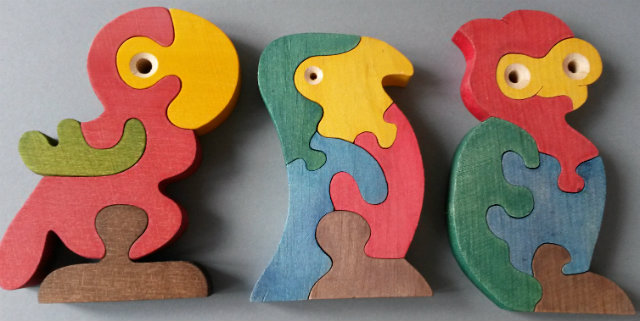 This cute puzzle set contains 3 wooden bird shapes – a parrot, a crow, and an owl. Thes puzzles are made from birch hardwood, colored with non-toxic dyes and finished with handmade linseed oil.
The puzzles are perfect educational toys for the children aged 2 and up. Sofia had a lot of fun putting them together and also using them for a pretend play. The little parrot is by far her favorite!
Like the lacing set, these little puzzle birds are a great learning tool for your kids. They help your child to:
understand spatial relationships
train their memory
set goals
identify colours
develop fine motor skills
develop gross motor skills
develop eye-hand coordination
develop visual motor skills
develop concentration
develop patience
learn new vocabulary
develop problem-solving skills

When not used for playing, this set of birds makes a beautiful decorative element for your baby's nursery or for a playroom.
If you need a last minute Christmas gift, be sure to check out The Wooden Horse's shop or their Ebay! They have so many cute products! (just click on the image to see the product)
If you are looking for the classic handmade toys, keep in mind The Wooden Horse! Their products are made in Lithuania and are safe for children and environment. These beautiful organic toys make a great gift for every occasion.
For more info about The Wooden Horse:
Website: www.thewoodenhorse.eu
Facebook: www.facebook.com/The-wooden-horse
Twitter: www.twitter.com/thewoodenhorse_
Instagram: www.instagram.com/the_wooden_horse
Ebay: www.ebay.com/usr/thewoodenhorse
What was your favorite toy when you were a kid?