I have flown quite a lot during these recent years. I still remember my first flight: taking a plane to Berlin when I was 22. I had no idea what to expect or how to act, but after a lot of experience, now I have gathered a lot of tips/tricks/ideas to make flying and everything connected to it a pleasant experience.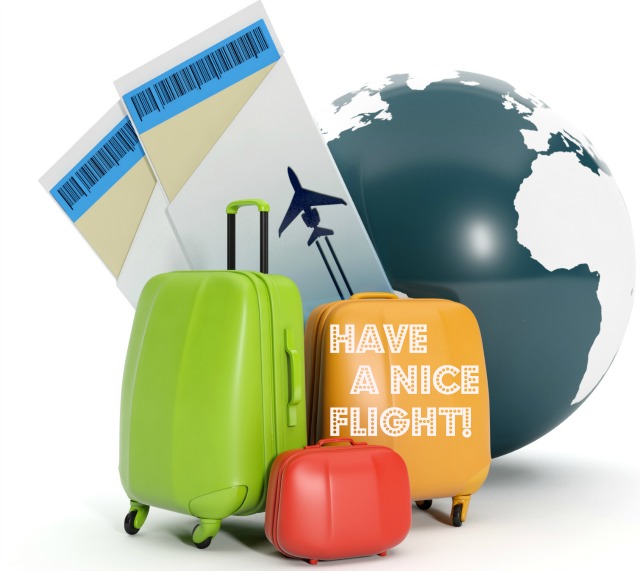 Before you arrive at the airport
Prepare all the documents needed. All passengers using air transport are required to present a valid identification document for check-in as well for boarding. So check if your passport/ identity card is still valid. Maybe you need a residence permit or a visa. Be sure to check what kind of documentation you need for your travel.
When preparing your luggage:
Pay attention to the ticket conditions. Does the ticket permit you to take a suitcase with you, or just a cabin baggage. What about the weight limit? Exceeding the weight limit usually means an additional cost.
See tax and customs service web page for restrictions and prohibitions on the goods that you can take with you.

Keep valuable items in your cabin luggage.

Personalize your luggage. Add a name and address tag, just in case the baggage gets lost. A colorful ribbon or a special mark makes your suitcase stand out and it's easily found among other bags.
The entertainment.
To make your flight pleasant and pass quickly, it's good to be occupied. Reading, playing games, watching movies or working – whatever suits you.
Remember to charge all of your electric devices.

Load your devices with favorite games, books, movies or documents necessary for working. Make sure that games work without internet connection. Bring books or magazines if you prefer paperback.
In general
Choose comfortable clothes for your flight. Also, take into consideration different climates. It's not comfortable to dress in winter clothes when flying to a warm climate.

Have a shawl or a thin jacket with you. Sometimes it gets cold in the plane and not all companies have blankets to give out.

Lip balm or other moisturizing products come in handy, as air in the plane is really dry.

Take some food with you. A sandwich or some snacks depending on how long your flight is. Food in the airport and in the plane are expensive.
When at the airport
Arrive at the airport with sufficient time. Be there at least two hours before the departure. If you know the airport, checked in online and only have cabin luggage, you can arrive at the airport later. But remember, that in general, check-in is closed 40 minutes before the departure. This means that if you have arrived 30 minutes before the departure, you will still miss the flight.

Ask for a seat you prefer. There are some companies that let you choose a seat when checking in. We try to get a window seat or a seat next to the emergency exit. My husband is tall and needs more room for legs, so emergency exit row is perfect for him.

Locate your departure gate. In huge airports, gates may be really far from each other. In Madrid airport, it takes around 20-25 min to get to the last gates.

Buy some water and electrolyte drinks. As the air in the plane is dry, it's really important to be hydrated. It's cheaper to buy it in the airport than in the plane.
When on the plane
Take out the things you need. Before you take a seat, it's good to take out all the things you need during the flight. I prefer to have my cabin luggage on the floor rather than in the overhead compartment. This way I can use my bag as I want and don't have to disturb the person who sits near the aisle.

Move. On longer flights, it's important to move a little during your flight. Flex your arms and legs, walk up and down the aisle to prevent blood clots.

Enjoy. Read, watch a movie, sleep, work or play. Do something you like, relax and enjoy the flight.
These are some of the things that help me have a pleasant flight experience. When I have the documents I need, baggage meets the restrictions and have everything to keep me entertained during the flight, there is no stress and I can enjoy the flight.
How do you make your flight pleasant?