It doesn't matter if you are leaving your country because of the high unemployment rate or just have a gypsy heart and itchy feet, you won't get far without any money.
People who want to travel, but have no extra funds to spend on it, should think of working abroad when traveling. Working in a foreign country is a great experience, a considerable addition to your resume, and might be a perfect way to finance your travels. It gives you a possibility to get to know the local people, local culture and learn new languages.
Here are 4 jobs that help finance your travels!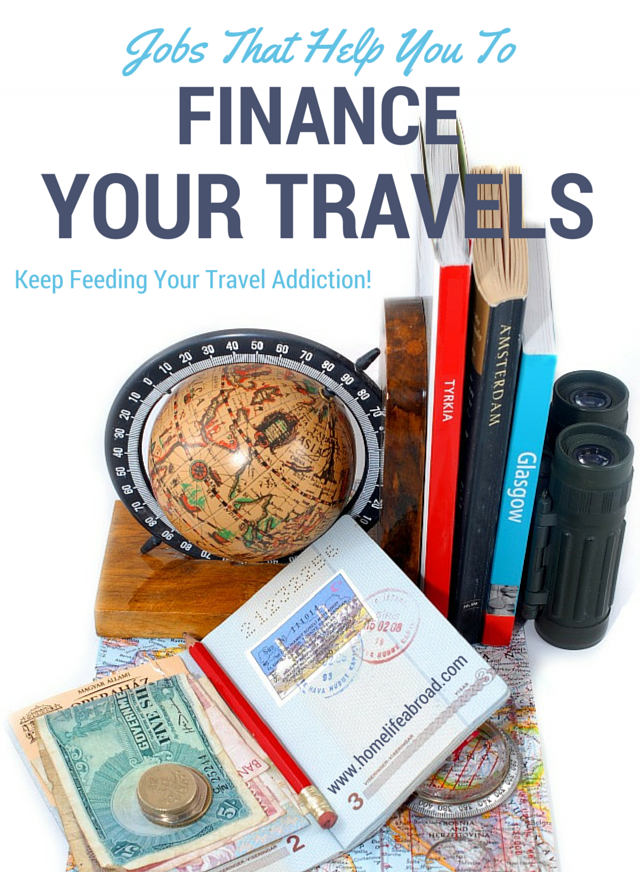 Hotel/Restaurant/Hospitality Jobs
In my mind, hospitality jobs are the easiest ones to find, but it doesn't mean that it's an easy job. The shifts can be long and tiring, but if you love meeting new people and socializing, it's a perfect sector for you.
In this area, there are a lot of different job opportunities. A lot of restaurants and bars need extra hands during the tourist season and multi-language speaking receptionists are a great asset for every hotel. If you are more into entertainment, think of joining the hotel's animation crew.
Hospitality jobs give you a chance to work with locals to get to know the culture better, but also lets you work with people all over the world. You never know when a new traveling opportunity may arise.
Au-pair or Nanny Jobs
If you love kids, have plenty of experience looking after children and like some light domestic work, consider becoming a nanny or an au-pair. Being a nanny is a huge responsibility, but it also has its perks.
The salary is good considering the conditions. For example, a London-based nanny agency has job offerings starting from $750/month. Normally you will be living with the family – it means no rent, not paying for electricity, medical coverage, phone or food and a great way to learn or practice your language skills for free.
If you are lucky, you might even get a car, free flights to home and travel with family when they go on a vacation. Yes, you have to work during that vacation, but you will still have some free time to explore the vacation destination by yourself too!
So, in conclusion, being a nanny or an au-pair gives you a possibility to save some money for your next adventure.
Cruise Ship Jobs
Working on a cruise ship is a perfect way to travel the world, meet hundreds of new people from different countries and at the same time save money for future your future travels. Don't let long working hours and ship life, keep you away from this exotic and adventurous job!
Cruise ships hire hundreds of employees starting from sailors, entertainers, hairdressers and ending with plumbers. The hours you work and salaries depend on your job. The salaries are generally similar to those on land, but as the job includes onboard accommodations, free health insurance, food, and entertainment, there is a good possibility to save most of your salary.
2-4 months of vacation, free flight home, crew bars, internet cafes, crew parties and of course the possibility to visit ports of call on your time off make working on a cruise ship a great way to travel for free.
Language Teacher Jobs
Language teachers are highly sought-after in the entire world, and teaching English is really popular among people who want to travel. Generally, teaching jobs pay well and the hours are flexible.
While some countries may ask for a Teaching English as a Foreign Language certificate when applying for a teaching job, other countries in need of teachers, hire you just because you are a native speaker and even pay for your visa and accommodation.
If you are not a native English speaker, teach your native language! In this case, job offers may not be easy to find, but most of the bigger cities are interested in educators who can teach the most populous languages like Mandarin, Spanish, Portuguese, Russian, etc.
Another great way to participate in TEFL intern program or CIEE Teach Abroad program, that helps you get the TEFL certificate and also give you teaching experience for the future jobs. The program includes free accommodation, monthly stipend, and cultural excursions among other things.
Have you ever worked abroad? Any tips you want to share?
*The Unedited travel image by Ove Töpfer.