As I have mentioned before, my husband and I love reading and try to raise our daughter to love books and reading too. When I saw a fellow blogger Menai mentioning a 300 Picture Book Reading Challenge, I was intrigued.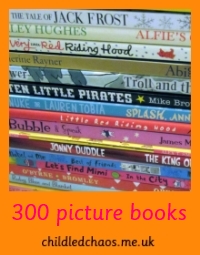 The concept of the challenge is to read minimum 5-6 picture books a week to your kids, so that in the end of the year, you have enjoyed around 300 new books. As we started the challenge in the end of February, I should read minimum 220 books/stories to Sofia. Also, we are making some changes compared to an original challenge.
Our challenge will be about reading every day. We want to try to read to our daughter every day, so we need at least 7 new books/stories every week.
We don't own a lot of books and our closest library has only a small selection of kids books, so it will be a big challenge for us to find new books for every week. As we are a bilingual family, we will be reading books both in Estonian and Spanish. My husband wants to take part in the challenge too, so he does the Spanish part of the reading and I will do the Estonian part.
As some of the books we have at home are collection of fairy tales, I will count every tale as a book. We have only couple of books in Estonian, so I will translate some of the Spanish books to Estonian. There may be a possibility that we have to read some e-books, if we don't find any new paperback books.
As Sofia is 17 months at the moment, we will be discovering the book during the day, learning new words, looking at the pictures and in the evening, one of us will read her the story.
Here are our books of the week #1 of #300PBs challenge
1. El Gatito dice Miau!
2. Dora Quiere a Botas (Dora la Exploradora)
3. Los Tres Cerditos: . . . y el Lobo Feroz
4. La Pequeña Oruga Glotona
5. Bebé Koala. El Cumpleaños
6. Buenas Noches, Penélope
7. Animales Del Zoo
8. Una sorpresa para Lilu/ A Surprise for Lilu
Our #300PBs Pinterest board:
Follow HomeLifeAbroad's board #300PBs Challenge on Pinterest.