So you're looking for the best Valentine's Day gift ever for your loved partner… You have come to the right place! We love coming up with the most romantic and thoughtful gifts. It's become our yearly tradition to inspire others to spruce up the romance in their relationship with great gifts.
Whether it's for Valentine's Day or any other simple day, there's always a good reason to show an extra bit of dedication to the relationship. We often fall into a routine and forget to appreciate our partner for all they do for us and how we feel about them.
Well… this is the perfect way to move away from routine and enjoy a night of excitement:
This Valentine's Day, take them to a concert!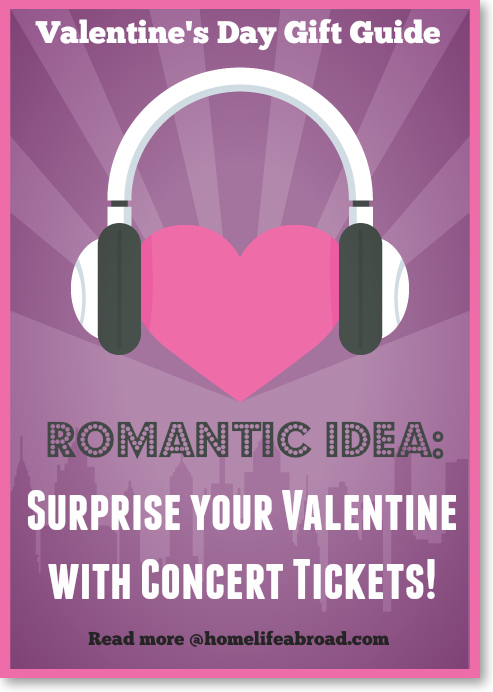 If you're in doubt, here are 5 reasons why tickets to an event are the BEST Valentine's Day gift ever:
1. It's an exciting surprise
If you can score tickets to a show for Valentine's Day, it's bound to be an unexpected surprise for your partner. He/she will likely be expecting a more 'run-of-the-mill' idea like bowling or dinner.
2. It's hours of shared fun
Relationships tend to take a duller turn with time. It's important to take the time to have fun and enjoy your time together. Concerts give you the opportunity to enjoy your time together in an energetic environment while singing and dancing along to the songs.
3. It's an unforgettable memory
Concerts are difficult to forget. They are a great way to make happy memories. Seeing bands live and in action is like no other experience and it stays recorded as a great memory, even more so when shared.
4. It's incredibly thoughtful
If your partner loves a particular band or artist, he/she will be thrilled by your thoughtfulness in taking them to their concert. Not only will he/she be excited by seeing them live, but more so, from the knowledge that it was a personal gift from you.
5. It's creative and different
Away with Valentine's dinner and chocolate boxes! Its time for something different and a V-day concert is the perfect occasion to spruce up the relationship.

Concert tickets may not be the cheapest gift. But there's nothing like being serenaded or rocked by your favorite bands and artists. Prices range depending on the artist – usually, the more popular the artist/band, the more tickets cost. Queen of Tickets, for example, has prices ranging from about AU$ 180 – 250 depending on the artist. Look at it as an investment – you are provided with a few hours of amazing entertainment and get to experience the joy on your loved one's face.
It can be difficult to find a relevant concert that shows on Valentine's Day, so if your preferred artist or band plays on a different day, make sure to 'gift' the tickets to your Valentine that night. Pinterest has fun ideas on how to gift-wrap concert tickets. It's still very romantic and just as much a surprise!
As an added plus, to really create an unforgettable moment and strong impact on your loved one, see if you can get a message on the screen at the concert or get attention from the artist to do something special. Proposals get a lot of attention and concert producers love adding that extra touch of exciting romance for the audience to enjoy. (But okay, we know we're pushing it here… maybe out of the desire for a special someone to read the post and get some ideas *wink*…)
We want to hear about your best concert experiences or creative Valentine's Day dates. Tell us below!
Thanks to Freepik for the unedited version of the featured image.