My passion is saving (that's why I talk about it often here and on my personal finance blog, where I focus – surprise, surprise – on saving). 🙂
Because I'm passionate about it, I've become extremely good at it. Now, I want to share all my savings strategies with you all, step by step.
Today, I'll show you how to save money on your online purchases using one of my very favorite stores as an example, Forever 21: they offer awesome clothes, great quality and good prices (which can be improved with these tricks!)
Keep in mind – these tricks apply to all retailers and brands out there!
Without further ado, here are the best ways to quickly and easily save money on your online shopping: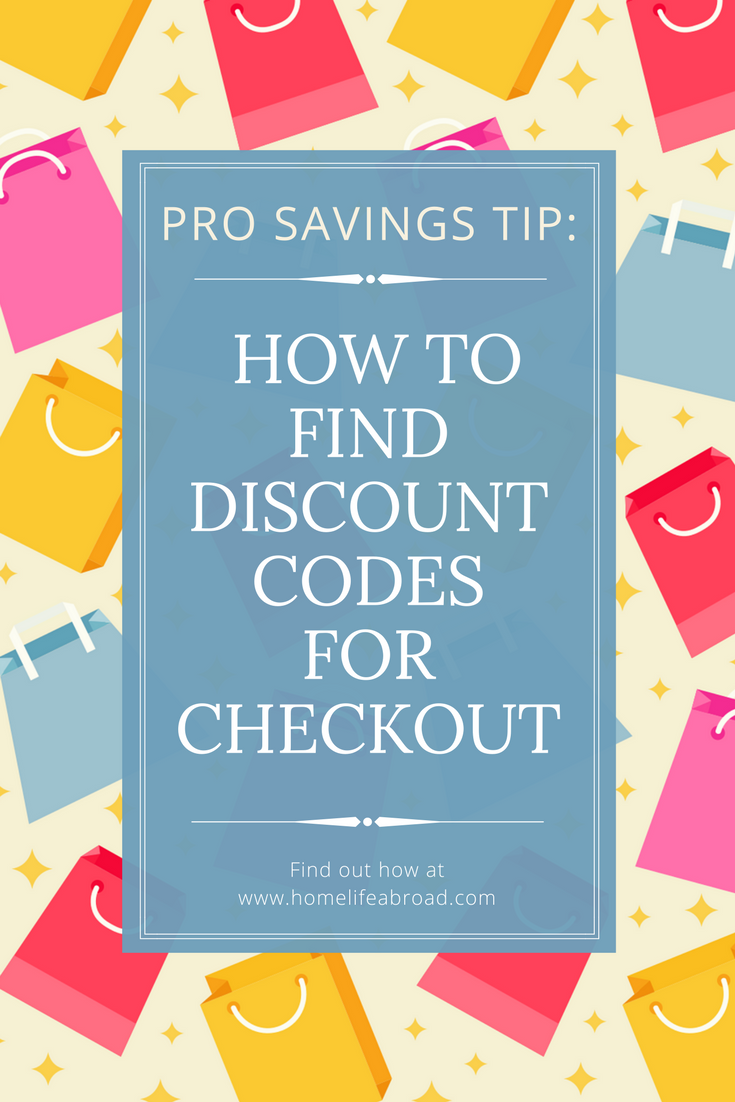 Search Coupon Sites For Discount Codes
Nothing has my heart skip a beat like seeing a beautiful promotion code box on checkout. Do you know why? Because I know I can find that coupon code and save money.
In the past, I've saved anything from 5-50% off using a code.
All it takes to find a code is 1-2 minutes. The fact that I've saved hundreds of dollars in exchange for a mere few minutes of my time is fully worth it.
And now, I'm going to teach you how to do it, too.

Finding a working code can be a headache IF you're on the wrong site. Part of the skill-set of saving is knowing which sites are frequently updated and have an active community sharing the best discount codes.
There are far too many sites claiming to be the best place to find deals, coupons and codes. In reality, the majority are fluff, featuring codes that don't work, are expired or are simply wrong.
If you find that one needle in the haystack that is consistently providing working codes, treasure it, bookmark it and check it before every single online purchase.
For me, that gem is Dealspotr. They have saved me money every single time.
There's a few reasons why I love using them over other coupon sites:
They constantly update their database of coupons and codes
They also include non-code options like sales on Amazon
The community is very active, so they are always adding new codes and verifying that they work.
Expired or non-working codes are removed quickly.
It's super easy to use. Finding a store and the right code takes a few simple clicks.
They show third party codes i.e. discount codes for a brand that can be used in different retailer sites
They also add codes received in mailing lists which means you save yourself the hassle of signing up to them
Let's break down the steps on how easy it is to find a coupon and use it in your purchase.
1) Search for the online retailer or brand
For this example, I'll use Dealspotr to find a great deal for one of my fave retailers, Forever 21
Use the search bar to find the store. As you can see here, even though I missed a space in my search input, the site found numerous relevant options. In this case, I'm buying from the US site, so I select Forever 21.
By the way, there are other ways to find retailers as well – check out the left-hand menu bar to search by name if you prefer.

2) Scroll through & review the codes that show up
As soon as I select a brand, I reach a page full of promo codes and coupons. I get super excited at this part because I can already see how much I'm about to save.
There are many different options – usually you can only use one promo code per buy, but you can try out a few and then decide on the best one for your purchase.
Below you can see a coupon for 50% off select styles. If you were purchasing those items, then you're in luck because you're about to save big.
Unfortunately, I was not so after looking through all the options, the best choice for me was 10% off the overall purchase.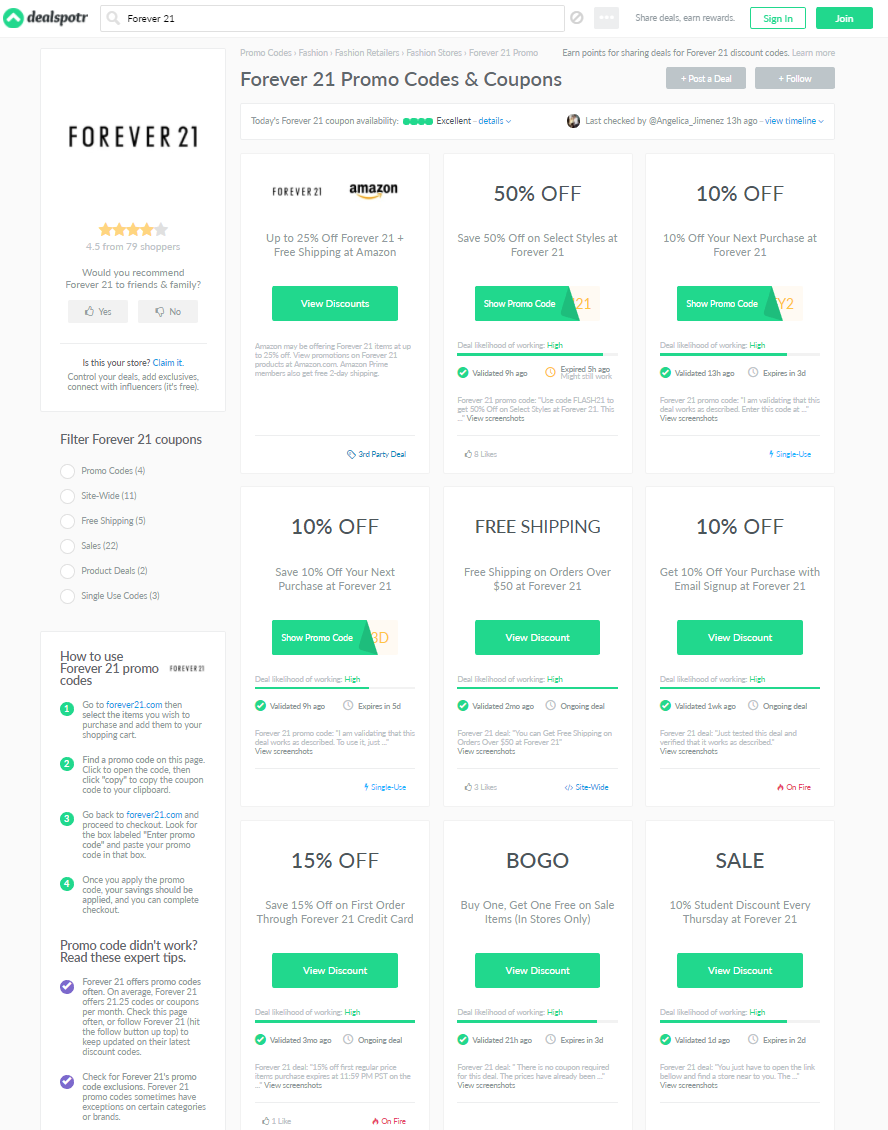 By the way, take a look at the other interesting discounts as well. There's usually a combination of discounts and codes showing up on the brands' pages.
For example, above you can see that Thursdays are 10% off for students. If you're a student, maybe you're better off waiting until Thursday and trying to combine the discount WITH one of the codes.
Double savings, just like that!
3) Pick your promo code!
Getting the promo code is super easy. Just… click.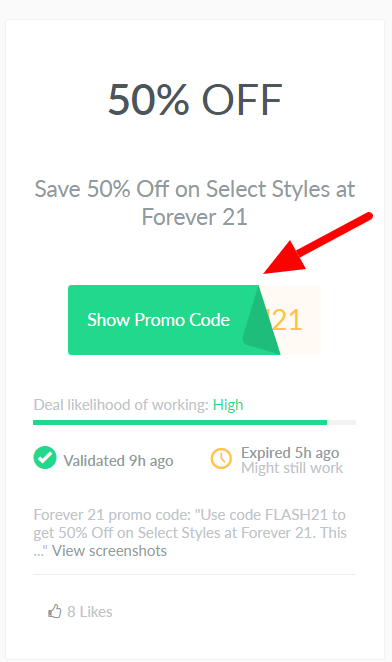 Now that you're zoomed into a code, also make sure to note the expiration note (this one expired but may still work), when it was validated by a community member, and how many people liked it. I always assume likes are from people who tried the code and confirm it works.
Once you click through, you get a page with even more information about the code. Here, we can see a high likelihood of the code working (this is based on a number of factors, but most importantly, community feedback).
Copy the code and head back to the store.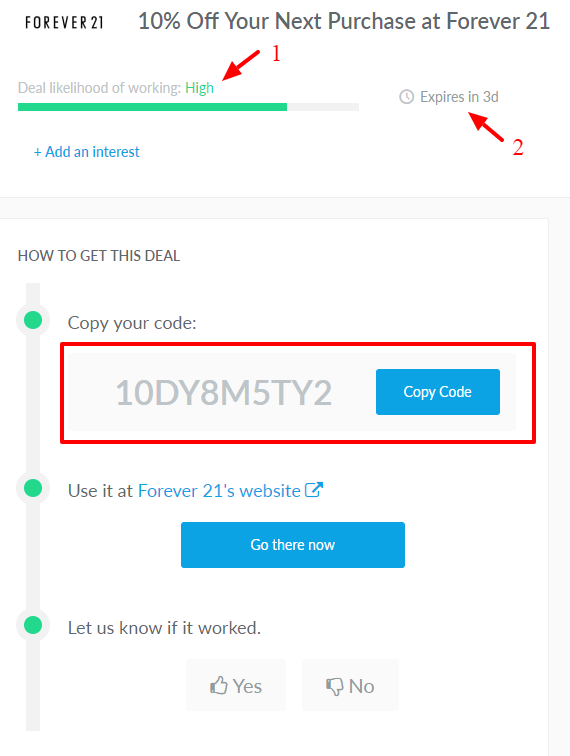 4) Prepare yourselves for magic: pow – savings!
Here's my shopping bag with 3 super chic items that I've wanted to buy for a while.
I applied the promotion code…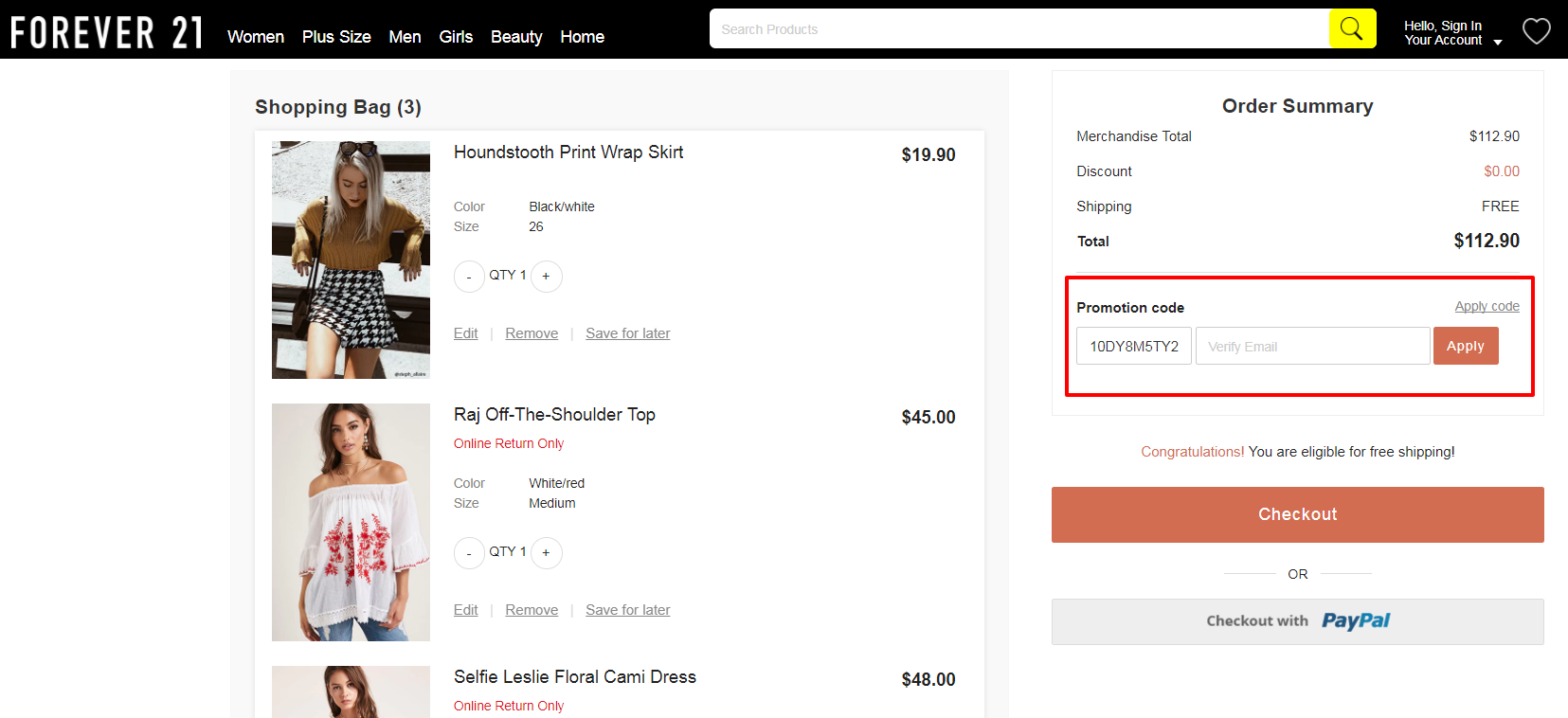 And kapow!!! Just like that, I got 10% off my purchase!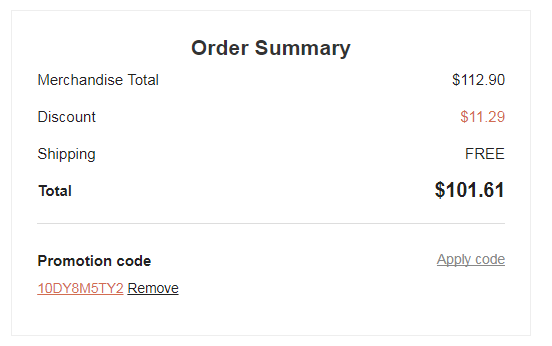 Savings summary
Total amount of time spent: 1 minute
Total savings: $11.29
The joy of saving: priceless
Look for a deals page
Bigger brands and eCommerce retailers sometimes have a hidden page full of special offers and discounts. These are updated regularly with relevant deals.
I found this one in the footer of Forever 21, unnoticeable to the regular shopper.

Click through and you will find some great goodies, including deals and discounts.
As you can see below, some require signing up while others are available to all shoppers. Once you sign up to the site, clicking on the "shop now" button will add the promo code to your shopping cart.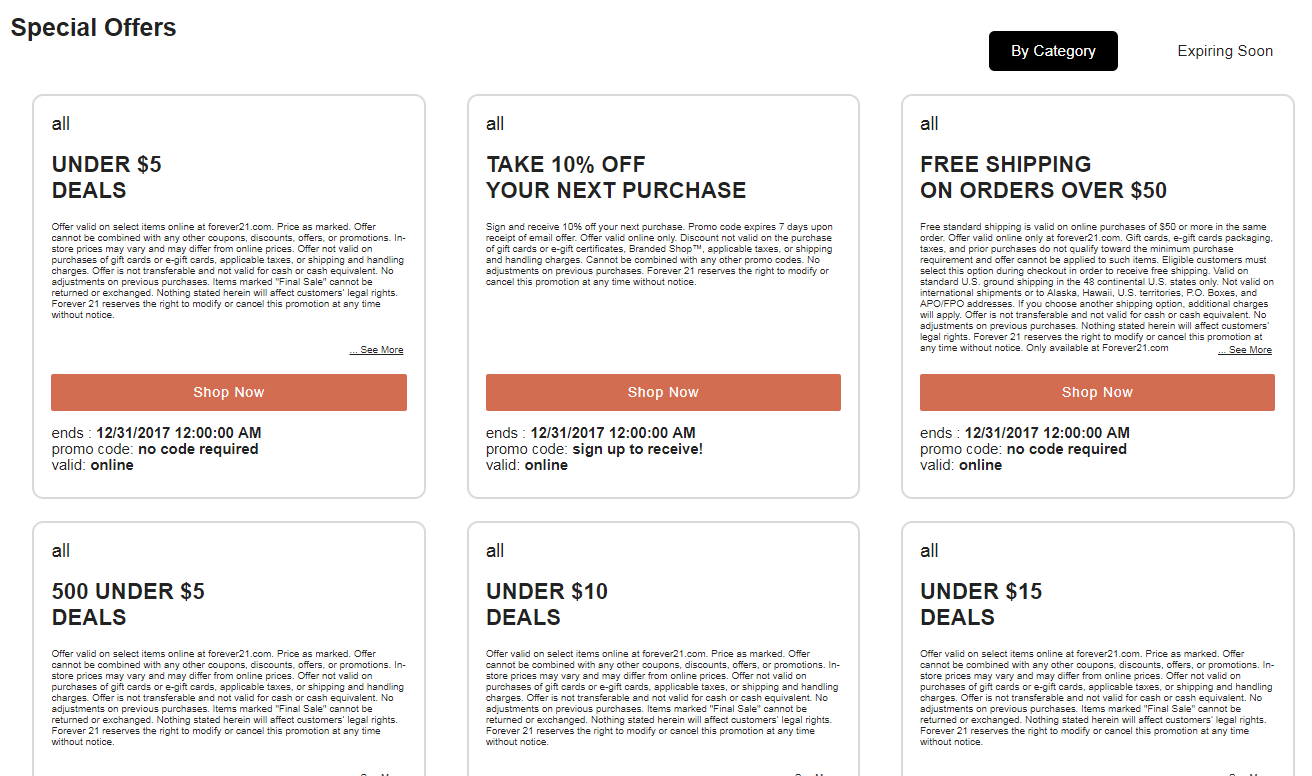 Sign up to their newsletter
Many major retailers offer a promo code in exchange for signing up to their email newsletter, and Forever 21 is no different.
Signing up is easy – submit your email through the form. You can find Forever 21's in the homepage, right above the footer.

As soon as I signed up, I got a welcome email… and check out what's below! That's right, another discount code for 10% off.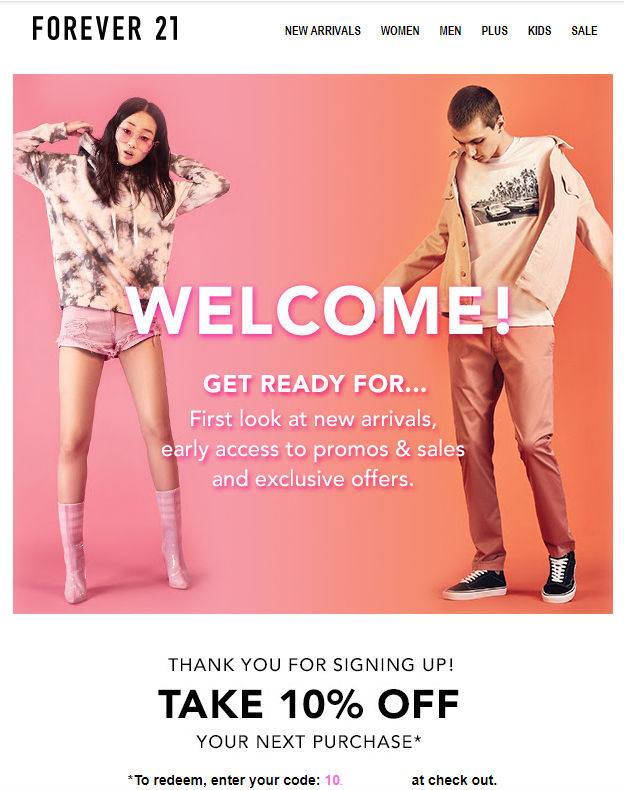 So, this is great, but it's a one-time deal… once you use the code, you're out of discounts, at least until the next newsletter with a gratuitous discount code.
That's when coupon sites fare better – there's no waiting. Instead, you can just hop by each time you're making a purchase.

It's all about the coupon codes
If you're not looking for codes before every single online purchase, you're missing out on potential savings.
Make it a habit. Bookmark great coupon code sites.
Why are you paying full price when retailers are making it easy for you to get a discount?
I want to hear from you
There are always new, interesting strategies to save money on retail sites.
Do you have any other tricks up your sleeve? I want to know!
Thanks to Freepik for the original version of the featured image.