**This post contains affiliate links and I will be compensated if you make a purchase after clicking on my links. Home Life Abroad has received no compensation for writing this post. I purchased all the products minus the Love Boo ones I received for a review some time ago. All opinions, however, are 100% my own!
I have to say that I'm not much of a beauty or body care products buyer. Once I find products I like, I keep purchasing the same brand over and over again. Usually, I try out new brands when my friends recommend me something or I find a product sample I like. One thing that is really important for me is the quality of the product – I always prefer quality over quantity.
Today I'll show you some of my favorite body care products. I do use more products than shown on the picture below, but the ones that make no appearance in the photo are not worth mentioning.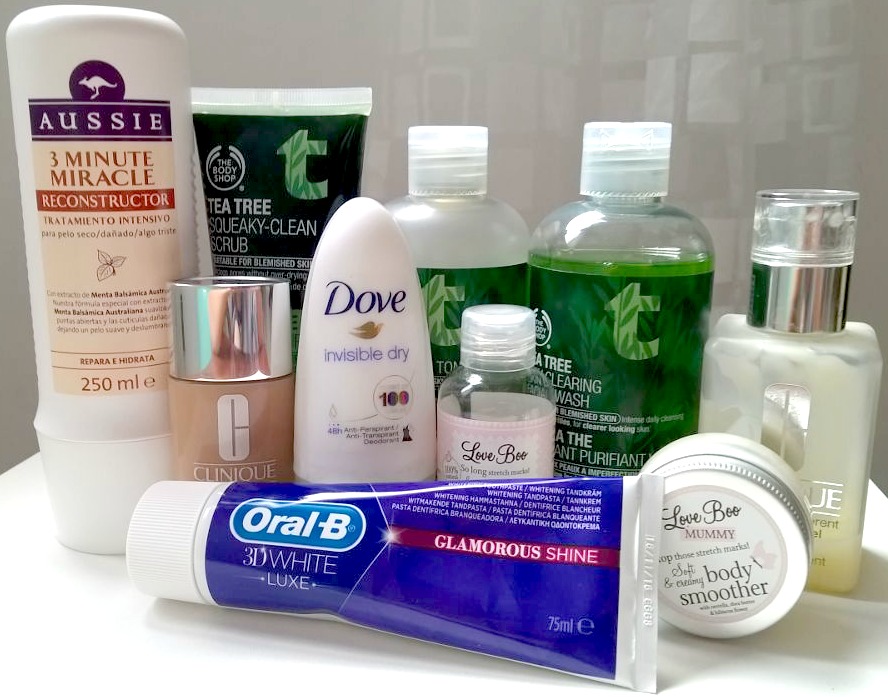 Aussie 3 Minute Miracle Reconstructor Deep Conditioner

I started to use Aussie products because of a shampoo sample I found in a beauty magazine. Aussie is an Australian company and even if it's well known in Europe, it's not easy to find in Spain.
Aussie's 3 Minute Miracle comes in a bottle of 250ml. It's meant for dry and damaged hair. Thanks to Australian Balm Mint extract, this deep conditioner smells heavenly and helps to reconstruct damaged hair.
I use it once a week and it always leaves my hair shiny, manageable and with an amazing smell. Even if it's a little bit pricey, I will keep using Aussie's 3 Minute Miracle, as it works as promised.
The Body Shop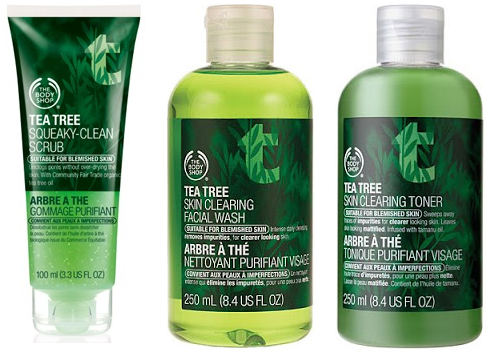 I'm a huge fan of The Body Shop products and not just because they are against animal testing, protect the planet, defend human rights or support community fair trade. I'd say their products are one of the best I have ever tried. Tea tree products are perfect for my oily and breakout-prone skin as they reduce excess oil, but still staying gentle to my skin.
I'm using 3 products from their Tea Tree line:
Tea Tree Squeaky-Clean Scrub
This scrub comes in a tube of 100 ml. I tend to use it once or twice a week as needed. Thanks to its micro-fine exfoliants this scrub helps to unclog pores without over-drying and afterward, the skin feels super clean and soft.
Tea Tree Facial Wash
Comes in a bottle of 250ml. I use the wash in the evening before going to bed. I really like the consistency of the product and a small quantity of the product goes a long way. I note that my skin is much clearer looking after I started to use this facial wash and also the breakouts are minimized. I highly recommend this product for people with blemished skin.
Tea Tree Facial Toner
Comes in a bottle of 250ml. I use it daily in the morning and in the evening. Containing white willow bark, lemon tea tree oil and organic tea tree oil, this toner refreshes, sweeps away traces of impurities and helps to attain shine-free skin. Compared to other 2 products, this toner has the strongest scent of tea tree oil. It's important to Shake the bottle to activate the mattifying powders before the usage.
Clinique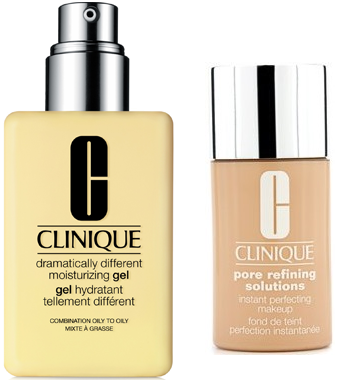 Dramatically Different Moisturizing Gel
It's my favorite cream by all! It has a lightweight formula, smells nice and my skin feels super soft, smoother and healthier afterward. The only downside is the price. Here in Spain the gel in a 125ml pump bottle.
Pore Refining Solutions Instant Perfecting Makeup
Finding a good foundation for oily and breakout-prone skin is not easy, so when Clinique's Pore Refining Solutions was used for my wedding makeup, I had my doubts, but the outcome was amazing. This foundation is lightweight, goes on smooth, gives good coverage and it feels like not wearing any makeup at all. It also helps to conceal breakouts well and my pores look less noticeable. It comes in a tube of 30ml.
Love Boo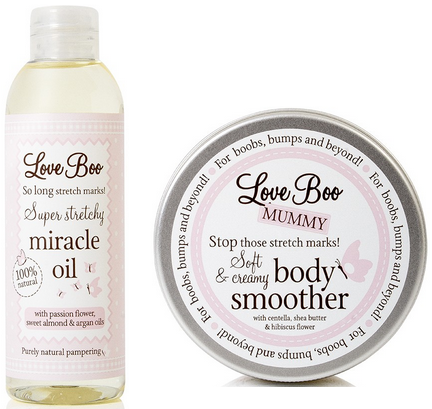 As much as possible, I prefer body care products made of natural ingredients. Love Boo's baby and mummy skin care products made of the finest quality natural ingredients. Their products are free of parabens, petrochemicals, sulfates, synthetic colors, triethanolamine, and diethanolamine! You can read a full review of several Love Boo products here.
My favorites from their products are:
Super Stretchy Miracle Oil (50ml/11€ or 100ml/22€) is a special blend of 100% natural oils. This miracle oil helps to banish stretch marks, even out skin tone and fade the appearance of scars. It has done a great job with my stretch marks and the skin on my hips and belly is much smoother and softer now. I love that it smells of ginger, lemon, and peppermint.
Soft & Creamy Body Smoother (25ml/10€ or 190ml/21€) helps to reduce the appearance of stretch marks and cellulite. I usually use it together with the miracle oil and I love the effect they have together. Thanks to Shea butter, the smoother melts into the skin and your hands, nor skin have no sticky or greasy residue after applying the product.
Dove Invisible Dry (50ml)

I wear a lot of dark colored clothes and a deodorant that does not leave any stains or marks on my clothes is a must. I prefer the roll-on type of deodorants as I find them more long-lasting than the spray ones. What I love about Dove Invisible Dry is that it does not leave any white residue on my armpits, it contains cream as an hydrating element and it does not contain alcohol, resulting in smooth and soft armpits.
Oral-B 3D White Luxe Glamorous Shine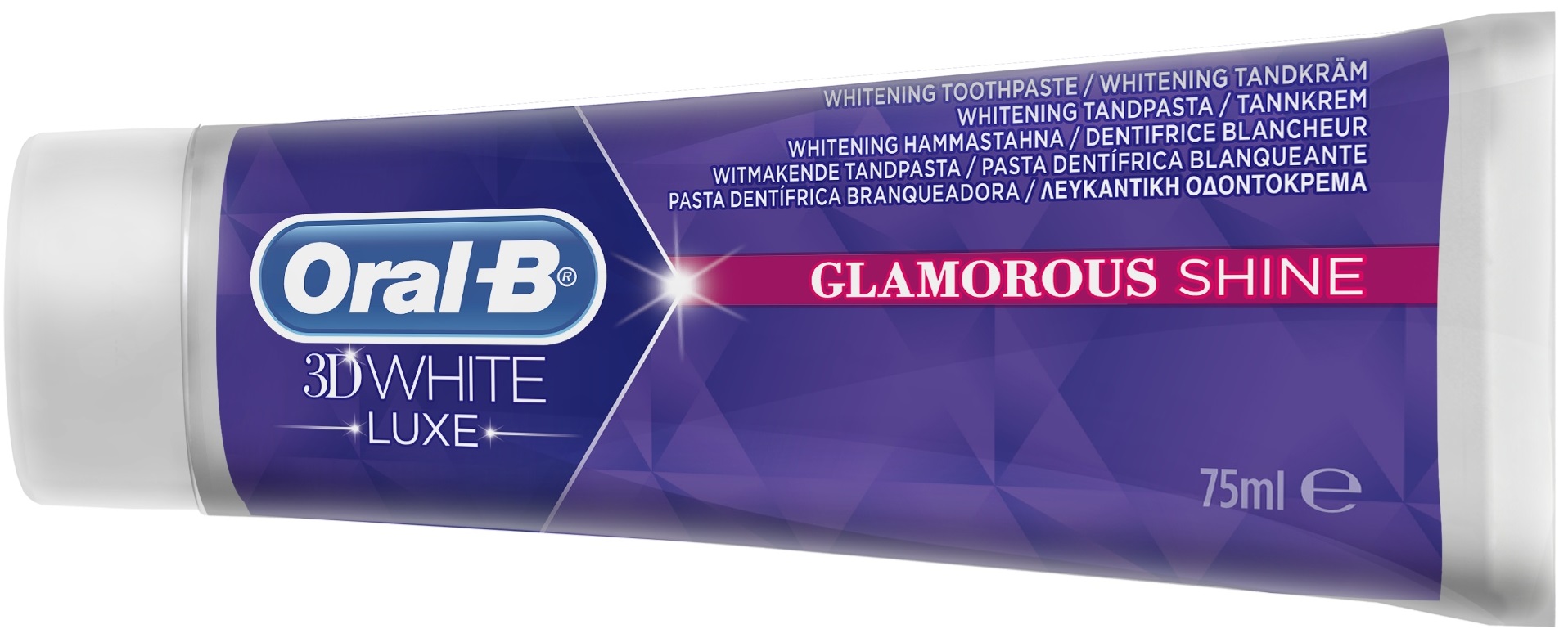 Normally we use a Colgate toothpaste, but as the Oral-B one was on a sale, I decided to give it a try. I have used several other whitening kinds of toothpaste before but haven't found "the one". I was really surprised when I started using Oral-B 3D White Luxe Glamorous Shine, as it really removes stains and whitens my teeth. The package says that this toothpaste removes up to 90% of surface stains in 5 days + protects from future stains, and it really works! It gives me brighter smile and fresh breath too. It comes in a tube of 75 ml.
What are your favorite body care products?