I received the products mentioned below to facilitate my review. All opinions, however, are 100% my own!
My daughter loves bath time with all that splashing, bubbles and water involved. When Love Boo asked if we would like to try out some of their products, we were really excited!
Love Boo is a company based in the UK specializing in baby and mummy skin care. They offer a wide range of pampering products made of the finest quality natural ingredients. Love Boo has banned parabens, petrochemicals, sulfates, synthetic colors, triethanolamine and diethanolamine in their products!
We were able to try out Love Boo Hair Care Range, Very Gentle Top-To-toe Wash and Marvellous Mummy Kit.

Love Boo Hair Care Range (£25/$38.59)
Love Boo's natural hair care range consists of shampoo, conditioner & detangling spray. These hair care products contain natural oils and extracts to make hair washing a delightful and luxurious experience for all the family. All Love Boo's hair products are created to detangle and de-frizz kids hair and leave combing tantrum-free!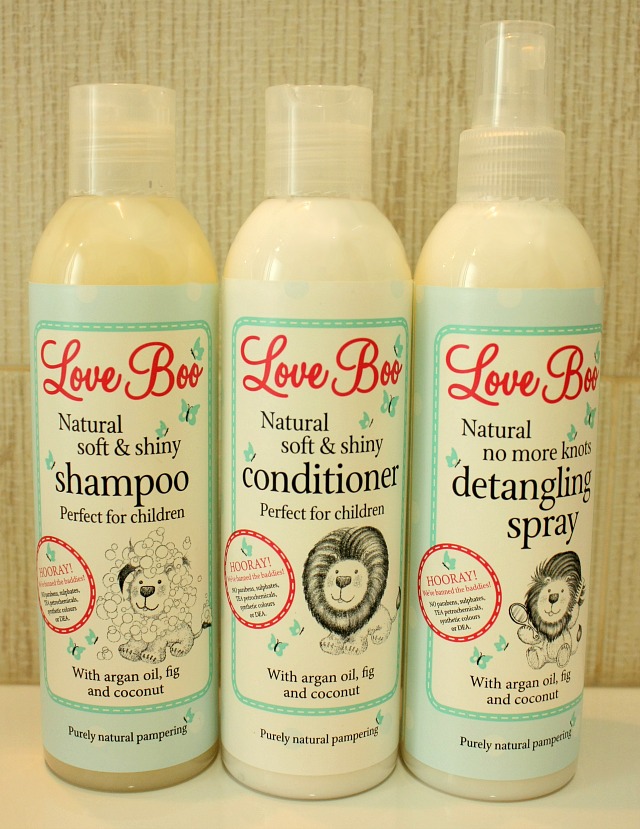 Soft & Shiny Shampoo (250ml, £8.99/$13.88) contains Argan oil, coconut, fig, and papaya extract, creating a perfect combination to get silky, soft and tangle-free hair. The shampoo has a sweet scent reminding me of baby powder. It lathers up nicely and creates a rich foam my daughter loves. The shampoo is not tear-free, so I was really cautious when washing Sofia's hair at first, trying not to get any foam in her eyes, but in the end, it looks like the product does not sting as much when it does get in the eyes.
Soft & Shiny Conditioner (250ml, £8.99/$13.88) helps to achieve moisturized, knot-free and super-silky hair thanks to fig, coconut, and Argan oil. It was a first time I used any conditioner on my daughter's hair. I was a little bit skeptical and thinking that kids do not need conditioner, but I still gave it a try. The conditioner is really creamy, easy to apply and rinses out really well. As a result, my daughter ended up with bouncy shiny curls.
No More Knots Detangling Spray (250ml, £11.99/$18.51) works wonders for tangles, knots, and frizzy hair! It's a leave-in spray containing papaya and coconut extract for shine and hydration and Argan oil for releasing the tangles. We used it on wet hair, but you can use it for dry hair too. It really made combing much easier and Sofia's hair was tangle-free even in the next morning.
What I really like about the hair care line, is that the products smell really great and the result is exactly what the product description says.
The press down caps to the shampoo and conditioner are a huge plus, as my daughter loves to play with bottles and tries to spill all the product on the floor. Thanks to these caps, I know that no product will be wasted.
Very Gentle Top-To-Toe Wash (£7.99/$12.33)
Love Boo's award-winning top-to-toe wash comes in a bottle of 250ml and contains Tahitian Monoi, olive oil, and oats for extra soft and soothed skin. As the apple extract is used as a cleansing agent, this product is perfect for your baby's delicate skin.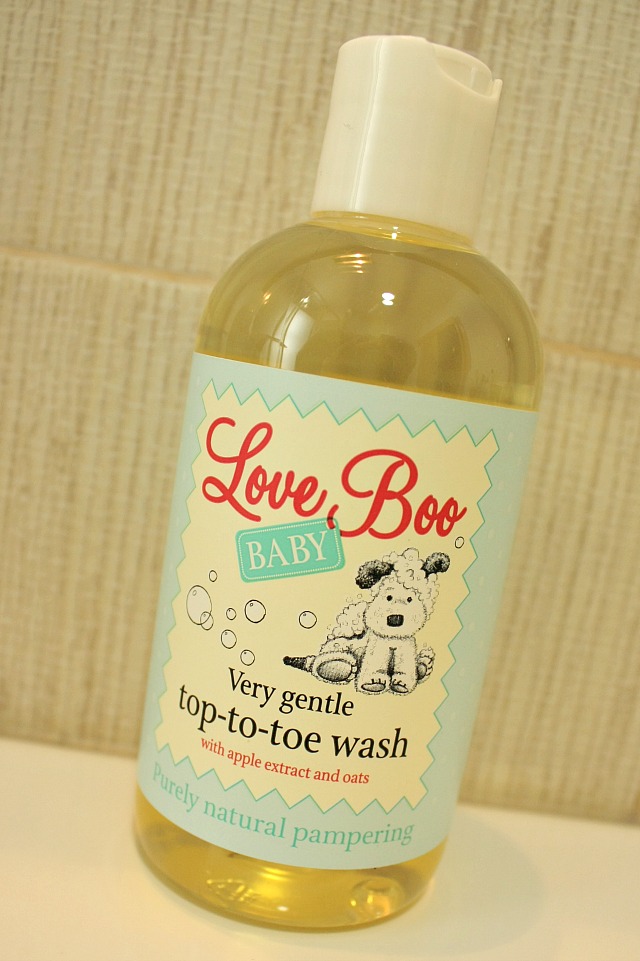 My daughter really loved that Love Boo's Top-To-Toe Wash creates a lot of foam and smells really great. You just need a really small amount to wash all your body. We have used this wash for 2 weeks every day, and Sofia's skin is perfectly moisturized, so this product washes the skin without drying.
Marvellous Mummy kit (£24.99/$38.58)
This kit makes a great gift for any mom-to-be and also as a baby shower gift. The Mummy Kit products are safe for use when pregnant or nursing.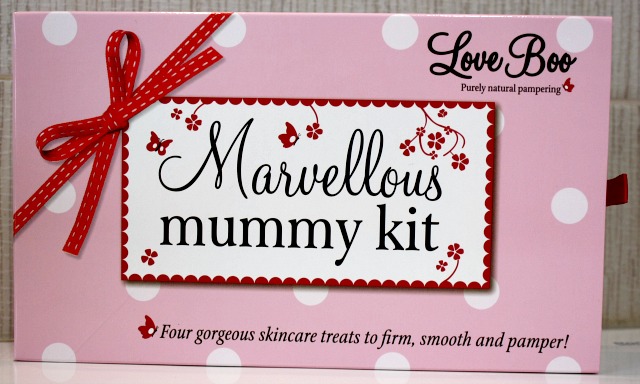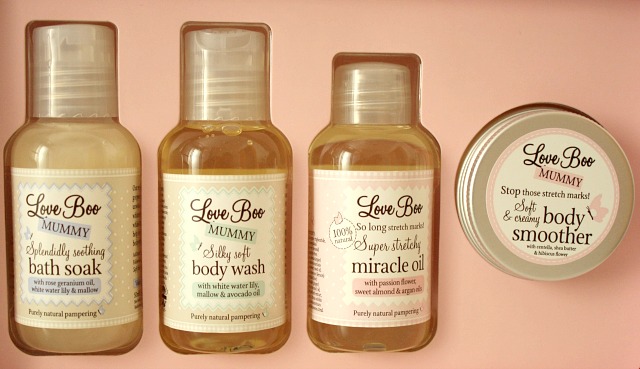 It has a really cute packaging and contains four award-winning products:
Splendidly Soothing Bath Soak (50 ml) helps to relax and calm your tired body and mind thanks to Arnica extract, white water lily, chamomile, and mallow. Rose geranium oil gives this bath soak a fragrance of a sweet rose garden. Even with a small quantity of the product gives your bath a great smell and a lot of luxurious bubbles.
Silky Soft Body Wash (50ml) nourishes and moisturizes your skin thanks to its special blend of white water lily, mallow, and avocado oil. My favorite part of this body wash is the fragrance! It smells of ginger and lemon and leaves the skin with a subtle fresh smell.
Super Stretchy Miracle Oil (50ml) is a special blend of 100% natural oils rich in Omega & and 9. Passion flower, sweet almond, and Argan oils help to banish stretch marks, even out skin tone and fade the appearance of scars. I have some stretch marks from my pregnancy and after 2 weeks of using, those marks are a little bit lighter already. I love that it smells of ginger, lemon, and peppermint. The Miracle Oil does not leave my body oily and it absorbs really quickly.
Soft & Creamy Body Smoother (25ml) is recommended to use together with the Miracle Oil to soften and firm your skin. Containing anti-ageing Centella, elasticity Increaser hibiscus flower and Shea butter, this body butter helps to reduce the appearance of stretch marks and cellulite. Thanks to Shea butter, the smoother melts into the skin and your hands, nor skin have no sticky or greasy residue after applying the product. It has a really great scent and works great together with the Miracle Oil.
I really like that the Marvellous Mummy Kit products come in a small size so you can try out the products and buy the ones you really love in a bigger size. The minis are perfect for traveling and also, why not add these products to your hospital bag.

Even if the products seem more expensive that your normal hair and skin care products, they go a long way as a really small amount of product is needed. Natural ingredients are great for baby's skin and worth their cost!
For more info about Love Boo:
Twitter: https://twitter.com/lovebooshop
Facebook: https://www.facebook.com/lovebooshop