Some of you might know, that I love IKEA – their modern style furniture, accessories and, of course, their meatballs! But I also love old furniture. Heirloom furniture, that has been in a family for decades or precious antiques found in yard sale give a unique decorative and also a sentimental element for the home.
Even if we try to keep our furniture safe, so it could last decades more, sometimes it's a really hard task or even impossible.  As most of us don't live in a museum, little scratches and nicks on our precious furniture or hardwood floors are inevitable.
So when you find that your beautiful hardwood floor is scratched or that your great – grand aunt's chest of drawers is nicked, don't worry, there are several ways to get your possessions restored to its former glory. Scratch removing products are your answer!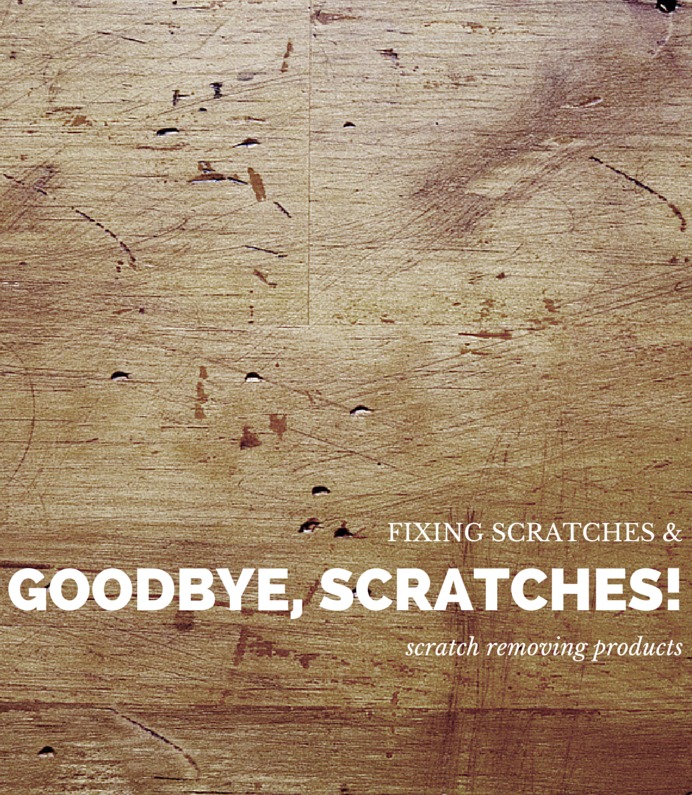 How Do Scratch Removing Products Work?
Although there are different types of scratch removing products in the market, they all serve the same purpose, which is to remove scratches and other imperfections from wood items. The products penetrate deep into the cracks, chips, or scratches and after some time, the product absorbs the color of the surrounding area through a chemical reaction. This ensures the cream or paste achieves the same color thereby maintains uniformity. In addition, it also solidifies and creates an even and smooth surface. Quality products work in a short time and offer long lasting results.
Here is an example of how a scratch remover (in this case Scratch Aide) works.
Why Use Scratch Removing Products?
Even if trying to fix scratches with DIY techniques like lemon juice, cooking oil, crayons and coffee grounds sound like a great and cost effective idea, sometimes it's better to turn to products meant for fixing damages.
Products that help in removing scratches come in all manner of shapes and varieties – creams, pastes, sprays, pens, waxes, etc. The effectiveness of each product is determined by several aspects. These include manufacturers experience, type of ingredients, the technology used and more. Nonetheless, to enjoy the benefits it is wise to read reviews and purchase brands that really give you the solution you need.
Scratch removing products are not good just for fixing the chips or cracks, they also have some noteworthy benefits:
Improve aesthetic appeal: the products conceal the scratches and minute cracks thereby restoring ornamental beauty. Let's be honest! Usually, we want to get rid of scratches because they look ugly.
Minimize further cracking: – Scratch removers penetrate deep into the wood forming a sort of bond or seal that stops the crevices or scratches from spreading further.
Enhance value: Sealing the scratches and creating an even and smooth surface improves the economic value of the item.
Cost effective: Using a scratch remover is more economical compared to other professional alternatives. The procedure doesn't require sophisticated or costly equipment. Also, any person with minimal or basic skills can perform the exercise.
User-friendly: Quality products are manufactured from safe ingredients and are also tested by relevant authorities. This minimizes any chance of side-effects. The scratch remover comes in a solution or paste form which is easy to use and clean afterward.
Time-efficient: Repairing or removing the scratch is a straightforward process that only takes a few minutes. The seal also lasts for a long time.
If DIY solutions nor scratch removing products do the job or the result isn't what you wished for, you can always talk with a professional or just cover the scratches with tablecloths or some decorative elements. 🙂
How do you remove scratches from wooden elements in your home?
* The unedited scratched wood image by Linkie Lueville (CC BY 2.0)