*I partnered with iHerb on this post and it has been sponsored in compliance with FTC requirements. All thoughts and opinions are my own. Please note that some links may be affiliate links and we may make a commission if you purchase a product after clicking on a link. This doesn't affect the price, but we appreciate your support in this way!
Since I turned 30 I have been on the lookout for the "ideal" skincare routine and products that would help me keep my skin looking younger. I have tried tons of creams, serums, and other products that are said to help to keep skin looking young but not all of them actually do what they are promising. So, my quest continues!
When iHerb gave me a chance to try RoC's facial care products, I was all in because I haven't tried any of their products before! I chose the products from their HEXINOL® technology line. I haven't seen this line in Spain yet, so the only way to give it a try was to order it from iHerb. They offer more than 35,000 different products and ship to over 160 countries! So whenever you are looking for specific products that are not sold in your country, check out iHerb because they might have them.
I think I have mentioned it like 100 times but I'll say it again: "I'm a big fan of iHerb!" They are a Google trusted store, their customer service team provides support in 10 different languages and solves problems really fast! We really love iHerb because they have a huge selection of skincare products for all the family and the prices are much more affordable than our local prices. Not to mention that a lot of brands they carry aren't even available here in Spain!
So in an effort to keep fine lines at bay, there are 3 essential steps I always follow to keep my skin looking young and healthy. Keep reading to find out the steps I follow and see my first impressions of RoC HEXINOL® technology line.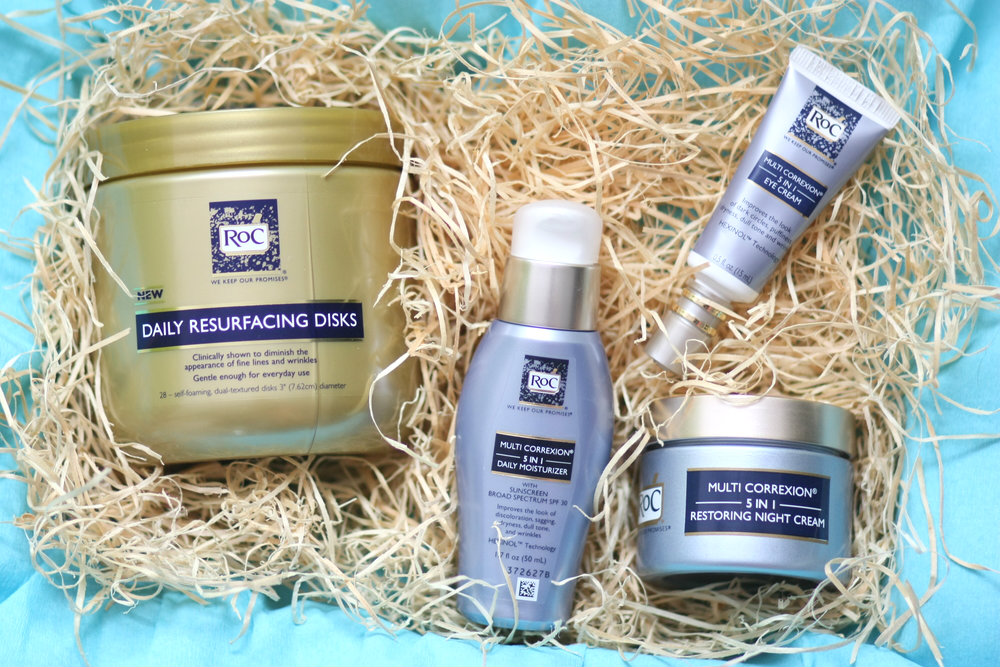 Keep your skin clean
Healthy and young-looking skin starts with clean skin. We all know that it's important to remove our makeup before going to bed and have a skincare routine to keep our skin in good shape.
I use a facial wash, scrub, and toner to keep my skin clean but after using RoC Daily Resurfacing Disks I might change my routine. It's the first time I have ever used self-foaming disks and I have to say that I'm in love! 😍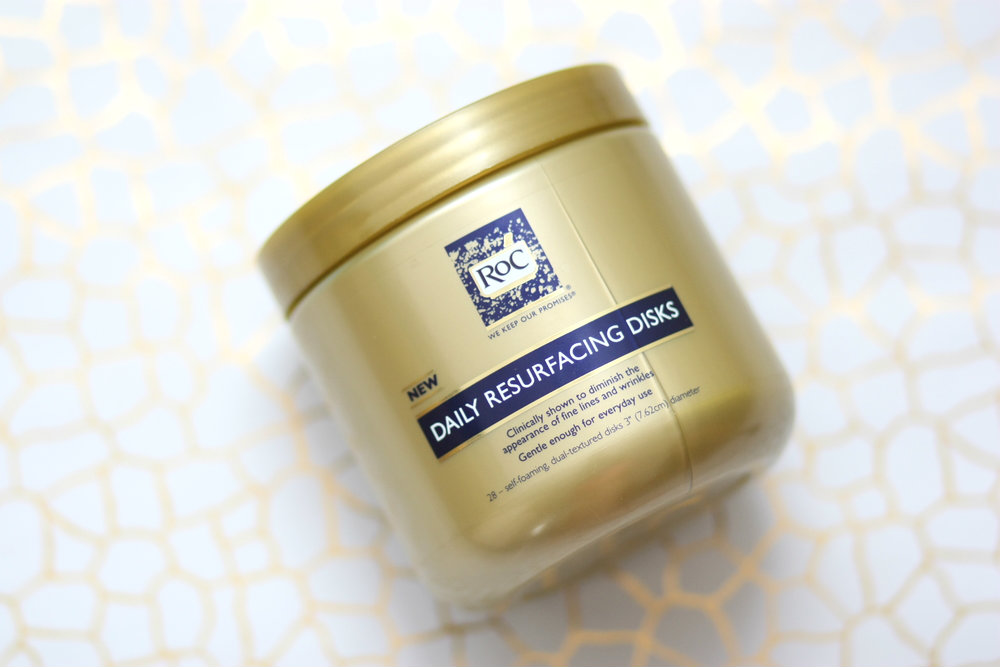 This huge jar brings 28 self-foaming, dual-textured disks. These disks are 3″ (7,26cm) in diameter and I think they are too big. So I just cut them in half and now I have a double amount of disks. They are really drenched in the skin-conditioning cleansers liquid so half of a disk is more than enough.
The disks are dual textured so that one of the sides is smooth for gentle cleanse and removing the makeup around the eye area. The other side is textured so it can be used for exfoliating. They lather up very well and leave the skin completely clean without drying the skin. The textured side is my favorite because it exfoliates my skin really gently and as a result, my skin feels super soft and smooth.
The jar says that in just 1 week the appearance of fine lines will be reduced and the skin tone and texture will improve. Well, I think that the fine lines might be a tiny bit reduced but my skin tone and texture really look much better than before!
Nourish and hydrate your skin
It all starts from the inside! If we nourish our body with a well-balanced diet rich in antioxidants like vitamins C and E, our body can help us fight photoaging and keep our skin looking younger. It's also important to stay hydrated so or skin won't lose elasticity and it's better to stay away from alcohol and caffeine that dehydrate your skin!
Besides taking care of your skin from the inside, how you nurture it from the outside has an influential impact too. That's why my skincare routine always includes a good moisturizer and an eye cream to keep the area around my eyes well hydrated and delay the appearance of crow's feet and fine lines.
I have tried four different eye creams during the last year and I have had to stop using two of them because they make the outer area of my eyes break out. So when I started to use RoC Multi Correxion 5 in 1 Eye Cream I had my reservations and expected it to cause breakouts too. But I have to say that it surprised me a lot!
The eye cream should improve the look of dark circles, puffiness, dryness, dull tone, and wrinkles. I have used this cream for 10 days now and I did have a small break out after the first time I used it but I gave it a second chance and I'm glad I did it. The cream hydrates the eye area really well, just a small amount of cream is needed. The tube brings 15ml, so it will last me for a long time.
During these 10 days, I have noticed that the dark circles under my eyes are a little bit lighter now, the eye area looks fresh and I think I also see the tiny fine lines in the corners of my eyes fainter than before. Can't wait to see how my eye area looks after finishing up the eye cream tube!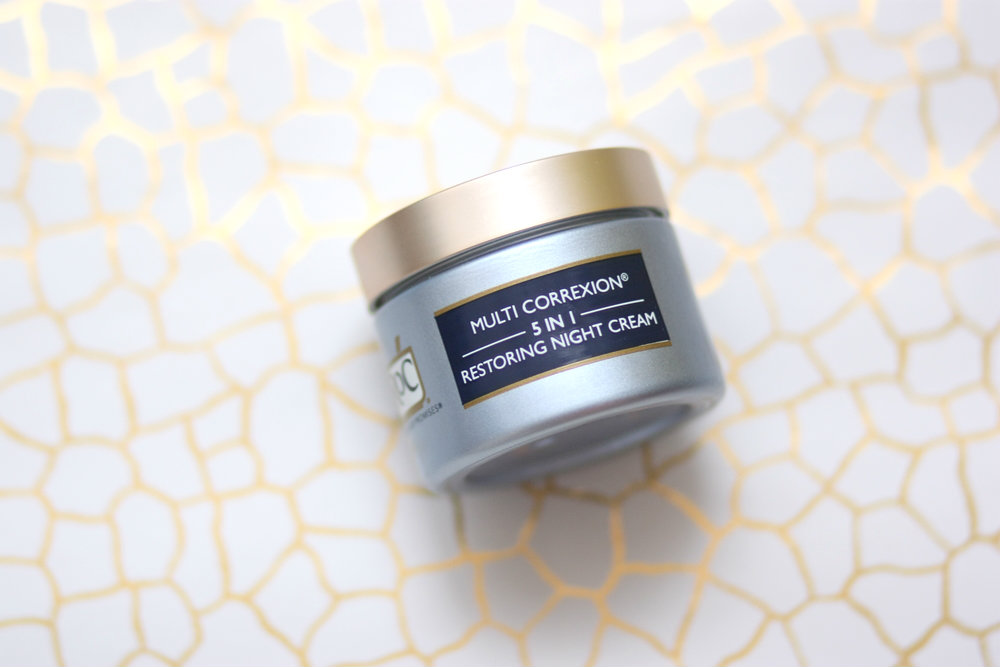 I know the importance of a good night cream but I have chosen really bad in the past and I still haven't found the perfect night cream for my skin type. So before the last 10 days, I just skipped the night cream in my daily skincare routine.
When I used the RoC Multi Correxion 5 In 1 Restoring Night Cream for the first time I knew that I have been missing an important part of my skincare routine. RoC's restoring night cream has made a great difference in my skin's appearance. I wake up with hydrated skin and the dull look I usually have in the mornings is gone. The cream is really light and absorbs fast leaving my skin super soft and nourished.
The only thing I'd change about this cream would be the jar it's in. I prefer pump bottles much more because they are more hygienic and the cream stays fresh for a longer time. Does anybody know why companies use pump bottles for the day cream but jars for the night one?
Protect your skin from the Sun
We get around 300 sunny days per year here, so keeping my skin protected from the Sun is something that has always been on my skincare routine. The first things that come to mind about sun damage are sunburn and skin cancer but between these two extremes, there are also skin drying, brown spots, and wrinkling.
While sporting a tanned look might make us look glowy and healthy, it's important to minimize Sun exposure to keep our skin looking young. Studies show that people who used sunscreen regularly were less likely to show increased signs of aging.
The easiest way to work sun protection in your daily skincare routine is to use products that already have sunscreen SPF 30 or more incorporated in their ingredients list. At the moment I'm using a foundation with sunscreen incorporated and also the Multi Correxion 5 In 1 Daily Moisturizer SPF 30 from RoC. Like with the products mentioned above, I have used this daily moisturizer for 10 days now and I'm really happy with it.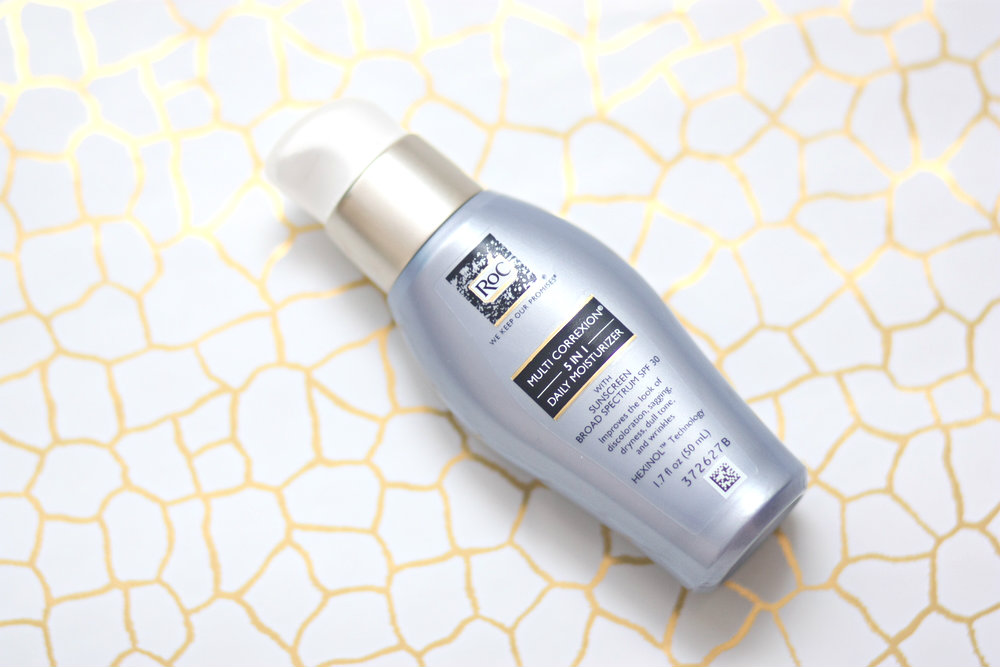 RoC's daily moisturizer comes in a pump bottle (which I love) and promises to improve the look of discoloration, sagging, dryness, dull tone, and wrinkles. While after 10 days I can't say much about how this product works towards preventing sagging or wrinkles yet, I do see that my skin is more hydrated, plump, and rosy.
The moisturizer has a faint scent of powder and sunscreen. My husband thinks that it smells like tourists at the beach 🙂 It's really light, absorbs super fast, and does not leave the skin oily. While I have had breakouts with other creams that contain sunscreen this Multi Correxion 5 In 1 Daily Moisturizer has been perfect for my combination and breakout-prone skin.
Other ways to keep yourself protected from the Sun:
seek the shade
use sunglasses with UV filters
avoid tanning beds
cover up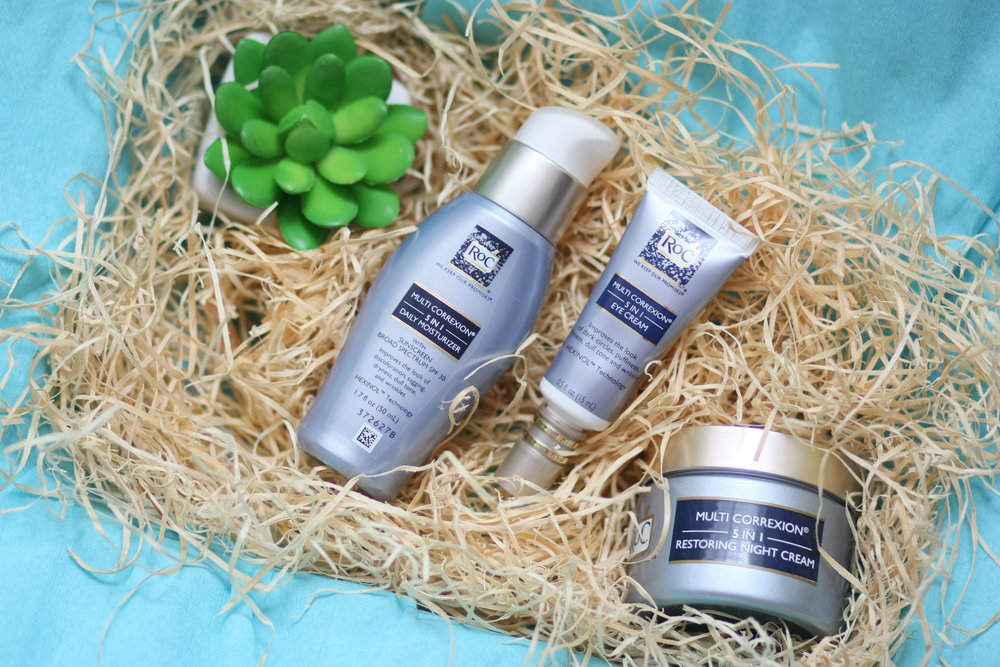 In general, I have to say that I really enjoyed using RoC's HEXINOL® technology products, and only after 10 days of using them I can already see changes in my skin color, I have fewer blemishes, and my skin looks much healthier than before. As I have used all the products together, I can say that they really do what they promise and work extremely well complementing each other.
How do you keep your skin looking younger?