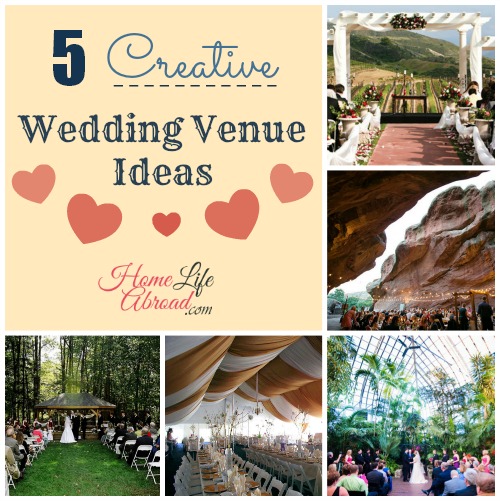 Not everyone wants to get married in a chapel… some couples want to be more creative and fun with their wedding and have a less typical venue. With these wonderful, loving couples in mind, we wanted to list a few creative wedding venue ideas.
Here are our top 5!
A canopy wedding
Hear me out on this one! I've been to a canopy wedding before and it was great in so many aspects. First, the location was superb… right by the beach and with a stunning view. At the same time, we were protected from the sun and the harsh sea wind because of the canopy. They made the place look a-m-a-z-i-n-g. It was one of the fanciest and most entertaining weddings I have ever been to. The architectural canopy they used looked so beautiful and it was actually a lot more spacious than I expected. They also saved a lot of money since they didn't rent an event hall, but rather the canopy itself. Overall, a very smart decision on their part, beautiful pictures because of the natural light, and it created a fun and lite environment.
At a winery
Mix a wedding with delicious wine tasting and alcohol and you have… an amazing time! Wineries are a classically picturesque location with a beautiful backdrop of grape farms to add. The vistas are usually breathtaking (especially in wedding photography) and the location alone will cause all guests to feel the romance in the air. Wineries exist all over the world, so finding out that is available for a wedding is easier than it seems. Plus, they are usually more affordable than other venues – especially since they give guests an opportunity to taste their wine and earn some new fans and customers!
A cave formation wedding
Rock formations can be a beautiful location for a wedding. The background looks unreal not only in real life but also in any wedding photography. It's a way to add the WOW factor to your wedding (seriously, how can your friends compete! They can't.) Plenty of cave venues are available for rent for weddings as long as you live in an area with caves, of course. The rock formations will make for an unforgettable wedding and location – no one will forget it!
A park wedding
Not all parks allow weddings to be arranged and set-up in their location, but plenty of them do. They are usually significantly less expensive than a closed venue. You just need to set-up your own tables, chairs, catering, and music. With a park wedding, you get a stunning view (sometimes even a lake to enjoy), green grass, natural sunlight, and a cheery attitude. The best ones are those that have colorful flowers and trees around, too!
Greenhouse wedding
This may sound a little odd at first because greenhouses are usually very hot, humid, and full of plants. Where will the guests sit?! No need to worry – some greenhouses have been repurposed to be a great location for an event. They will have greenery within them still, but not in an overwhelming amount that they won't allow the necessary space for your wedding. With that, you can get a super cheap venue and amazing, vintage-looking pictures!
Tell us about your wedding! Where did you get married?