*Home Life Abroad has received no compensation for writing this post. The product was given to my daughter as a present from a family member. All opinions, however, are 100% my own!

Whenever I'm buying toys for my daughter, I try to choose the ones that are somewhat educational. Well, actually most of the toys she has, have been given to her as a present and we haven't bought her many toys.
She is in love with Pinypon, Play-Doh, Minions and anything Frozen at the moment.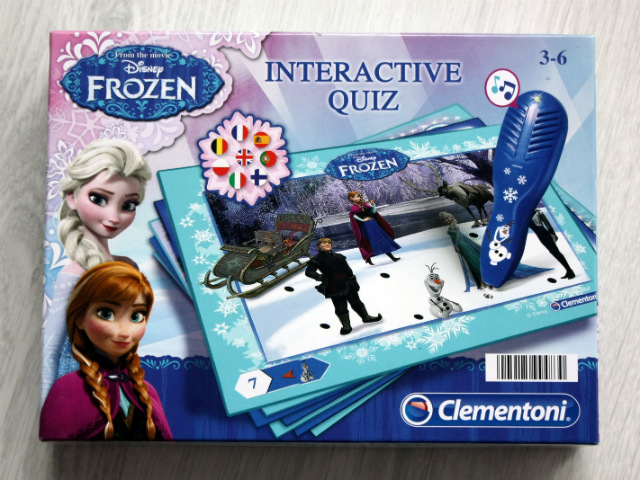 When my sister-in-law brought her a Frozen Interactive Quiz, I had no idea what to think about it. The game is created by an Italian company named Clementoni and they are dedicated to creating educational games and toys. I have to say that, the quiz seemed too difficult for my daughter in the beginning as the game is meant for children between ages 3-6.
Of course, as it's using Frozen design, Sofia really liked it, but I wasn't sure if she understands what the game is really about. Well, I have to take back any pessimistic ideas I had at first as this game is a big hit.
About the Frozen Interactive Quiz
The game contains 12 game cards with 24 activities, an electronic answer pen with Olaf design and a parents' guide.

Instructions
It took me some time to understand what was needed to do on some of the game cards (didn't read the instructions at first), but when then I noticed that every card has a small explanatory icon on the left corner it all came clear.
Basically, you let the child choose a game card and explain them (using instruction sheet or the explanatory icon on the card) what they have to do. The child then looks at the card and tries to find a correct answer. When they have the answer, they have to place the tip of the pen to the black dot next to the correct answer image. When the answer is correct, the pen will make a ringing sound and the little green button lights up.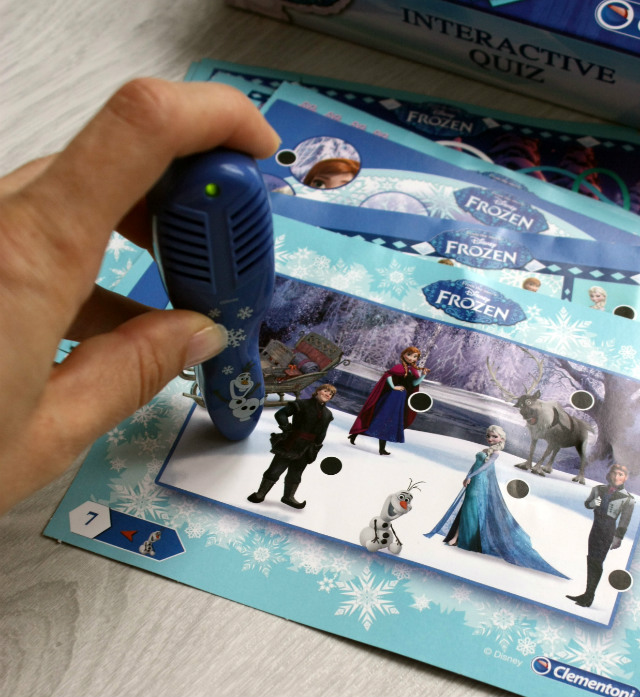 The game targets the following learning objectives:
developing observation and attention to detail skills
recognizing colors and shapes
developing thinking and matching skills
developing spatial orientation and body language
developing principles of classification and categorization
acquiring the concept of alternate sequencing and rhythm
associating number and quantity
familiarizing children with sums
developing motor skills
Card examples
There is a total of 12 cards with an activity on every side of the card, making it total of 24 activities. As the card number increases, the activity difficulty goes up. Here are some examples of the Frozen Interactive Quiz cards with instructions:
Even being younger than the game recommends, Sofia loves to find correct answers and make the pen sing and blink. There are some cards, that are a little bit difficult for her, but mostly, with a little bit help and explaining (or just checking every answer box) she finds the correct answers without a problem.
The only downside of this game is the material the game cards are made of. They are printed on a quite thin paper and after some use (my daughter loves to stab the black dots with the pen) the answer dots have deteriorated and the game cards are a little bit wrinkled.
Now we have several other Clementoni games at home and I really recommend their products. Frozen Interactive Quiz is worth a buy and helps your child to achieve different learning objectives while enjoying their favorite Frozen characters. Similar quizzes are also available with other Disney characters, so kids can choose their favorites.
What was your favorite toy when you were a kid?