**This post contains affiliate links and I will be compensated if you make a purchase after clicking on my links.
I was perusing Gazelle's website the other day and came across a few tidbits that I thought you'd find interesting …
Remember the Motorola RAZR? That was actually the first trade-in that Gazelle accepted. Shortly thereafter, Apple released the iPhone 3G, which created the first generation of obsolete phones (iPhone 6s and 6s Plus, anyone?). Since then, Gazelle has paid out more than $200 million to customers for their devices!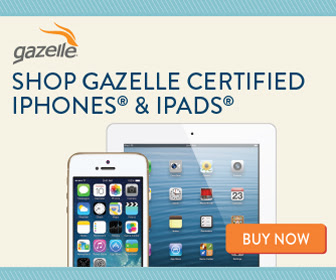 Although there are a number of options for purchasing pre-owned smartphones and tablets online, I know first-hand that there are key things that Gazelle offers that helps ensure you won't waste your time or money buying a gently-used device. For instance:
Gazelle performs a 30+-point inspection on all their devices (iPhones, Galaxy phones, and iPads), which guarantees that every feature of the device is tested and is of the highest quality before it's sold to you. This is also backed by a 30-day return policy.
Because Gazelle Certified devices mean no contracts or strings attached, you can upgrade your device at up to 40% less than buying a new one and avoid being tied to an expensive two-year contract that you might not need. You can keep your carrier, or go with a new one. The choice is yours.
You can also easily trade-in your used iPhone, iPad, iPod, MacBook, AppleTV, and other smartphones and smart devices to Gazelle for cash in three easy steps.Step 1: Select your gadget from a list of options on Gazelle's "Trade-In" page answer a few questions, and then Gazelle provides you with an offer for your device.

Step 2: For items worth $1 or more, it's free to ship your device to Gazelle. Once your trade-in is received, the device is inspected to make sure its condition matches your evaluation.

Step 3: Payment. If the device matches your description, Gazelle will pay you in the form of a check, an Amazon.com gift card, or via PayPal. Payment takes about a week once Gazelle receives your device.
If you want to sell your old phone or device and get a fair, cash price for it, Gazelle is the safest, easiest, most reliable way to go. And if you want to upgrade your device without having to pay retail rates or deal with a poor-quality purchase, make your life easy and shop Gazelle Certified.