The thing about traveling is that once you start, it's hard to stop. The travel bug can hit hard and it may feel like you can never "get your fill" of it. At least I can't! I say, travel often. Embrace as much as you can. My adventures have taken me to some pretty exotic locales, but I'm always wanting to explore more.
South America offers enough culture, scenery and good food to please any traveler. Depending on what kind of trip you have planned, there are different areas of South America that will fit your needs. Are you looking to party with the locals? Climb mountains or navigate rain forests? Or, simply relax with a nice glass of wine in the evenings after long days of leisurely sightseeing? Whatever sounds good to you, South America can provide.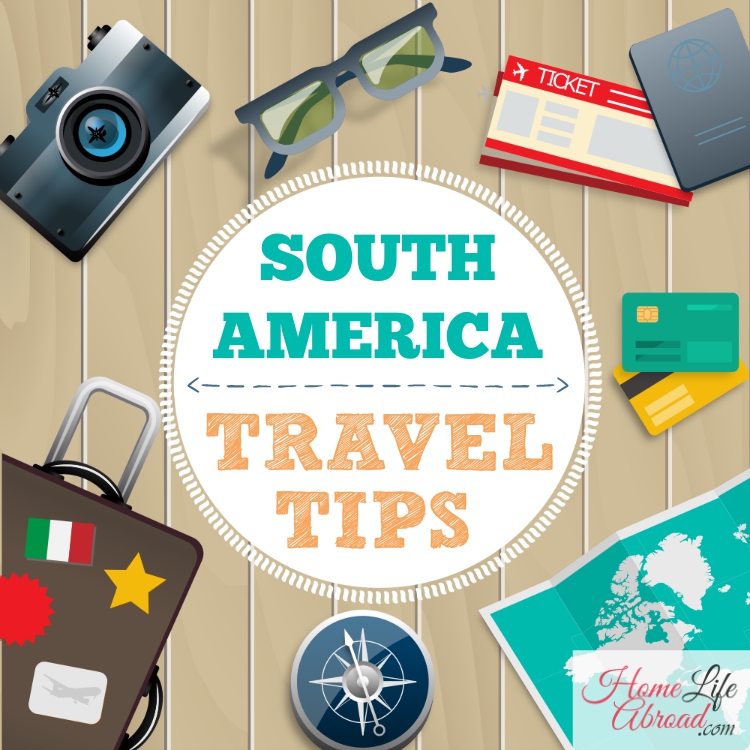 Peru is an excellent choice for historical buffs who also seek a little adventure. Many who have traveled to this area enjoy a trip to the Inca city of Machu Picchu. The sites are breathtaking and the exploration factor is high. Other areas of interest in Peru include Arequipa, Nazca Lines, and Lake Titicaca.
Brazil is another popular point of interest. Rio de Janeiro is on many travelers' bucket lists and introduces those who visit a vibrant music scene, lively festivals and a beautiful coastline just a few hours away.
Of course, Peru and Brazil are only two countries that tourists can visit in South America, but are near the top of the list for many travelers. Consider checking out some more off-beat countries like Bolivia (aka – my hometown!) When visiting a new country and culture of any kind, it's best to keep certain traveling tips in mind for safety, convenience and to make the most of your trip! It's true that many of the best trips leave room for spontaneity, but that doesn't mean to dismiss common sense.
Tip #1:
Be mindful of your surroundings. It's easy to get swept away with everything new you'll be experiencing while traveling through South America. However, it's important to pay attention to the routes you take and keep a close eye on your belongings at all times. Don't stray on unknown roads, especially in the evening or late at night. Visualize a reference point that you can come back too if you happen to trail too far off your path.
Also, it's best not to draw attention to yourself by wearing flashy jewelry or showcasing expensive electronics. For example, before you embark on your travels, check out some cubic Zirconia engagement rings to replace your wedding ring. A good rule of thumb is to not travel with unnecessary items of great value. Losing something as sentimental as your wedding ring could cause a trip to sour quickly. Even hotel safes aren't always as secure as we'd like to think. There are all kinds of other safety tips to be aware of if you are a solo female traveler.
Tip #2:
Research transportation. Taxis in many cities tend to upcharge riders depending on the time of day or simply if it seems like you might pay extra. It pays, literally, to compare current taxi rates and know what other options you have when traveling in South America. Plan your areas as much in advance as you can, so you can keep an eye on the meter and know how far you're supposed to be traveling. Taxi drivers might try to talk you into visiting other areas out of your way. Stick to the route, even if the idea sounds alluring, or you might be spending much more than you'd like. Buses are a popular way to get from country to country on a budget but research this ahead of time. The rides are often extremely long and uncomfortable, so flying may be a better option at times.
Tip #3:
Pack for the conditions. If you're planning to do a lot of walking in Machu Picchu or hiking in more remote areas, make sure you have the right kind of shoes needed for the expedition. It's a good idea to pack layers because despite the season, weather can be unpredictable and it's best to be prepared. Before heading out for the day, make sure your bag has sunscreen, bottled water, and a light snack. Even if you're out exploring the city, to avoid spending money on an impulse purchase, pack small essentials.
Tip #4:

Have an itinerary. A plan doesn't mean you have to follow it hour by hour, but having an idea of the sights you'd like to see ahead of time will avoid wasting time trekking back and forth between places. It will also help plan your days so you can see and do as much as possible with the time you have. Not a planner? Pick at least one or two things a day that you'd like to do so you can start the day with a little direction and budget your time and expenses accordingly.
Immersing yourself in a new culture can be a thrilling experience. Learning a little about where you're traveling can help make it that much richer. South America is a wonderful continent that deserves to be explored thoroughly. Travel tips only help enhance your experience and prevent any unwanted surprises along the way.
The original version of featured image courtesy of Freepik.