Ronit has already talked about her kitchen remodeling ideas and how to choose flooring and what to do with the walls, so I'll share my ideas about ways to update kitchen cabinets on a budget.
Perhaps you've grown tired of those old kitchen cabinets and you'd like to replace them, but it's so costly. Or maybe you're going to sell your home and you need an updated look. Either way, you're in need of a budget-friendly solution.
Updating your kitchen cabinetry is actually much easier than you thought and there are several frugal ideas to help you to achieve the aspect you are looking for.
Keep in mind that in most of the homes, the kitchen is not just a place to prepare the meals – it's also a command center, homework area and sometimes it might be used as a family room. So when renovating your kitchen, keep in mind all the uses that kitchen really has.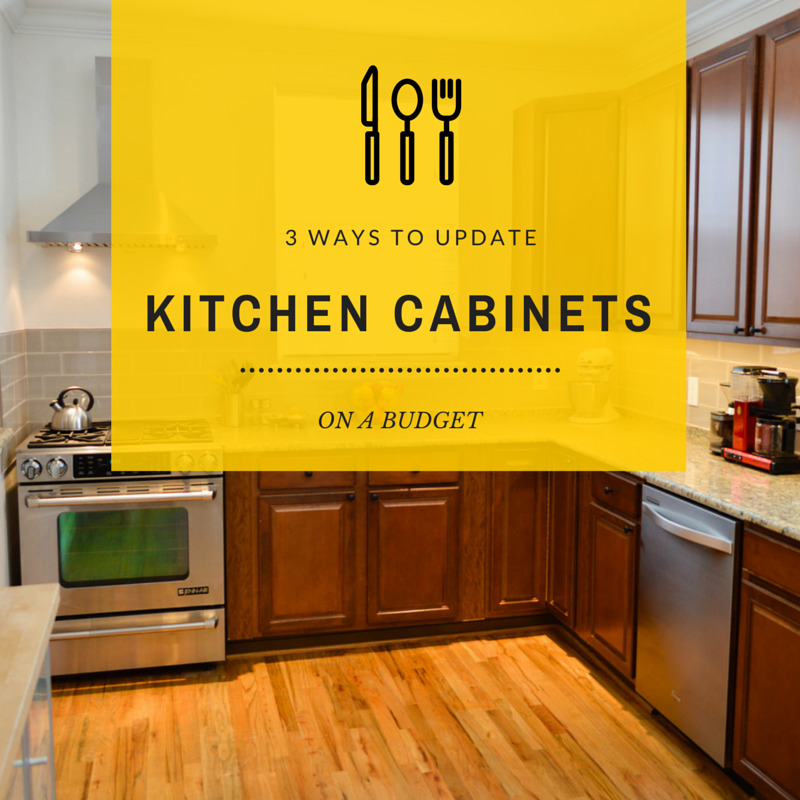 Here are 3 of our favorite frugal ways to upgrade kitchen cabinets:
Give the Doors a Fresh Coat of Paint
It does take some elbow grease, but it's an economic way to give your kitchen a fresh look. You just need to get some sandpaper, cleaner, paintbrushes and paint of your choice and you are ready to transform those tired cabinet doors.
Small cavelike kitchens without much light benefit from light colors to make space look bigger and brighter. Bigger kitchens with plenty of light get a sleek and luxurious finish with dark cabinetry.
You can also go for bold and different! Vibrant colors make your kitchen pop or use chalkboard paint to give a playful feel to the room.
My co-worker and his girlfriend chose to paint their kitchen cabinetry to keep within the budget they had for the apartment renovation. They chose dark colors for the doors and painted the walls white. They haven't finished with the renovations yet, but you can see the difference a fresh coat of paint gives!
Replace the cabinet doors
A lot of people mistakenly believe that they must replace entire kitchen cabinets in order to get a more modern updated look. This simply isn't true.
The easiest way to give your kitchen a trendy and rejuvenated look is to replace the old cabinet doors with modern kitchen cabinet doors.
It is a quick and easy way to enhance your kitchen, and it's also very affordable. There are many great options to choose from; starting with glass doors to show off your fancy dinnerware and ending with simple flat doors.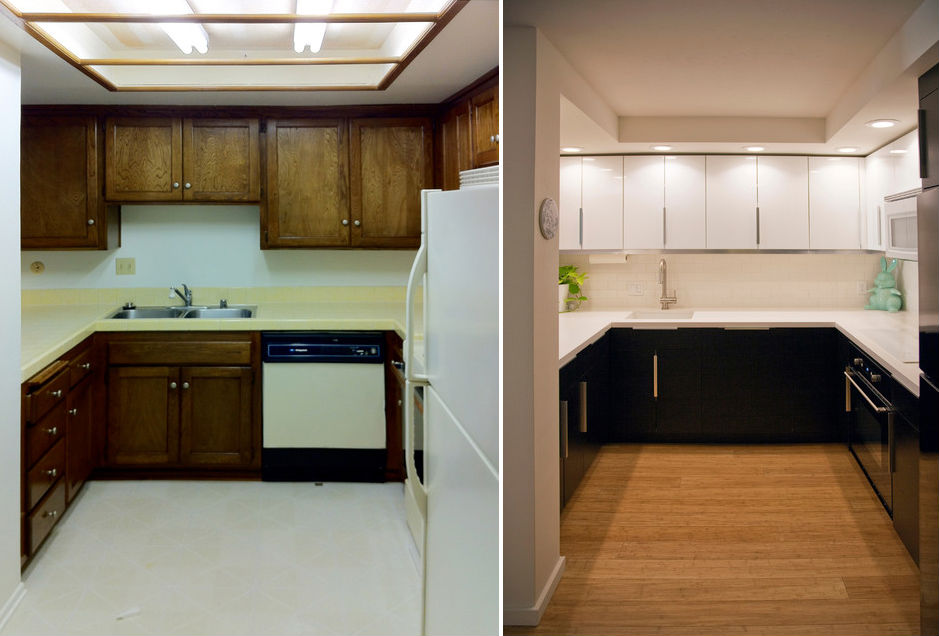 Add Crown Molding
When buying custom cabinets is out of your budget, make your cabinets look like they were specially designed for your kitchen. How? Add crown molding to convert your kitchen into a harmonious design.
Crown molding adds personality to your kitchen storage and at the same time adds visual height and finished appearance. There is a
wide array of materials and designs
to choose from favor paintable or lightweight plastic molding when you are repainting your cabinets or matching wood molding if you want to keep your old cabinets as they are.
Do you prefer to change all the cabinets or give them a little makeover?