For some, the design is a passion! Who wouldn't love to decorate their homes with modern looks, including the class, and style that comes from top quality materials and well-created designs? Doesn't matter what room we are talking about, we personally adore great looking spaces where you will love to spend time and feel comfortable.
Sometimes, decorating and designing your home according to the newest trends might be a miss. So better to stick to trends that never go out of style. But which trends have deservedly been around forever? Is it the layered rugs, all-white walls, luxurious Italian kitchen design, or monochrome styling? Let's find it out!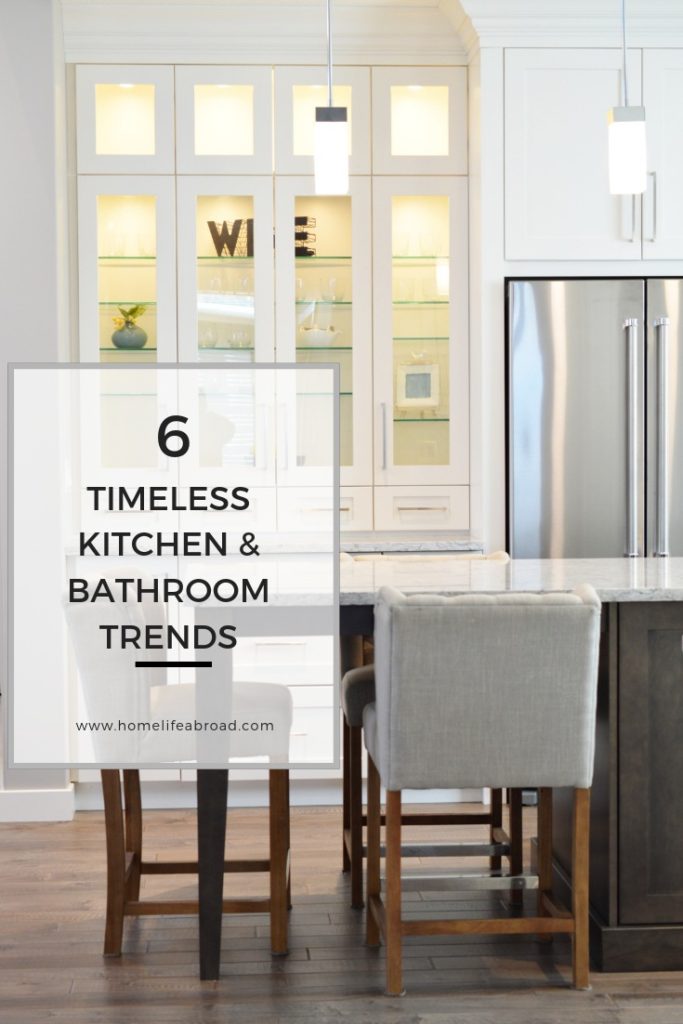 What Makes a Design Timeless?
Contemporary kitchen designs tend to have one thing in common: they all follow a few basic rules:
Great storage solutions
Plenty of surface space for cooking or entertaining
Amazing use of space
Complementary colors and materials
Integrated appliances
Do you spot any of these in your own kitchen? You'll likely have at least one of these aspects, if not more.
For bathrooms, classic styles usually incorporate:
Useful and beautiful bathroom wall cabinets or shelves
Clean lines
A lack of clutter
Wall cabinets for bathroom areas are the easiest storage solution, but as you will see further down, there are other options too. Let's start with the best kitchen design trends though, and see if you can spot your favorite on our list.
Timeless Kitchen Designs
Pendant Lights
Lighting is just as important in the kitchen as anywhere else in the house. Chefs need good light with which to cook. Have you ever tried chopping onions in dull light? Ouch. Hosts and hostesses need the right light to entertain. Pendant lights are a classic look that directs light onto a specific surface and echoes the stylings of many professional kitchens.
Stainless Steel Trim
Faucets, appliances, and light fittings are often found in stainless steel in the kitchen. This is because stainless steel is a timeless material, both durable and stylish. It's easy to clean, it's reflective, so it improves the light level in any room, and by definition, won't rust or go dull easily.
The Island
Alternatively, the kitchen island can become a place to gather and drink those lovingly crafted cocktails. Or, how about a central island with your appliances built into it like in the Pedini Dune Collection seen above? Keep your broiling and boiling near the sink so that you can drain that pasta off quickly and easily. Plus, many kitchen islands have integrated storage, making them an even more useful feature of the contemporary kitchen.
Why is the island such a go-to kitchen requirement? There are plenty of kitchens without them; L-shaped kitchens or narrow corridor kitchens, which both require you to skip from one side of the kitchen to the other to cook food or prepare drinks. The island is one central place to accumulate everything you need and go from there.
Timeless Bathroom Designs
White
Why are so many bathrooms white? White is psychologically considered a color of purity, which resonates with the theme of the bathroom: cleanliness. White also reflects light and makes a room seem brighter. This can be really useful in smaller bathrooms, which can seem a little claustrophobic if decorated in entirely dark colors.
Many contemporary bathrooms utilize sustainable materials like wood, with just a splash of white around the sink or shower. The white really complements these darker shades, so the mix of darker, natural materials and the bright white is sure to be popular for many years to come.
A Big, Central Tub
Are you passionate about a bath? If you haven't already invested in a big tub, it's surely time to do so. Having the tub as the focal point of the room reminds everyone what the bathroom is for, and creates a delightful feeling of luxury and opulence.
Go even further with a freestanding tub, that you can walk all the way around. Have some floating shelves nearby, for easy access to the bubbles and shampoo once you're relaxing in your private paradise. Wall hung faucets that flow into a separate tub is also a big hit, as they create a nostalgic, retro feel to the room.
Replace the Bathroom Cabinet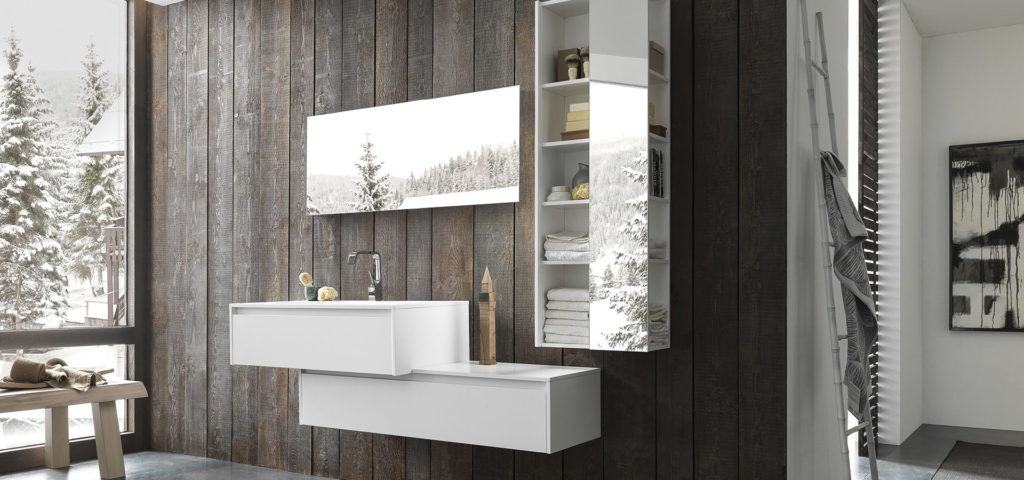 Classic, wall-mounted bathroom cabinets are very useful; however, they can be a little dull. A trend that will never go out of style is using shelving instead. Invisible mountings mean shelves can be put up that don't spoil the lines of your bathroom and allow easy access to a multitude of items. Plus, you can proudly display your favorite toiletries, keepsakes, or anything else you want to have on display.
The clean lines, floating sinks, storage solutions, and cleverly designed shelving make the bathroom a place to relish being in, every morning and night.
What are your favorite timeless kitchen and bathroom design elements?