Mardi Gras is one of America's favorite celebrations. It's an old New Orleans tradition that marks the beginning of Lent. "Mardi Gras" literally means "Fat Tuesday," which is the day before Ash Wednesday.
Traditionally, New Orleans' Catholic residents would fast during Lent, and Mardi Gras was one last chance to pig out. Fast forward to the modern day, and it's become a world-famous festival.
The traditional carnival food also gives you a way to participate at home. Boil up some crawdads, bake a classic king cake, and invite all your friends for a classic Mardi Gras potluck. Here's how to throw a party that everyone will remember for years.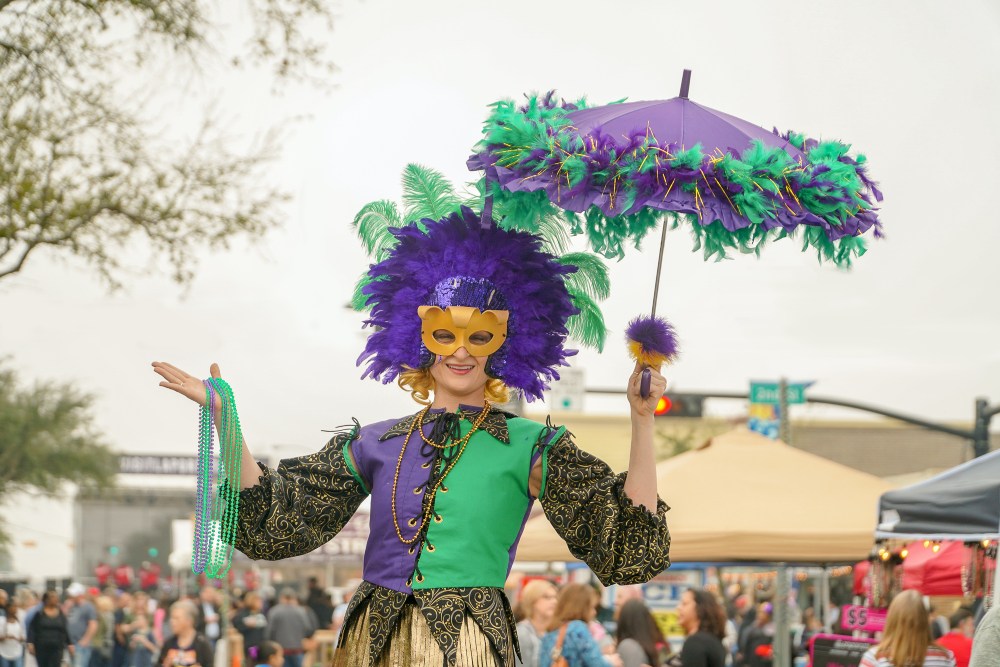 Coordinate Your Dishes
A potluck is a special kind of dinner. You provide the venue and the main course. Your guests bring everything else.
Here's the problem. Imagine you invite 12 people and tell everybody to "bring a dish." Some people won't be familiar with Cajun food. Others will have no idea where to start. You can end up with eight bowls of gumbo and four people bringing chips and dip.
Instead, give each guest a couple of suggestions. Good choices include gumbo, hush puppies, jambalaya, crab cakes, dirty Cajun rice, or Cajun pasta. Find out what each guest is comfortable with, and work with them if they have suggestions of their own. You'll end up with a diverse menu with all kinds of food.
Coordinating all your dishes can be a bit of a headache. But it's still way easier than cooking everything by yourself!
Decorate Your House
A party isn't much of a party without a festive atmosphere. Bust out some crepe paper or buy some balloons. And of course, fill a big bowl with Mardi Gras beads for your guests! If you want to use traditional colors, here's what you should use:
Purple, which symbolizes justice
Green, which symbolizes faith
Gold, which symbolizes power
Good parties also need music. Throw on some New Orleans jazz, or even put a YouTube playlist on your living room TV. And while you're buying your crepe and balloons, pick up some cheap plastic table colors. You can buy them at the dollar store, and they add a lot of spice to the atmosphere.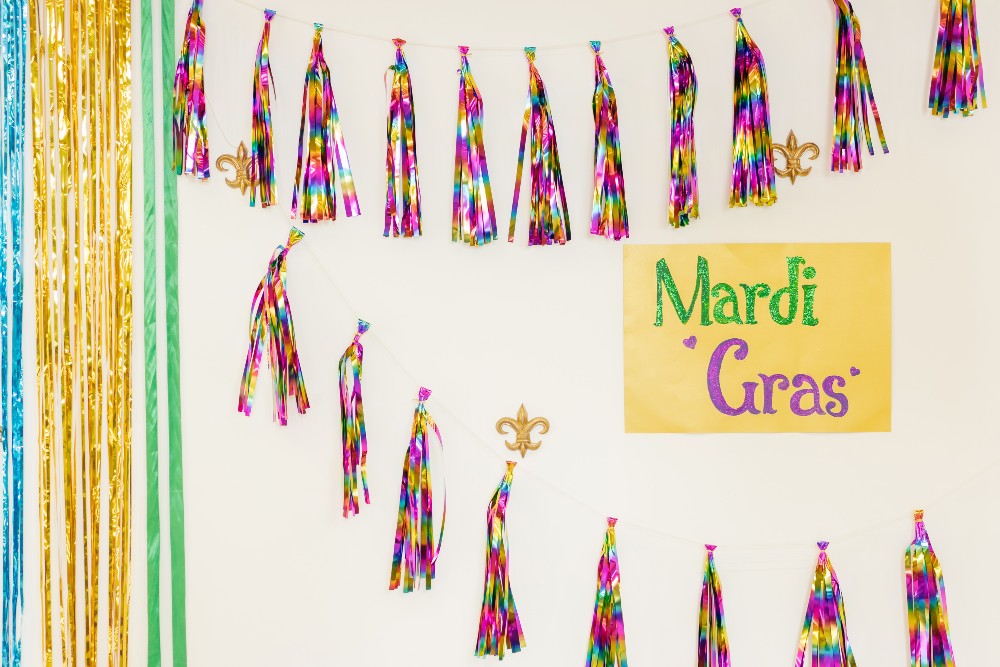 Consider Themed Invitations
These days, a text is an acceptable invitation for all but the most important events. However, a digital Mardi Gras flyer can be a fun way to invite your guests. It will make your party feel like an extra-special occasion, even before your guests arrive.
I've used PosterMyWall in the past to create invitations. Their system is easy to use, and they have templates for all kinds of events, including Mardi Gras templates.
Bake a King Cake
When I started researching New Orleans king cake, I thought it was a centuries-old tradition from back in France. Imagine my surprise when I found out that it dates back to the 1980s. Local grocery stores started selling little cinnamon-flavored cakes, colored in traditional Mardi Gras purple, green, and gold.
Nowadays, cinnamon is only one of many king cake recipes. Some of the most popular varieties are cream-filled. Unless you're a master chef, you'll probably want to stick with a simpler recipe. Either that or you can order a cake from a Cajun bakery in your area.
It's become traditional for the potluck host to provide a king cake. During preparation, you slip a small plastic baby into the batter. When the cake is sliced, one of the guests will "get the baby." That person becomes the host for the next year's potluck.
You can do this yourself with a kit. Several online vendors offer a package with a baby, along with a set of purple, green, and gold crystals.
Boil Some Crawdads
As the potluck host, it's also traditional for you to provide the main course. And what better for a Mardi Gras party than an old-school crawdad boil? Boils are best when they're fresh, and it wouldn't be practical for a guest to bring one. You have to set up a pot and a burner, and it's more convenient if the host does it.
Most guides will suggest between 3 and 5 pounds of crawfish per guest. That sounds like a lot, but keep in mind that most of that weight is the shells. On the other hand, this is a potluck, and there will be other dishes. 1-2 pounds per guest will generally be more appropriate.
If you want to create the perfect boil, you need to use live crawfish. There's no comparison between fresh and frozen. That said, it can be hard to find fresh crawdads in some areas. If all you can find is frozen, then that's all you can find.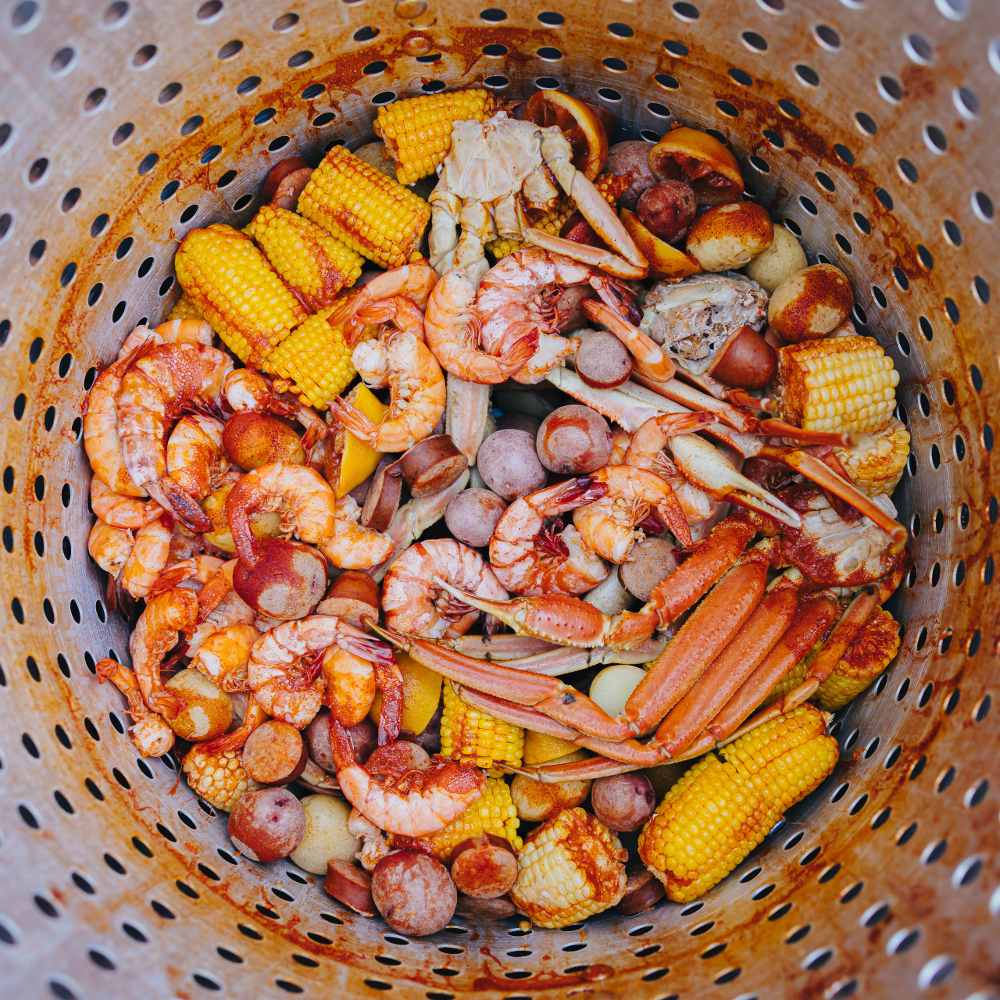 If you've never boiled crawfish before, prepare to invest in some equipment. You'll need a large propane burner and a pot that holds half a gallon of water for each pound of crawfish. A large turkey deep fryer will suffice for smaller batches. You'll also need a big cooler or ice chest for your crayfish.
For live crawdads, you'll need to clean them thoroughly. They love to dig around in the mud, and their shells and undersides are filthy. Put them in your cooler and rinse them off with your hose until the water comes out clean.
Now all you have to do is choose a recipe. And don't forget to invest in a good quality Cajun powder to spice things up.
Conclusion
Hosting a Mardi Gras potluck can be a ton of fun. It's a great way to bring your friends together and create an experience that everyone will remember. And if you do things right, preparing one isn't complicated.
Start with fun invitations, then follow up by coordinating who brings what. Decorate your house in Mardi Gras colors, and turn on some jazz tunes. Bake a king cake and boil some crawdads, and you'll have everything you need to host the perfect potluck.