This watermelon and goat's cheese salad is one of my summertime favorites. This is a variation of the watermelon and feta salad recipe my sister shared with me. I was too lazy to go and buy some feta, so I just tossed it together with the ingredients I had on hand.
This fresh and flavorful salad can be served as a light meal, side dish, or just as a snack.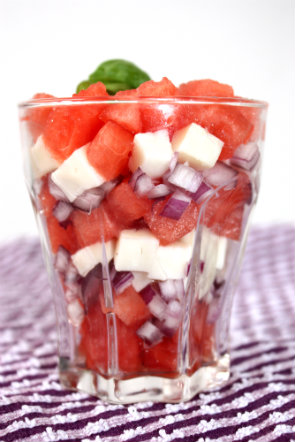 I really like the sweet and salty combination this salad has. You can add salt and pepper, but for me, cheese already has the amount of salt needed for this salad. I didn't use any salad dressing, but balsamic vinegar could make a perfect dressing. You can also try different yummy variations of this salad with arugula, black olives, or mint.
You can make it as individual servings as I did or serve it from a salad bowl.
Watermelon & Goat's Cheese Salad
Recipe Type
:
salad, snack, side dish
Prep time:
Total time:
Ingredients
Watermelon
Cheese
Red onion
Basil or mint for garnish
Instructions
Cube watermelon and cheese.
Slice thinly the onion and cut the slices into tiny cubes.
Place the watermelon in a glass or bowl, top with onions, then the cheese. Repeat.
Garnish with basil or mint
What's your summertime favorite dish?