You know one of those days when you are super busy and have no time for cooking or days when you have no wishes to cook something elaborated, but still, want to offer your family a delicious meal?
On those days, I use our favorite recipe that comes together in maximum 20 minutes and is always a crowd-pleaser. It even has veggies in it!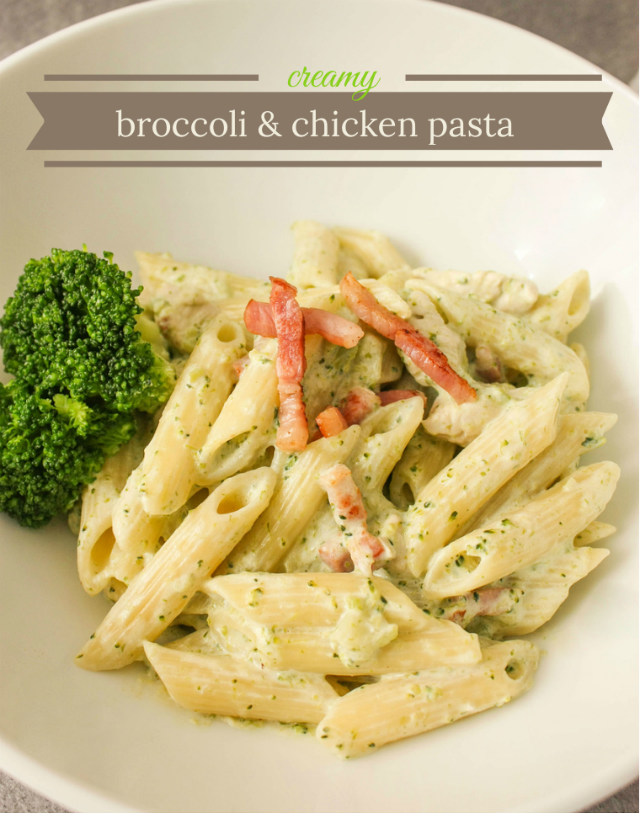 When I first cooked creamy broccoli and chicken pasta, my husband was very skeptical has he does not like vegetables much. But I assured him, he won't notice the broccoli at all. Nowadays, it's one of his favorite pasta dishes we make at home.
This is a great recipe for kids who don't like vegetables. Chop broccoli florets as thin and small as you can, so they look like a part of the sauce and remain unnoticed. You can even sneak in some bell peppers for extra color and taste.
Sometimes when I need a super comfort food, I add some bacon too. I really love this recipe, as you can change the veggies and meat as you like, but still, have a dish that comes together in no time and helps out on those difficult days.
Creamy Broccoli and Chicken Pasta
Cook time:
Total time:
Ingredients
½ kg skinless, boneless chicken breast
½ kg broccoli florets
150 ml chicken broth
200 g bite-size pasta (penne, bowtie, fusilli)
250 g (1 pkg) cream cheese
2 tbsp butter
Instructions
Cook pasta according to directions until pasta is al dente.
Cook broccoli until tender. Rinse in cold water and drain. Chop the florets into the desired size.
Cut chicken breasts into strips.
Melt butter in a large skillet, add chicken strips and cook until chicken is white.
Add chopped broccoli and chicken broth.
Cook until the broth is simmering and add cream cheese.
Stir until smooth. Cover and cook the sauce for a couple of minutes.
Remove from heat.
Add the cooked pasta to the broccoli and chicken sauce.
Stir to blend the ingredients together.
Serve
What is your favorite pasta recipe? Do your kids like veggies?