**This post contains affiliate links and I will be compensated if you make a purchase after clicking on my links.

Yes, that's true! Sign up to be a Stella & Dot Stylist for as low as $199 now through April 30th and you'll get $750 in free accessories!
Being a Stella & Dot Stylist has a lot of benefits! In addition to getting special discounts on the jewelry and accessories that you love, you'll also have the freedom to style your own financial future when you become a Stylist with Stella & Dot. Other perks include:
An incredible business to call your own
The ability to work from home and earn extra income sharing the jewelry that you love with others
Training and support from amazing and successful women
Free jewelry, as well as significant discounts
Expense paid vacations
A personal website and online business center
and so much more!

Tell me that you are not interested in free jewelry, expense paid vacations, and being your own boss! Well, if these perks do not convince you, remember that an additional $100 in initial Sample Credit is accessible to Stylists immediately upon signing up and you'll be able to earn an additional $300 in product credit when you sell $1,000 in your first 30 days!
Sign-up options are as follows:
• Online and On-The-Go Sign-up: $199 for $450 in Sample Credit
• Trunk Show Essentials Sign-up: $499 for $1,100 in Sample Credit
• Business Builder Sign-up: $699 for $1,600 in Sample Credit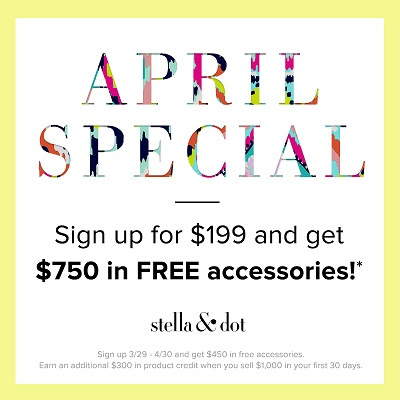 Are you interested in becoming a Stella & Dot Stylist? For more information, go here.