I LOVE shoes. My dream is to reach Carrie-level shoe closets – then, I'll know I have succeeded in life. (Yes, very superficial, I know! But if I can afford to buy all the shoes I fall in love with, then I know that I have financially made it in life and in my career.)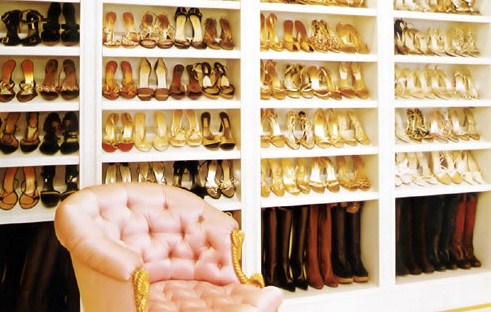 Of all types of shoes, my favorite without a doubt is high heel shoes. Not only are they beautiful to look at, but they do wonders for my legs and my height. I'm quite short but no one knows if I'm wearing a stunning pair of stilettos!
I made a conscious decision at a young age to not let beautiful shoes get in the way of my health – I certainly don't need any damage to my feet or spine. But on those special occasions (weddings, parties, nights out) you will certainly see me wearing one of my gorgeous pairs of shoes.
Let's all learn about the basic types of high-heel shoes and enjoy these beautiful pairs!
Pump heels:
Like the name implies, these beauties have elevated soles that 'pump' you up. The high-heeled pump usually has a 2 to 3-inch heel, and they provide some stability for walking. I love peep toe pumps that show just a tip of the toes and I actually find them very easy to balance on, but wouldn't want to walk with them all day!
Wedges:
These heels are closed from front to end, so there is no gap between the platform in the front and the heel in the back. They tend to look more casual than other types of heels and can be comfortable to wear since they're easier to balance on. I'm not the biggest fan of these – I think they are a trend that will die off fast.
Stiletto heels:
My favorite kind of heels! They are in my opinion, the sexiest looking shoes, both on and off. They have long, thin heels and thin soles – creating a dramatic, curvy effect to the shoe. They do crazy, sexy things to your legs, lengthening them and emphasizing your leg muscles. They're less comfortable than platform heels but well worth the pain for short amounts of time.
Platform stilettos:
Combine platforms and stilettos and you get this gorgeous type of shoe. Having a thin, long heel like in the stiletto but adding a thick platform in the front makes this shoe one heck of an option to look taller. (This shoe is an exaggerated version of the pump!) If you want to wear heels all day, this is a good option as it's more comfortable and stable to walk with.
Kitten heels:
These safer, more comfortable shoes give you just a small increase in height, but allow you to look sweet and chic. The heels are short and tapered, usually less than 5 cm in height. This type of shoe was actually used to train girls to walk in high heels in the 1950s! It's a great choice for the office since they look elegant and are comfortable to wear.
There are MANY types of heels and shoes, and the types are constantly expanding as designers become more creative. Here is a handy visual shoe dictionary: