Here on Home Life Abroad, we adore all kinds of crafts. Now even more, when I have my baby to make things for. When I moved to Spain, I had to leave behind all the materials I had gathered over the years. So here, I had to start collecting crafting things all over again.
I'll share with you tips on how to get some FREE fabric for your crafting materials collection.

Recycle your old clothes
Clean your closet. Separate the clothes you actually wear and the ones you haven't worn in a long time. Also, revise your baby's/kid's closets and save all the clothes they don't wear anymore. Doesn't matter if they are stained, torn, small, or worn-out. Any garment can be used for your crafting projects. I have used Sofia´s small baby clothes for different projects. Check your towels, sheets, and curtains – maybe you find something to use in your projects. Recycling your old clothes not only gives you free fabric, but it's also eco-friendly.
Ask family and friends
Let your family and friends know, that you are looking for fabric. They may have clothes they don't use anymore and be happy to get rid of them for a good cause. My mother-in-law has brought me some of her clothes she isn't using anymore and I'm really grateful for the free fabric. Do your friends craft and sew too? Organize a scrap exchange – it's a great way to get new fabrics and at the same time spend some time with your friends.
Recycle fabric samples
While searching for curtain and bedding fabrics for my new home, I saw that different online companies send out free fabric samples for you to get a feel of the fabric before ordering. When not needed for their purpose anymore, these samples can easily be recycled into different crafty projects.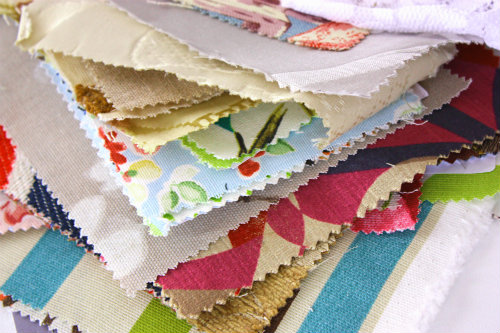 I have asked for samples from Bemz, Marvic Textiles, Fabric-Dreams, Curtains and Blinds 4 Homes, Litmans, Modelli Fabrics, Andrew Martin, and madaboutfabrics.com. Samples arrived about 1-2 weeks after placing the request.
Search from social networks
Look for different Facebook groups in your area that may donate used clothing. Join Craigslist and Freecycle – let people know, that you are searching for material for your craft projects. Tweet!
Ask from fabric and upholstery stores
Decorating stores, interior designers, and fabric stores have a lot of books of samples and fabric swatches. You may ask if they have any out-of-style, discontinued, or outdated samples and swatch books they no longer need. Those samples are not big but will be perfect for smaller projects. Alterations people should have plenty of fabric scraps too doesn't hurt to ask if they are willing to donate you some.
Are you a crafter? Where do you get your fabric from?