*I partnered with TrekaCam on this post and it has been sponsored in compliance with FTC requirements. All thoughts and opinions are my own.
All the newbie, aspiring and professional photographers know that quality accessories help keep equipment safe when traveling, changing the shooting locations or just storing the apparatus at home.
Imagine people who love extreme sports and want to film their tricks and accomplishments, the danger and pressure these cameras to go through is nothing compared to the everyday user. That's why these cameras need a durable case comparing to normal users.
You want a good safe for your jewels, don't you? So I assume you'd also be interested in a safe case for your camera.
TrekaCam offers a premium edition carrying case for GoPro users. GoPro cameras have tons of accessories and it's a good idea to keep them all together in one place for an easier access.
The case comes in black, it's lightweight and just a little bit bigger than an average novel (9×6.3×2.7 inches) making it a great compact camera holder. Thanks to its dimensions it's easy to store at home or take with you in a luggage or a backpack when traveling. Every case comes with a carabiner.
TrekaCam GoPro carrying case has a high-quality EVA foam liner interior with perfectly shaped compartments to have your camera and essential accessories well organized. The thick and strong zipper prevents the case opening by itself and is sturdy enough for a rougher use.
For extras like cables, the case counts with a soft mesh zipper compartment for little supplementary space on the lid. It's a big plus as the small compartment prevents losing the minuscule GoPro additions.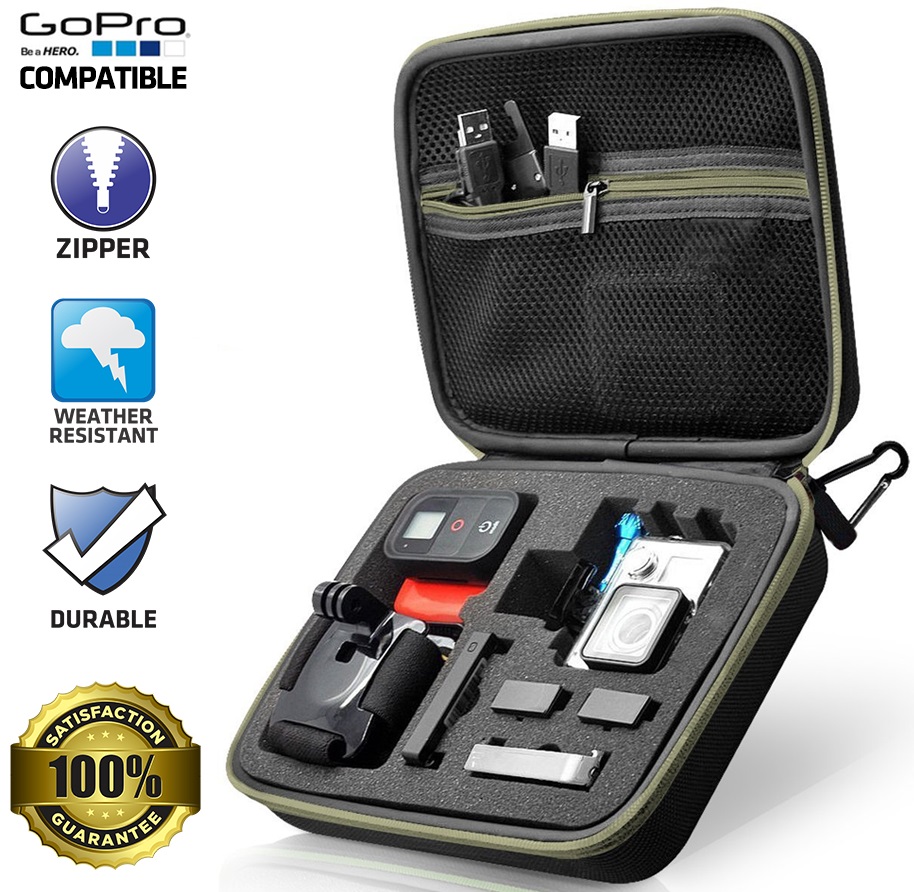 Thanks to its durable quality construction, the case is shock and weather resistant and a perfect companion for a person who uses his camera in rough conditions.
TrekaCam GoPro carrying case makes a perfect gift for your adventure-loving loved one or a friend. Instead of worrying about their GoPro camera equipment, now thanks to carrying case they can enjoy their adventures and leave the worry behind.