*This post is brought to you by CraftyCroc.
Today we'll introduce you to CraftyCroc! It is a brand new American based company that sells a range of premium quality art and craft supplies for home and commercial use.
Their art supplies make a great gift for a crafty person or why not as a stocking stuffer for your little ones.
#CraftyCroc Liquid Chalk Markers
The box of liquid chalk markers contains 10 non-odorous and non-toxic markers in vibrant colors. These markers are safe for any children 3 and over with adult supervision.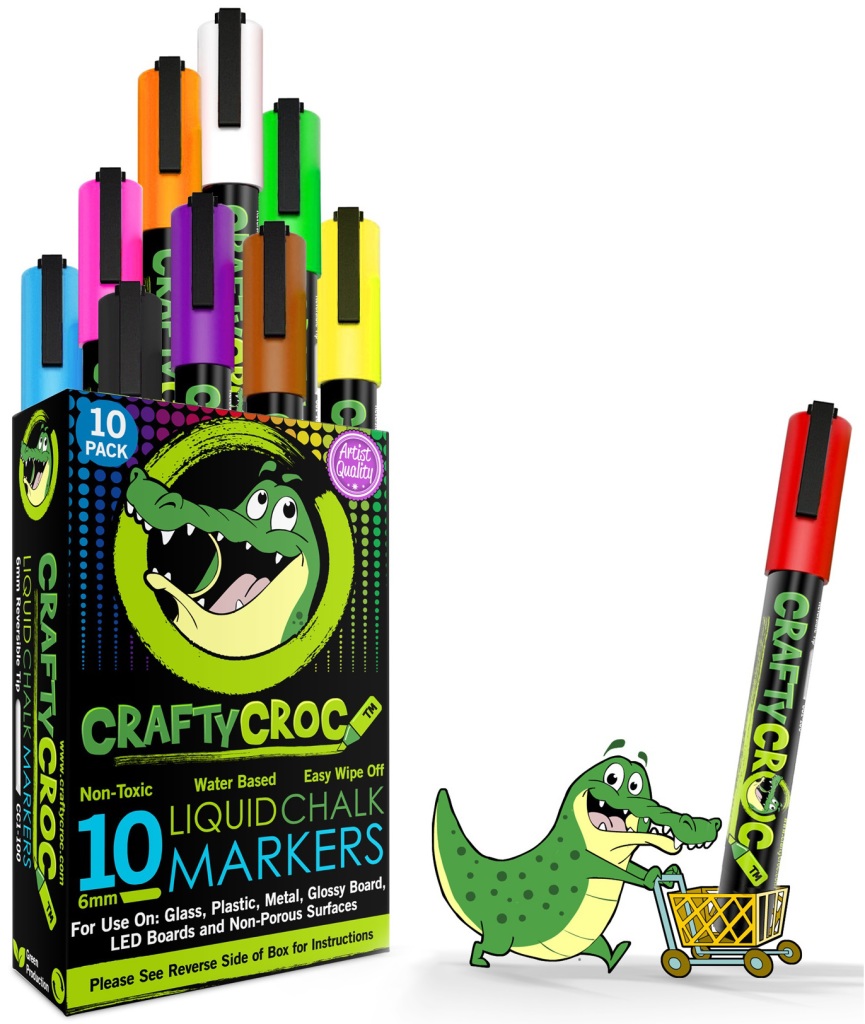 Thanks to their reversible tip you can choose between round or chisel depending on the design you want to create. Use the bullet tip for standard writing and the chisel tip to create dots, lines or calligraphy style writing.
CraftyCroc Liquid Chalk Markers creations do not smudge and are resistant to constant use, so there is no need to rewrite or be worried about the chalk marks and dust.
There are so many ways you can use these chalk markers! Let your imagination fly and create a Winter Wonderland on your windows or just draw some beautiful snowflakes to decorate them for holiday season. Let your kids decorate Christmas cards with vibrant neon colors or write a vivid letter to Santa.
You can spruce up mugs and wine glasses or leave messages on the bathroom mirror. CraftyCroc supports your creativity!
Crafty Croc Liquid Chalk Markers are great to use on:
mirrors
glass
windows
whiteboards
glazed ceramics
LED display boards
chalkboard paint dipping
paper
some kitchen appliances
chalkboard labels
Try to stick to writing on non-porous surfaces only for ease of removal! If you want to use these markers on porous surfaces (wood, brick, painted surfaces, some chalkboards, etc.,), please test them first.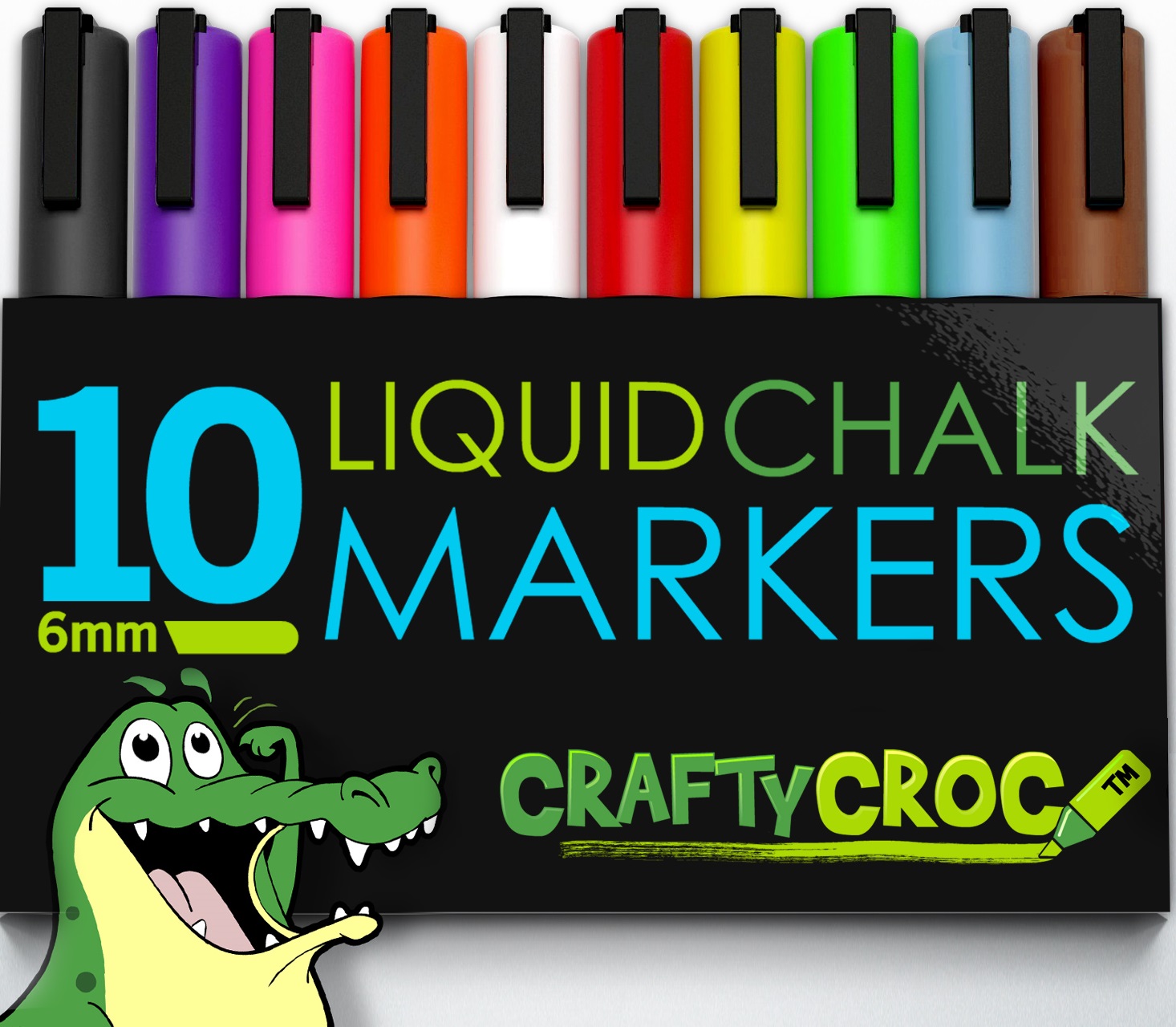 CraftyCroc Liquid Chalk Markers make a fantastic gift for kids and adults too! As there are so many ways to use them, kids will be provided with hours of fun and parents do not have to worry about cleaning up the mess later.
CraftyCroc Adhesive Chalkboard Labels
These chalkboard labels come in a pack of 64 stickers ( 3½ x 2 inches) including two designs – rectangles and rectangles with scalloped corners.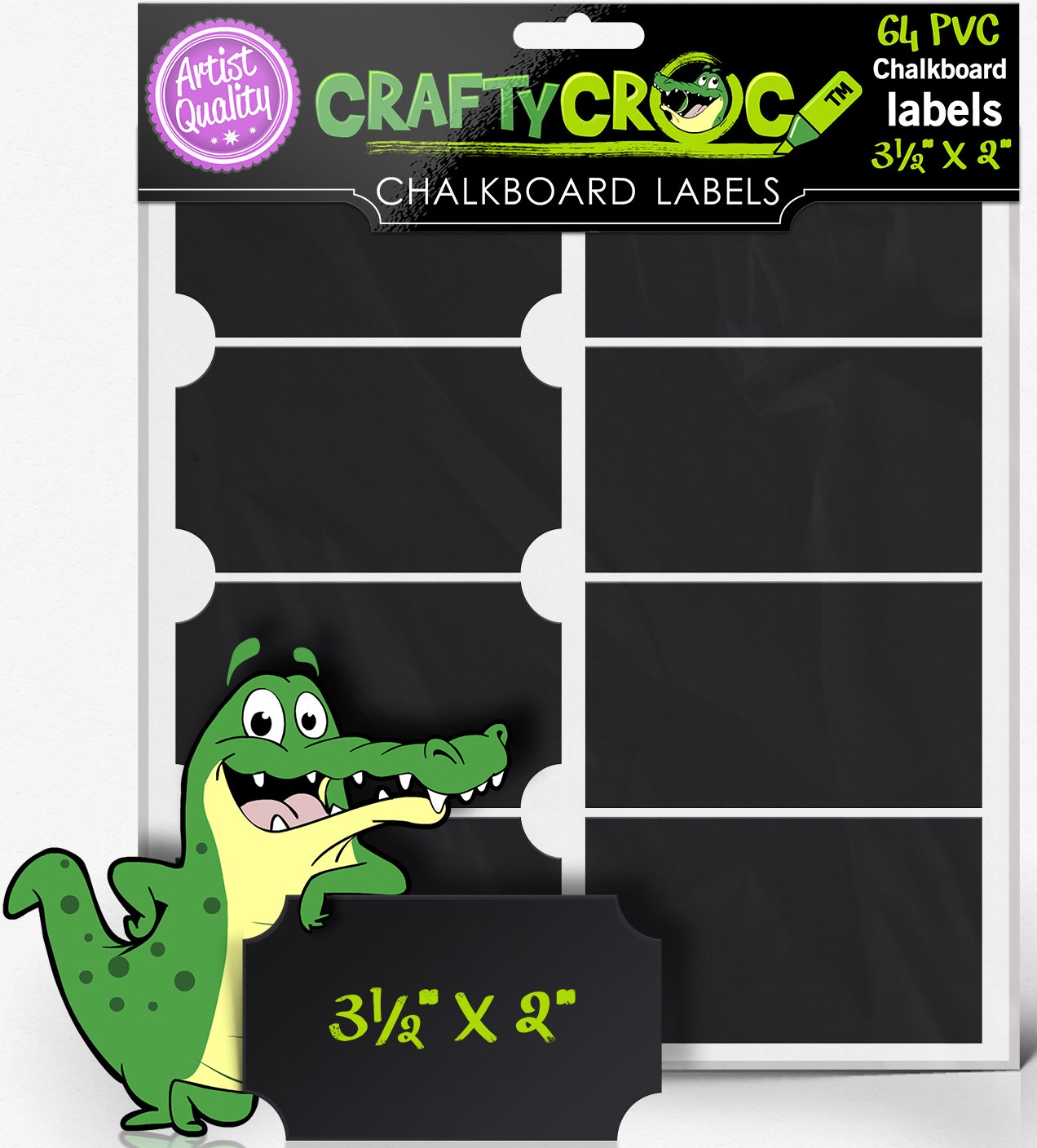 The labels are reusable, removable and made of highly durable premium PVC with a matt finish. For cleaning, just use a damp cloth and the labels will be like new and ready to use again.
Pair them up with #CraftyCroc liquid chalk markers or regular chalk and get creative! There are hundreds of possibilities!
These labels would be perfect for decorating and labeling:
containers in your pantry
kid's toy boxes
craft supplies
scrapbooks
jars
place settings
drawers etc.,
You can find CraftyCroc on social media too! Check out their Pinterest boards, Facebook page or tweets for more crafty ideas!