*This post contains affiliate links, and we will earn a commission if you click on one and make a purchase. There is no added cost on your end and we appreciate your support in this way!
Are you a Star Wars fan? We are!
And as faithful Star Wars fans, we love all thing Star Wars, specially themed weddings and birthday parties (and Star Wars dresses, actually…)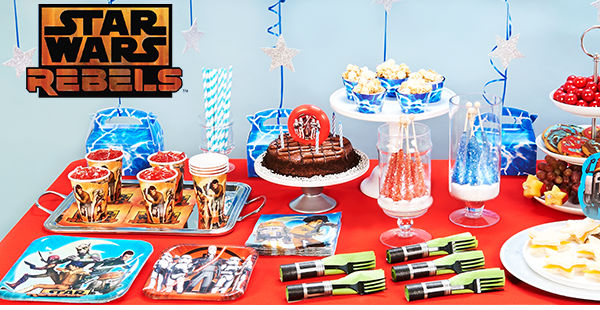 If you're looking to host a Star Wars Rebels birthday party, here's some ideas to get your mind running:
Get themed Star Wars gear – from plates to napkins to tablecloth! There's no better way to ensure your party screams "Rebels" than to get the right party packs. We highly recommend Birthday Express for all these sorts of goodies – they have all types of themed goodies.
Be creative with the snacks and pastries. How about making some delicious light saber cookies? Or some Hans Solo frozen in Jell-O? Yum!
Set-up Star Wars inspired games, like having the kiddos "battle" with cardboard or toy light sabers.
Make a crafting table with fun Star Wars crafts & activities. You can set-up neat crafts like a "make your own R2-D2 with stickers" or place a variety of coloring pages.
If you're looking for more party ideas, scan the wonderful world of Pinterest! Click here to be overwhelmed by the awesomeness of Star Wars creativity.