Vacationing, whether abroad or not, is an amazing and at times, necessary adventure. We all need a break from routine and an opportunity to enjoy new environments, fun experiences and a little pampering. I myself haven't taken a vacation in about 4 years, and it's time that I do. I've put a lot of thought into it and it's clear to me that my next vacation is on a cruise. Why do I feel this way? Well, let me convince you of the many reasons why your (and my) next vacation should be on a cruise!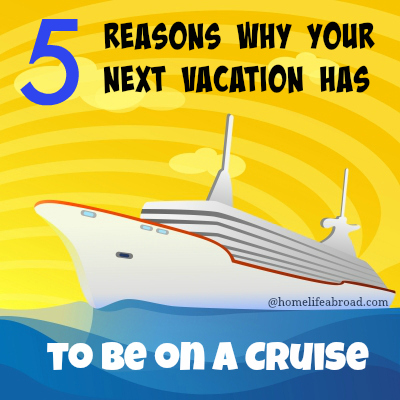 1) Great deals for all-inclusive trips
When you take into consideration flight costs, hotels, food, activities, spas, and so on, a vacation will add up to a lot of money. That's what so amazing about cruises: they will already include all these expenses in their price. To top it off, it comes down to a much more affordable price than that of non-cruise vacation of the same length.
Cruises come with some great inclusive goodies: an amazing all-you-can-eat buffet, pools, daily activities, music bars and clubs, shows, and so on. Expect to be distracted and well fed all day in a cruise, plus, your room will be equivelent to five star hotel-level accomodations. An amazing deal!
2) You can experience numerous cities and countries
Cruises usually have stops throughout their schedule. The ship docks on different cities and gives a full day for guests to experience the city on their own. Whether that's in stunning Venice, a quaint little city in Portugal, or Amsterdam, you can have a one-day adventure exploring what the cities have to offer.
Many cruises will have stops in numerous countries and unique cities, depending on which cruise you take. For example, those leaving Florida towards the Carribean will stop in numerous islands, while those cruising from Europe will stop in some of the more popular European or even North African locations. Regardless – you will see more in a short amout of time than you could ever do so in a non-cruise vacation.
3) You get to genuinely relax and have fun
Some cruises will have you out in sea for many days at a time rather than island or city hopping. There's a huge benefit to these cruises – you can genuinely do absolutely nothing with your day but enjoy your free time. Join activities if you wish: the cruise will offer a huge variety to keep the guests occupied, distracted and enjoying themselves.
Alternatively, you can just rest by the pool or read a book, enjoying your quiet, responsibility-free time. Of course, you should sample the delicious food offered in the buffets and cruise restaurants, all free of extra charge.
4) Wide variety of cruises in different water bodies
We can't all handle the rough waves of the Atlantic Ocean. Others just can't afford to take the more expensive cross ocean cruises or sea cruises. That brings me to yet another benefit about cruises – you can find a huge variety ranging in location, length and price.
Cruises can come in many different packages, including those that are only 1 or 2 day cruises, while others can be weeks long. You can find cruises sailing on lakes, rivers, seas, and of course, oceans. There are an exceptional choice of river cruises that will take you across the Danube to visit some of the most beautiful scenarios and cities in the European Union.
If you stop by Paris, be sure to check out the elegant one-night cruise across the famous Seine River –  it allows you to experience Paris through a different perspective. If you're by a body of water, Google to find out if there's an available cruise experience!
5) Take the kids with you!
Another amazing thing about cruises? There are SO many kid-friendly options. Look for cruises meant for family vacationing and you will find a ship dock-full of activities and distractions for the children, all the while you and the hubby can relax pool-side. Crafting, painting, swimming, dancing… these are just some of the activities that will have the kids enjoying themselves while they are being looked out for by staff members.
Older siblings will also have activities to join and the opportunity to build unforgettable friendships with other kids and teens aboard. Meanwhile, parents can enjoy their own time by going to shows and organized activities of their own. A cruise can be family fun for everyone!
Have you been on a cruise? I'd love to hear your experience! If you haven't… have you ever thought of booking one?
Featured image courtesy of digitalart at freedigitalphotos.net