London is one of the most unique cities in the world and as such, it offers something engaging and entertaining for one and all.
In this vibrant city you will find many iconic and signature locations to explore that truly define London. If you're planning your next trip there, book your stay in the hotels near West End to fully explore the area and its fascinating surroundings.
One of the most iconic places you must visit and explore in London is the Piccadilly Circus. This famous spot in London has been a popular hang-out and a much-loved tourist attraction for a long time.
The location features remarkable history, architecture, cafes, pubs, restaurants, and more attractions that keep both tourists and locals happily engaged.
If you are in London, you can't miss exploring the Piccadilly Circus area. To get you daydreaming on what you can discover there, here's a list of places you must visit:
Hatchards
Hatchards is a gorgeous, fully English-style bookshop that offers an ocean like collection of books of different genres, cities and authors.
The fine collection of books here will charm, amaze, enlighten and amuse every kind of reader and book lover.
It is the oldest bookshop in the entire United Kingdom. Opened in 1797, the store is located at its present address for over 200 years.
It even holds three Royal Warrants from her Majesty the Queen, the Duke of Edinburgh, and the Prince of Wales. Queen Charlotte was one of the store's first customers.
Now managed by the giant Waterstones, it offers a subscription service to book-lovers.
Where: 187 Piccadilly, St. James's, London W1J 9LE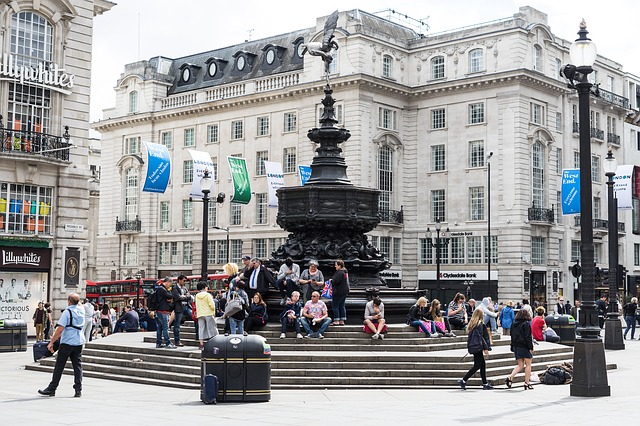 Faraday Museum
This prime museum celebrates the achievements of RI members, including that of Michael Faraday's preserved 1850s lab. It also happens to be named after him.
The museum is dedicated to connecting people with science. Here you can explore the works of 14 Noble prize winner scientists along with interactive exhibitions and displays.
You can also learn about the importance of the Royal Institution and the role it plays in the world today.
Where: Albermarle St, Mayfair, London W1S 4BS
Piccadilly Theatre
Home to the best of Broadway classics from Grease to Annie, this West End theatre is a must visit. One of the first theatres in the area it turned into a cabaret, casino and then a Broadway again.
If you are a theatre fan, then this is the place for you. You can find great discounts in the hotels in West End.
Where: 16 Denman St, Soho, London W1D 7DY
Piccadilly Arcade
A charming and quintessentially English shopping centre, it is in the heart of the London city. Here you will find a selection of impressive boutiques and shops that offer clothing, artefacts, English goods and more.
Where: Building Manager, Piccadilly Arcade, London SW1Y 6NH

Other places that you can explore in this area include the Karl Marx Walking Tour, St. James's Church, Green Park, Fortnum & Mason, St. James's Palace and the Piccadilly Circus. You can choose to explore the things you like and have a memorable time in London. If you are conserned about mobility issues when visiting the city, don't worry, as there are many mobility friendly attractions all across the UK.
If you are looking for a comfortable and luxurious stay near this area, then you should book your stay at the Piccadilly London West End Hotel. It offers an ideal accommodation option for people traveling with kids, with family, friends, for work or for a romantic getaway. This hotel caters to all and will make your stay as perfect as it can be.