The bathroom renovation continues! It's been a slow process, but we want to create the most stunning, comfortable and luxurious bathroom we can for the most affordable budget possible.
If you recall, we have been doing some heavy DIY remodeling of my dad's apartment. It was left in the same state as it was purchased in the 1940's and needed some massive work. But being that we're both very handy, we wanted to do the renovation ourselves.
We started with the 2 most important rooms in the apartment (at least to us): the kitchen & the bathroom. We already decided on a walk-in shower as it's safer for my parents. Now, comes the fun part for me: the mirror!
We decided to splurge on a great mirror that will add a touch of refinement to the bathroom and be the best possible source of light for applying makeup: a LED mirror!
And my research is now your benefit: here's a short guide through the elegant world of LED mirrors.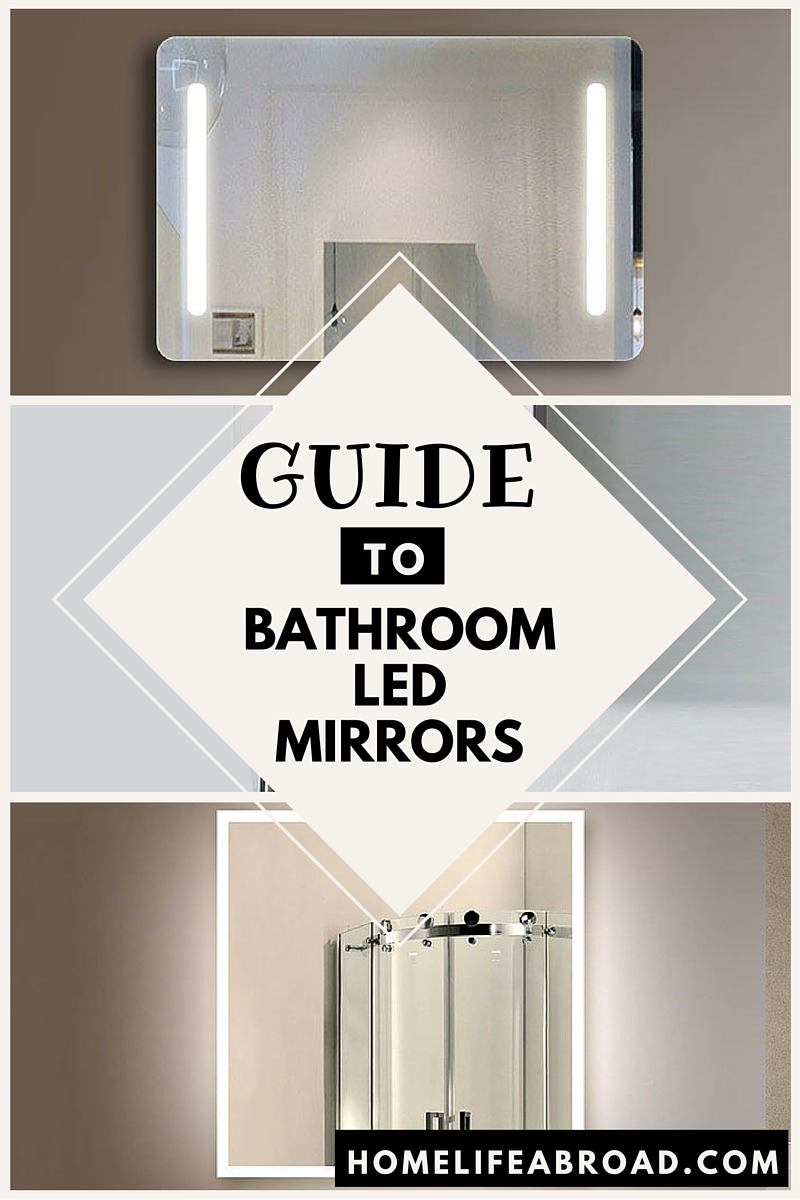 So, what are LED Mirrors?
LED mirrors are a necessity for lavish bathrooms. They are illuminated by bright LED bulbs that give out a soft and subtle warm light that enhances the grace of the bathroom. As a bonus, they are moisture resistant, so they can be used post-shower and pick up less dust. The beveled sides or edges of these mirrors have their own remarkable beauty.
Illuminated mirrors are available in different shapes and sizes, all of which are stunningly elegant. They are a great fit for any bathroom size – they work with spacious as well as small sized bathrooms.
Why LED Lighted Mirrors?
It comes down to proper lighting. LED mirrors use light emitting diodes. They are much different to incandescent and fluorescent bulbs and facilitate their users with the following advantages.
Advantages of Bathroom Mirrors with Lights
They are the best source of saving electricity as a LED light can save 300% more electricity as compared to other bulbs.
These are long lasting and durable and can be used safely all day long.
They are environmentally friendly because LED lights do not contain any kind of toxins harmful to our health.
They give a brighter look to the bathroom as vanity mirrors equipped with lights enlightens the room.
They are a complete package of elegance and beauty that add grace to your bathroom.
They trick the eye: illuminated lights makes even small spaced bathroom looks spacious.
Points to Consider Before Purchasing LED Mirrors
Before purchasing a LED mirror for your bathroom, you must go through the following points to make the best choice.
Closely measure the amount of space that is available for installing the lighted
Choose the best design and shape as well as the color of the bathroom vanity mirror frame. All these styling choices should be chosen in accordance with your bathroom interior color combination.
Select the best lighting option for your mirror that can help you in makeups as well. The powerful lighting of the LED bathroom mirrors gives an impression of completeness to your bathroom.
LED Vanity Mirror – Different Styles & Shapes
Today's LED mirrors are also known as LED vanity mirrors. These mirrors have overcome the old and traditional ideas of buying wall mount bathroom mirrors and installing separate heavy lighting for it. These illuminated mirrors are cost friendly and efficient – they will help save on electric bills.
Let's take a look at a few great examples of types, shapes, and sizes!
WALL MOUNTED BATHROOM LED LIGHT MIRROR: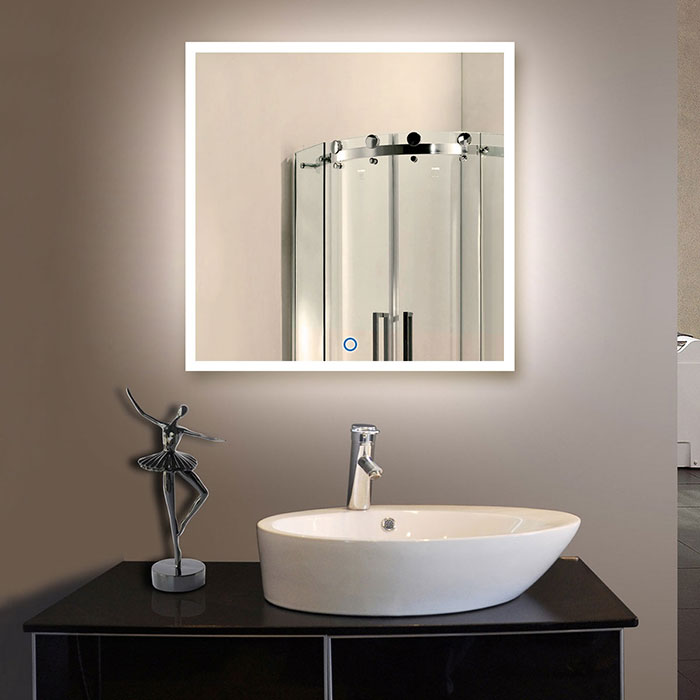 The shape of its frame is mostly square and the material utilized is metal. This metal framework gives this bathroom mirror a touch of elegance. The mirror is single sided and available in silver finish. The special feature of this mirror is its waterproof nature. Moreover, this mirror is fog free when installing the mirror heater. Unlike other mirrors, this one is durable – no matter the humidity, it stays rust proof.
WHITE LED TOUCH BATHROOM MIRROR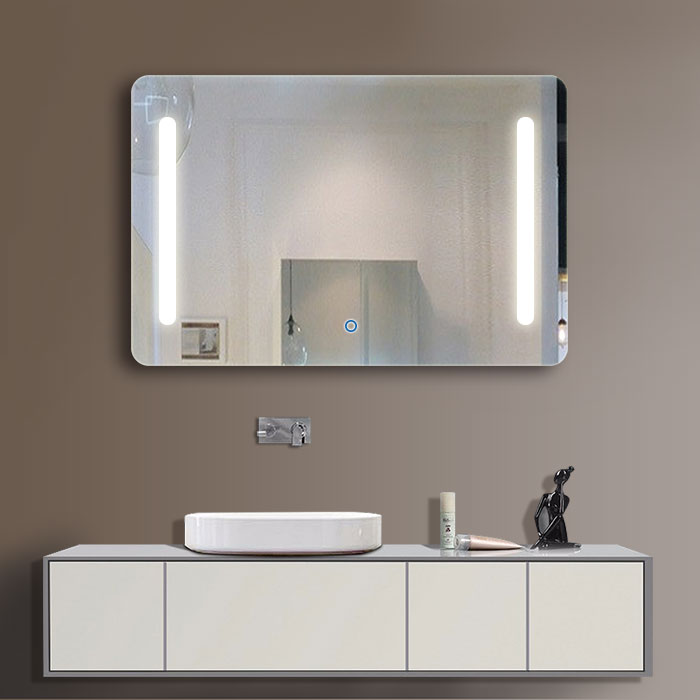 This is where the 21st century meets mirrors: the bathroom mirror lights turn on with a soft touch of the finger. This modern style mirror light is designed in a mild gray plastic stand and 16 inches white LED lights. These series of 16 lights can be operated and powered on and off just with a touch button on the face of the mirror.
LED Bathroom Mirror Cabinet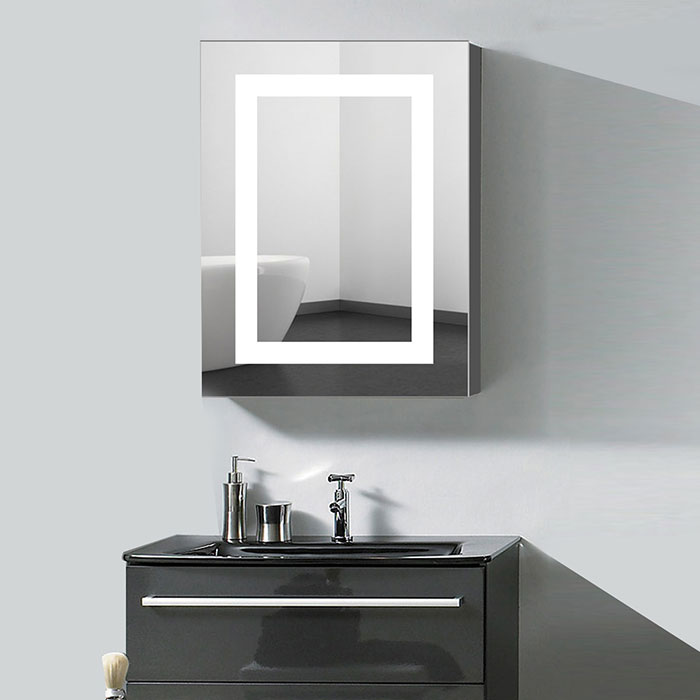 There are also mirror cabinets for those who want the space to add goodies behind the mirror.
Specific Features:
Dimensions: 19.68 inches in width, 27.55 inches height and 5 inches Depth.
Fully equipped with 56 x 0.1 watt white LEDs with a crystal clear mirror
Added with high-quality aluminum adjustable shelves for personal usage
Also available with an additional facility of electrical shaver socket
On/off sensor switches for shaver and other accessories connection.
LED Makeup Mirror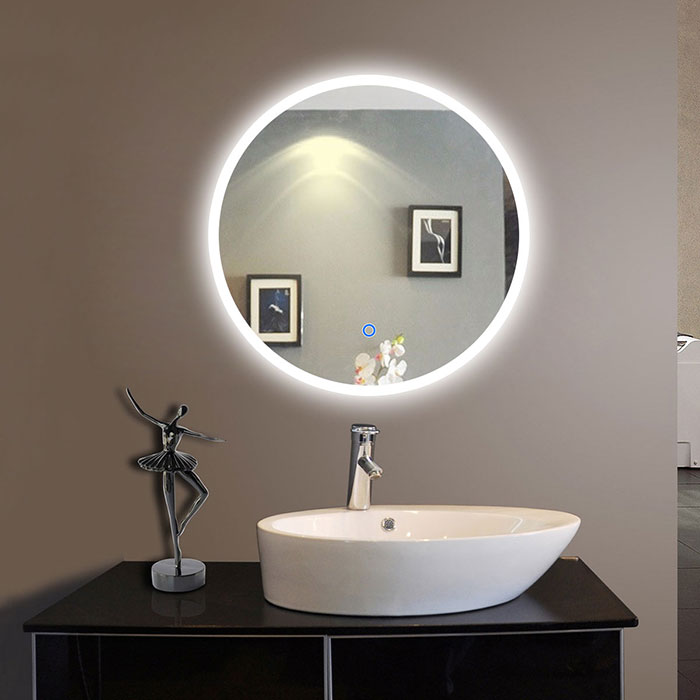 For ladies like me who need great lighting to do their makeup, this is the kind of mirror we need! It provides the perfect lighting to brighten our face.
Specific Features:
Basically round or oval in shape.
Lights are adjusted at the perimeter of the mirror which makes it easier to point out any kind of scars or blemishes, applying makeups and having a closer look at the skin.
Available in different sizes and dimensions to allow any angle of viewing.
Sometimes also supported by extra compartments or drawers to hold jewelry, makeup products, and other items.
In short, there is a wide range of styles and options in LED mirror lights. It's not easy to choose between so many beautiful options, but by understanding your needs & sizing restrictions, you can pick out a gorgeous LED mirror. I know we will!
Would you want a LED mirror in your bathroom? Tell us why below!