Colors have always been the easiest choice to liven up any environment. Well, this need not be restricted to the birthday party or New Year decoration! Using the right colors, you can create a household that is enticing and fascinating all year long. The best part is that there are so many choices in design, texture and complimenting décor.
Before you start designing, it is, however, important that you visualize what it would be like living among the colors you choose. Colors can easily set a mood – be it energetic and vivacious or something more cozy and calming. You have the option to use striking contrasts to create a punch or go for a more subdued look using animal print textures. Now that you are ready, where do you start with the renovations?
The doors
The door is the easiest way to make a bang on impression, even before your visitors have stepped into your home. A warm welcoming door is a portal to happiness and energy. Choose something that is inviting but not too out of the way. Dark doors can be representative of sophistication given that it is complemented by edgy walls. Colors like yellow or blue or green can conversely lighten up the aura around!
The carpets
Now that someone has walked through the door, the next thing he/she steps on is the carpet. You can go for animal prints or a solid texture that highlights the functionality/décor of the rest of the room. Popping colors on the floor is a very creative way to breathe in life into the home.
Your cupboards and bookshelves
Looking around the room, what do you see? The furniture of course and they can be painted beautiful too. Bookshelves and cupboards can go for a rustic theme like wood or be more cheerful when painted in solid colors like yellow or red. It's a minimal fuss to paint this furniture but the impact is bang on!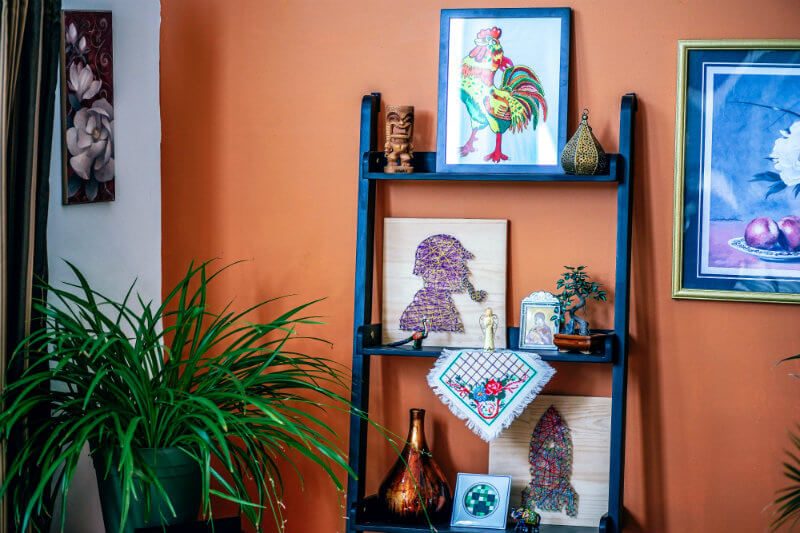 Painting the ceiling!
Seldom conceptualized but adding some colors to your ceiling can be an exciting way to spruce up space. You can keep it minimal by painting a pattern or go for a very colorful theme. Either way, you are able to enhance the space and there is a curious happy smile on everyone's face!
Wallpaper
What most people do to add colors to their home is creating something unique on the wall using paint. Again, the options are many and you can even go for customization. The representations can be something you love – a forest, grassland, the blue sea or even wall art. Complimented by the right décor, wallpapers can be highly effective and cheap too.
How do you bring some color to your home?