**The links in this blog post are affiliate links. If you make a purchase after clicking on these links, we will receive a small commission. This doesn't affect the price, but we do appreciate your support in this way!
Are you familiar with Madison Reed? If not, it's time to learn about their great hair products! They don't just offer top-notch hair dye. There's also no better way to care for your colored hair than by using their hair care products.
Madison Reed is known for their 'clean' products, free of harsh chemicals and full of natural nutrients. Their products are popular for being high quality, easy to work with, and fairly priced. It's a great way to get that beautiful, healthy glow to your hair, regardless of coloring! Many coloring products damage hair, but not Madison Reed… they guarantee brilliant results by using better ingredients.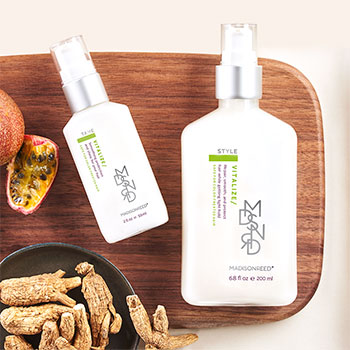 Now, they just launched their new STYLE and TAME products!
STYLE is a very lightweight styling cream that will keep the frizz away while keeping your hair beautiful, conditioned and protected.
TAME is a lightweight smoothing emulsion that makes hair more manageable and also adds a beautiful shine to your hair.
Check out all the reasons why you should be using the Style & Tame set:
Lightweight, frizz-free hold with STYLE
Smooth and shine with TAME
Nourishes hair with natural hydrating oils
Create both smooth waves and sleek straight styles
Make a one-time purchase or schedule convenient deliveries (cancel anytime)