There are only 4 days left to Christmas! If you aren't in a Christmas mood yet, check out these budget-friendly things to do this Christmas. I'm sure you will be filled with festive spirit in no time!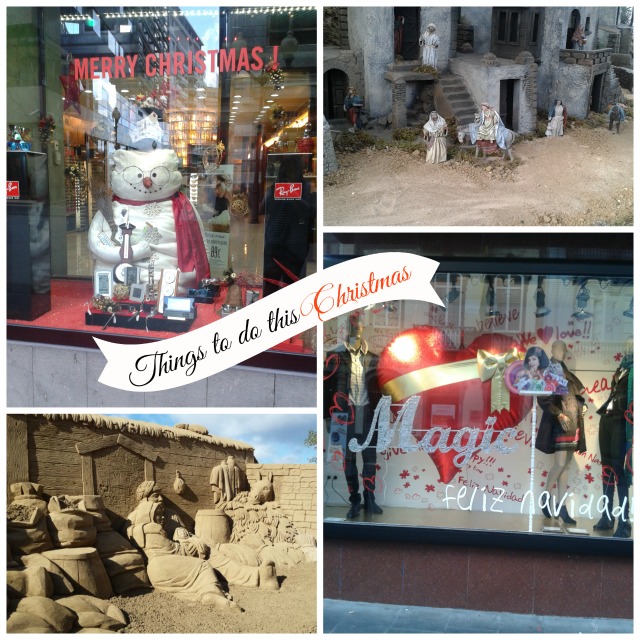 Visit a Living Nativity or Nativity Scenes
Visiting a Nativity gives you a great option to explain your kids the true meaning of Christmas. Spanish people know how to build amazing Nativity scenes. Every city and town have their own Nativity displays and normally every family has one too.
Here in Las Palmas de Gran Canaria, a sand Nativity scenes are created every year at Las Canteras beach. It's said to be the biggest one in the whole World. If you have some time, check out the video to see the overview of the El Belén de Arena.
Stroll Through the Christmas Markets
I haven't seen any Christmas markets here in our town but I can tell you about a magical Christmas Market in Tallinn (Estonia). The Town Hall Square transforms into a magical winter wonderland. All the wooden huts and stands are decorated with Christmas lights and decorations.
There are activities for children – live animals, dwarfs organizing competitions, Santa's House, etc. Caterers offer traditional Estonian Christmas foods and warm drinks. It's also a great place to buy your missing Christmas presents, as unusual handicrafts not found in regular shops are sold there.
Have a cup of hot mulled wine, stroll through the fairytale Christmas city and enjoy the spirit!
See the Lights
This is one of my favorite things to do at Christmas time – walking around the town and admiring all those sparkling lights, decorations and soaking up the Christmas spirit! And the best thing – it's absolutely free! So wander through your neighborhood or city and have fun!
Take Your Kids to See Santa
When I was a kid, there was a tradition in Estonian homes, that on December 24th, Santa comes to your home. In Spain, Three Kings (Los Reyes Magos) are far more important than Santa (Papá Noel). But I really would like my daughter to meet Santa too, so I have found out that during the month of December, several shopping centers have Santa Grottos, where kids can see Santa.
So check your local shopping centers if they have Santa coming over. Take them to meet him, snap some photos for great memories.
Free Activities for Kids
Check out the free activities for kids. During the Christmas time many shopping centers, libraries, theaters, etc. have free activities for kids. It's a great way to get out of hours and spend some quality time with your kids.
Do Some Window Shopping
Another great way to get into Christmas spirit without spending tons of money is to have a walk around the shopping streets and marvel all those gorgeous window displays. You can even have a contest and choose the best one display among your family favorites. Window shopping might give you some ideas for last-minute Christmas decoration.
What are your favorite Christmas activities?