*I partnered with RugPadUSA.com on this post and it has been sponsored in compliance with FTC requirements. All thoughts and opinions are my own.
I remember when I was babyproofing our apartment when my daughter started to crawl. We hid away all the sharp objects, cleaned up all the lower shelves and covered the electrical outlets. I thought that as my daughter grows, there is no need for keeping our apartment babyproof, but boy, was I wrong.
My daughter is 4 now and I'd say that she knows how to keep herself safe most of the time – she does not put strange objects into her mouth, keeps away from electrical outlets, knows that cleaning products are not for playing and that the oven and stove might burn her fingers, etc.
But accidents still happen! Some days ago, when she was going to her room, she slipped and bumped her cheek into the door frame and is sporting a mighty bruise now. So I started to think about things I might have missed when childproofing our home and that there are things we should keep in mind even if we think our kids are old enough to stay away from injuries.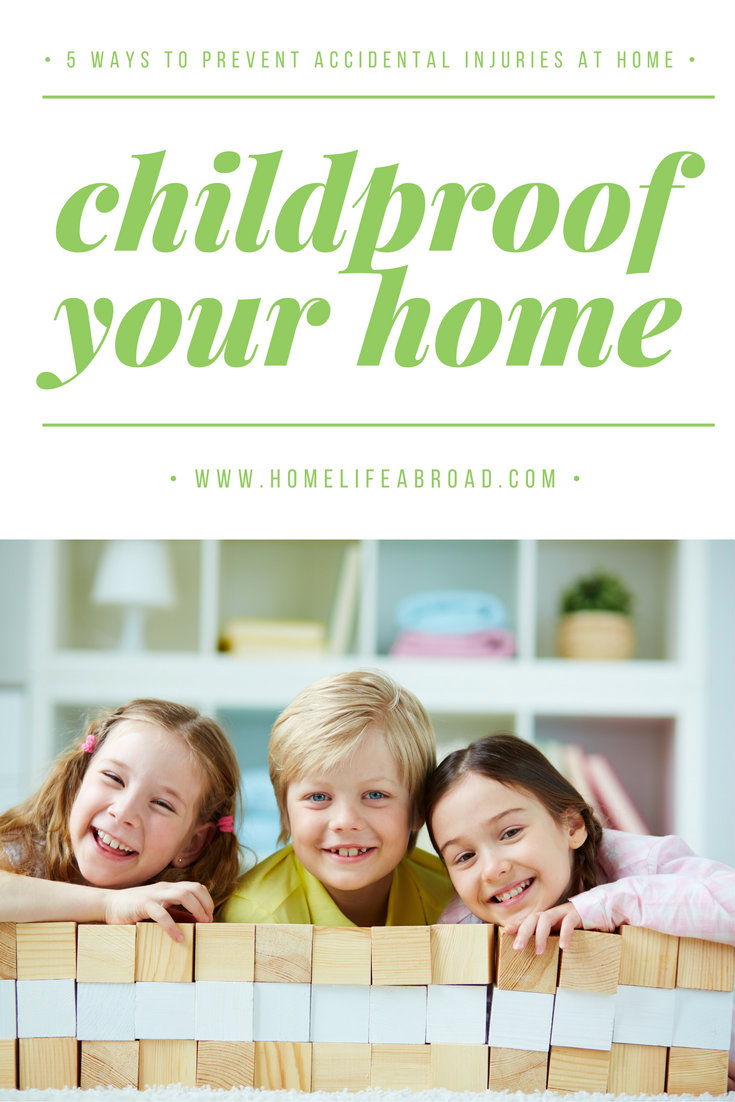 Talk about safety
Kids love to explore, experiment and learn new things but they lack in experience and are oblivious to their surroundings, so it's really important to explain them the reasons why some of the things and activities are forbidden to them.
While a baby won't understand the consequences of the new daily situations yet, a toddler and older kids will surely understand the hazards some of their actions might bring. The things that are not allowed are more attractive to kids, so it's really important to talk and discuss the reasons why they can't drink that pink window cleaning liquid, eat while they are lying down or why it's not allowed to put your head in a plastic bag among other things.
Use rug pads and safety gates
Falls are the most common cause of non-fatal accidents and visits to the hospital no matter the age. So examine your home and determine where the child proofing is needed. Keep in mind the windows, stairs, balconies, rails, slippery floors, loose rugs, etc.
Loose, unsecured rugs may contribute to falls and if you don't want to get rid of your carpets, think on investing in a rug pad. What are rug pads you ask? A rug pad is a special padding that acts as a grip by holding the rug flat against the floor to prevent sliding.


Not all rug pads are made the same, so I'd suggest you choose eco-friendly ones that are safe for your family. RugPadUSA offers a variety of high-quality rug pads all made of eco-friendly and ethically sourced materials. Their rug pads are made from recycled felt, natural rubber, memory foam or vinyl and are free of chemicals – some of the most environmentally friendly rug pads that exist on the market!
They offer rug pads for different types of rugs and for every kind of flooring (including uncommon floor types like bamboo, vinyl, stained concrete, and linoleum). When choosing a rug pad for those loose runners, hallway or other small area rugs that might contribute to injuries, RugPadUSA recommends rug pads that are thinner than ¼'' as thinner rug pads offer higher levels of grip and keep rugs lying flush with floors.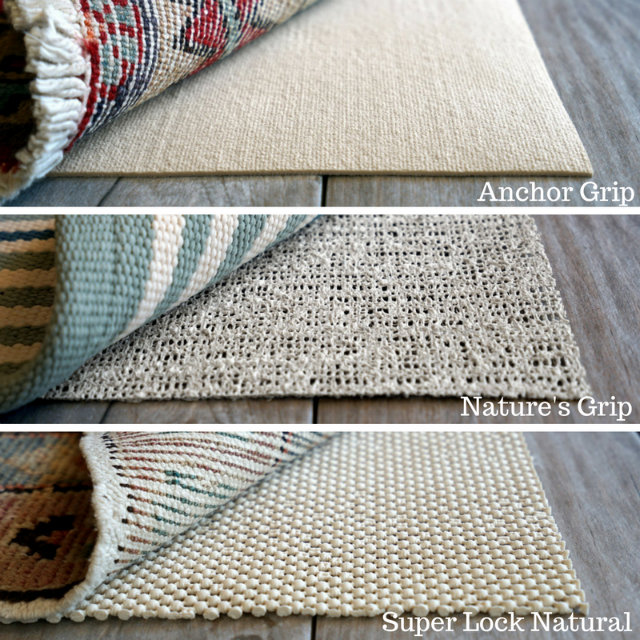 RugPadUSA products are not only good for childproofing your home, but they also have other benefits:
help to avoid floor staining and stripping on wood floors
offer more comfort padding
protect floors from erosive dirt and debris
help block the transference of sound from your feet to the floor
the use of an adequate pad prolongs the life and strength of the rug
promotes and encourages airflow between your flooring and rug (makes vacuuming easier and lets your floor and rug to breathe)
serve as a safeguard against spills that may permanently stain or mar your surface
Remember that buying a rug pad is an investment for all the family, not just for the kids!
What we love about RugPadUSA:
live, expert advice 365 days a year
safe and eco-friendly materials
20-year warranty on all of their rug pads
free standard shipping
free returns within 30 days of every purchase + free return shipping
custom cut rug pads to fit any rug dimension
manufactured in the USA
To prevent falls, install safety gates across the entries to stairs, balconies or any other rooms your kids should not enter alone. Even if you have the gates installed, supervise your kids! It's also important to use window guards, lock them or use stops and remove any furniture away from windows.
Secure the furniture
I think most of us have seen the video where a toddler rescues his twin pinned under the dresser. I'm really glad that both of the boys are OK, but not all accidents have a happy ending.
CPSC estimates that more than 43,000 consumers are injured each year in tip-over incidents. More than 59% of those injuries are to children under the age of 18.
Bookcases, drawers, dressers and any other unsecured furniture might be pulled over easily when the kids are climbing or playing, so be sure to secure any furniture more than 75cm (30 inches) tall with wall restraints.
Don't forget the TV! Every 3 weeks a child dies from a TV tip-over. The best way to secure your TV from falling is to mount it on the wall. Another way to secure your TV is to anchor it to the furniture.
Keep chemicals and medicines out of reach
Sadly, poisoning is one of the main causes of injury to children under 5. Often medicines and vitamins look like candy for kids so it's really important to keep all the medicines out of reach or in a locked cabinet.
The same goes for cleaning supplies and other household chemicals. We have all the cleaning supplies stored up high in a cupboard that's even hard to reach for me :D. Also keep in mind to keep potential poisons (paint, motor oils, etc) in your garage locked up too.
Find more information about your houseplants and get rid of the toxic ones or move them out of reach.
Another thing to avoid is using food containers to storage hazardous materials. I clearly remember a day when I was a kid visiting my grandparents and while they were working in a garden I raided their fridge and accidentally drank white vinegar placed in a lemonade bottle thinking that it was a lemonade. The burning sensation was horrible! I'm glad it didn't do any permanent damage to my esophagus and stomach.
Supervise but let the kids learn
Well, I know that most of the parents and grandparents take supervising the kids really seriously and I'd say that supervision is the best way to help prevent accidental injuries. But let's be honest, it's almost impossible to keep your child 100% safe at all times.
It's really important to supervise your kids during bath time and when you are cooking. Slippery bath, scalding water, hot oil, and sharp objects are a recipe for disaster.
While supervising is really necessary, it's important for kids to learn and experiment by themselves too. I'm not afraid to let my daughter get hurt a little. For me, it's really important that she learns her lessons on her own, even if I have to comfort her when she scratches her knees, gets a little bump or burns her fingers. It might seem a little bit harsh, but it's the only way she learns consequences to her actions.
Do you use rug pads?
Is childproofing your home important? What do you think?
*The unedited kids playing image designed by Freepik.