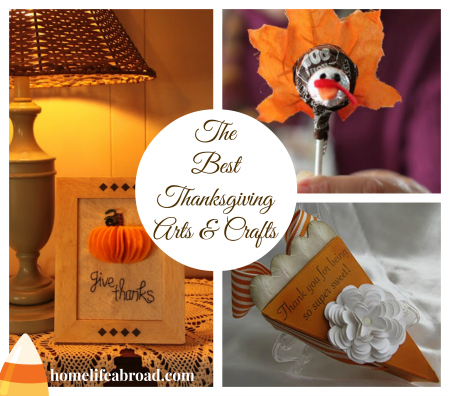 Ave and I don't celebrate Thanksgiving, but that doesn't mean we don't enjoy all the beautiful arts & crafts that are passing around online. People are so creative when it comes to holiday DIYs and we want to show you a few of the best ones we found!
We created a Pinterest board for them as well – so please feel free to add your crafts or share any other great ones you found. Just request to join!
Follow HomeLifeAbroad's board Thanksgiving Arts & Crafts on Pinterest.


Here are a few samplings:
3D Dimensional pumpkin felt art
Leaf decoration
Party Frosting: Thanksgiving: Turkeys!
Candy Cornucopia – yum!
Felt Turkey Leg Brooch
Pumpkin made from a toilet paper roll
3-D Pumpkin Pie Slice
Sources (left to right, top to bottom): 1, 2, 3, 4, 5, 6, 7
Have you made any beautiful Thanksgiving DIY crafts? Please share them below!
You Are Also Going To Love:
If you liked A Collection of Thanksgiving Goodies post, you will also be interested in these posts: