*Please note: This post includes affiliate links. We may make a commission if you join a merchant. We appreciate your support in this way!
ShareASale payments can be made to virtually ANY country in the world. However, you need to know HOW to receive the payments if you are located outside the United States. That's what I'm here to explain to you. 🙂
This short guide will show you how to receive payments from ShareASale regardless of what country you are living in.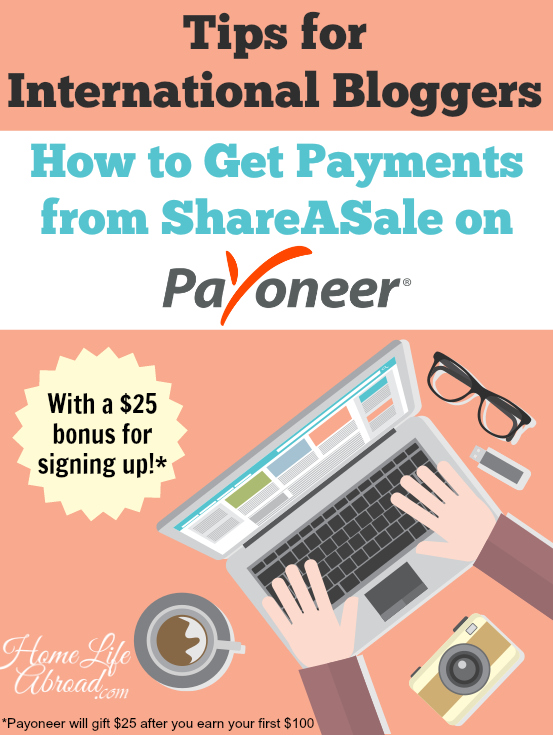 Currently, direct deposits from ShareASale to bank accounts are open only to the following countries:
Australia
Austria
Belgium
Bulgaria
Canada
Cyprus
Czech Republic
Denmark
Estonia
Finland
France
French Guiana
Germany
Gibraltar
Greece
Guadeloupe
Hong Kong
Hungary
Iceland
India
Ireland
Italy
Latvia
Liechtenstein
Lithuania
Luxembourg
Malta
Martinique
Mayotte
Mexico
Monaco
Netherlands
New Zealand
Norway
Poland
Portugal
Reunion
Romania
Saint Pierre and Miquelon
Singapore
Slovakia
Slovenia
Spain
Sweden
Switzerland
USA
United Kingdom
If you reside in one of these countries, well, lucky you! That's as far as you need to go in this guide to receive payments. Just add your bank information to the "Payment Settings" page and you're good to go.
IF you do not reside in one of these countries, it doesn't mean that you can't join ShareASale or get paid. My country is not listed above either, but I have made thousands of dollars through ShareASale so far, all of which has been paid to a VIRTUAL account called PAYONEER.

What is Payoneer and how does it work?
Payoneer is a financial service for online money transfer and payment services.
Put simply, they provide you with a virtual American bank account and an American MasterCard debit card. You can use this account to be paid by clients or by companies like ShareASale. It's like a friendlier version of Paypal.
How does Payoneer work with ShareASale?
Easy peasy. Once you have a Payoneer account and card, you can place the information provided by Payoneer in ShareASale's "Payment Settings" page.
I've added very detailed instructions for your use below. Once you follow them, you should be set and ready to receive your ShareASale payments straight to your Payoneer account!
How do you access your money in Payoneer?
There are 3 ways to gain access to your money in Payoneer.
Use the provided REAL debit card to make online purchases. I often do this myself.
Use the provided debit card at the ATM. Just take into account that there will be conversion fees if your country uses a different currency.
Withdraw directly to your bank account.
How much does Payoneer cost?
Payoneer costs $25 a year + 1% commission on incoming payments. When you consider the fact that Paypal charges over 3.9%, it's a very low rate in comparison.
Does ShareASale allow the use of Payoneer for payments?
Yes! They were the ones to suggest it to me. 🙂
What is the approval process of Payoneer?
It's quite simple really: sign-up for their services and prove that you are who you claim to be. I sent them copies of my personal ID and passport and I was approved quickly after that.
What other services do they offer?
I recently signed up to their Euro card as well which is a new service they offer. Now I have a virtual bank account and debit card from the US, and the second one from Germany. One client, in particular, pays me only in Euros and Paypal was taking a hefty fee of 4% commission. Payoneer is charging me 0% commission for Euro payments.
How do I join Payoneer?
Join Payoneer Now & Earn $25!*
Click on the button above. *It's a special deal button: once you make your first $100 on Payoneer, they will gift you $25. 😀
That will cover your first service charge for the year!

If you want to find out how to make money on ShareASale, take a look at the handy FAQ here and this article to learn more!
Thanks to Freepik for the unedited version of the featured image.